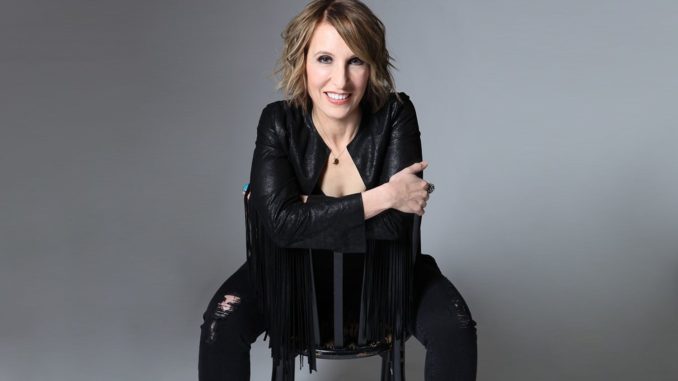 Review Fix chats with singer/songwriter Patricia Bahia, who discusses her new single, "Every Heart One Love," as well as her origin in music and goals for the future.
Review Fix: How did you get involved in music?
Patricia Bahia: I was always a singer from a very young age, but I didn't write my first song until after receiving an ovarian cancer diagnosis sixteen years ago. That was the proverbial "wake up call" that propelled me to finally start writing songs.
I spent the earlier part of my life living out someone else's dream life as a lawyer. I had a "safe" career, and moonlighted as a singer, singing other people's songs. But songwriting was on my "bucket list," something I had always wanted to do. It took a cancer diagnosis for me to finally allow myself to even try.
I realized, I've only got one life. I'm not going to get another chance to do what I feel called to do. So, I decided to trade my briefcases for guitar cases and start living my bucket list life as a songwriter.
Since those first few baby steps toward writing songs 16 years ago, I've had songs on TV shows and in films, I've won awards, and most importantly to me, I've touched people with my music and message. I'm living proof it's never too late to do what you feel called to do.
Review Fix: What's your creative process like?
Bahia: My writing process is very collaborative. I love working in partnership with other artists, songwriters and producers. I love being part of a team and combining strengths to make something much greater than any of us could make alone. One of my favorite hashtags is #teamworkmakesthedreamwork.
Though I do write songs on my own, I love the collaborative process. It's so much more fun, and it keeps me from throwing away good ideas. During a session, I'm often humming a bunch of melody ideas, and tossing out lyric ideas. If I were alone, I would probably throw them all out. But my co-writers will hear something, and say—"Wait, I like that. That's good. Don't throw that away."
Also, I find I am much more likely to write a song if I have a co-writing session booked. If it's an appointment with myself, the time can get lost in social media or Netflix. But if I have a co-writing session, I will show up and write.
The process in a session is always different. Sometimes my co-writers and I will spend some time at the beginning of the session just talking about what's going on in our lives and write a song based on that. Other times, I'll bring in an idea–a title, a theme, or a melody, or my co-writer will bring in an idea they really want to write that day. Sometimes we're writing for a specific pitch or brief for a TV show or ad campaign. Sometimes we'll start writing an idea and end up veering off on a second idea we discover in the process of trying to write the first idea. There are so many ways a song can reveal itself and come into being. That's one of the things I love about songwriting. There's a big element of magic, mystery and chance involved.
Review Fix: What inspires you?
Bahia: Listening to music, being in nature, reading, movies, conversations, TV. I'm lucky that I don't get bored easily–I find inspiration from lots of different things.
Review Fix: What does music mean to you?
Bahia: The world. Even though the life of a songwriter and music maker is challenging in so many ways, it's something I find I simply have to do. I don't really have a choice. I've tried to leave music and "be normal" more than once. It never works. I end up being miserable and getting sick. Luckily, I know the cure. Music is my medicine.
Review Fix: How would you describe your sound to someone who has never heard you?
Bahia: My music has been described as "highly melodic pop with stylistic nods toward folk, soft rock and electronic music." But you know the saying, "Talking about music is like dancing about architecture." So, sometimes it helps to describe music in terms of other artists. Although of course I have my own sound and style, I get compared to a variety of artists including Aimee Mann, Colbie Caillatt, Sara Barellies, Sarah McLachlan and Ingrid Michaelson as well as Jason Mraz and Michael Franti.
Review Fix: How are your live shows different from your studio work?
Bahia: For me, being in the studio is a very creative process. It's not just documenting a live show. In the studio, we're experimenting and creating sounds and using effects which can't really be reproduced in a live setting. So my live shows tend to be more stripped down and acoustic, and my studio work tends to be more layered and lush.
Review Fix: What inspired your latest single Every Heart One Love?
Bahia: One of the things I try to do as a songwriter and artist is to create songs that help lift people up; to combat negativity with hope and optimism. And help us remember that we're all one family living on one planet.
The lyrics often start as encouragement or reminders I need to hear myself. I write the words I want and need to hear to help me deal with my own anxieties, doubts, fear and negativity. Or, I picture a friend or family member going through a hard time, and write them words of encouragement. My hope is that my songs can provide some type of comfort in these strange times–some peace or freedom or joy or catharsis–to help get us through.
Every Heart One Love was born out of frustration with the increasing polarization in our country. My co-writer, Diana Rose Dawson, and I both felt ourselves getting pulled down into it and pulled down by it. We wanted to write a song to remind ourselves and anyone listening, that we really are all more alike than we are different, and that we are all connected.
Review Fix: What are your goals for the rest of 2020?
Bahia: I've been writing new songs during the pandemic, and plan to write more before the year is over. My big goal by the end of the year is to get fully self-sufficient in producing my own vocals at home, so I can do more remote collaborations.
Review Fix: What's next?
Bahia: Next song I'll be releasing is (Say Yes) World With a Little More Love (feat. Ryan Hiraoka), a song I wrote with Ryan Hiraoka and Kristin LaGasse at the Hawaii Songwriting Festival / Creative Industries Hawaii. It recently won a Peace Song Award and a Positive Music Award.
Review Fix: Anything else you'd like to add?
Bahia: I feel a little like a proud parent of this song, (which I guess I am…) so I have to share that Every Heart One Love has been winning some important songwriting contests.
This past Saturday night (November 14, 2020) Every Heart One Love won a Positive Music Award ("Posi Award"), which is like the Grammys for Positive Music. And on September 21, 2020 (The International Day of Peace) it won the Peace Song Award for best Rock + Pop song. It also reached the finals in the John Lennon Songwriting Contest.
Even more than the awards, I have to share this ultimate "pinch me" moment: The folks at the Peace Song Awards revealed that Every Heart One Love was unanimously chosen by the judging panel. A panel that includes musical giants Stewart Copeland of The Police; Peter Yarrow of Peter Paul and Mary; and Ralph Simon, co-founder of Zomba and Jive Records, unanimously chose my song. Wow. That just blows my mind. To have these giants in the music world even listen to my song in and of itself is amazing. To have them unanimously choose it as the winning song is simply mind-blowing.
Most importantly, these awards help bring the music and message of love, unity, inclusivity and healing to more people. My hope is that Every Heart One Love helps bring a little light into what has been a pretty dark year for many of us.