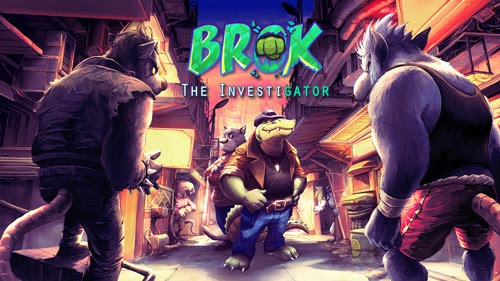 Review Fix chats with "BROK the InvestiGator" creator Fabrice Breton to find out what inspired the upcoming Beat-Em-Up, Point and Click Adventure Mash-Up.
About the Game:
In a futuristic "light cyberpunk" world where animals have replaced humans, privileged citizens live under a dome protected from the ambient pollution while others struggle to make a living outside.
Brok, a private detective and former boxer, lives with Graff, the son of his deceased wife. Although he could never elucidate her accident, recent events may shed some light on an even more tragic outcome… one that may be linked to their own existence.
Review Fix: How was this game born?
Fabrice Breton: Ever since I left my day job in 2014, I had in mind this croc detective character and figured, why not blend two opposite genres by allowing player to solve situations in several ways – by using their brain or by hitting enemies and stuff?
It's always been frustrating to me when adventure games don't offer a logical solution. When a door is blocking your way, you could try to lockpick it, but why wouldn't you be able to smash it open as well? Of course, with consequences…!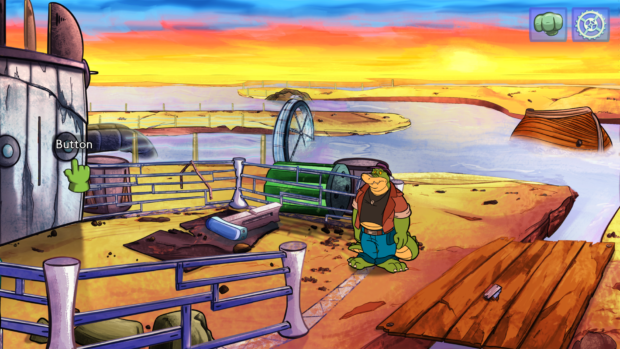 Review Fix: What is your role in the game?
Breton: For BROK I'm doing most of the work but not everything. I'm doing programming, background art, ink/color/shading characters and animations, story / writing, English script + French translation, marketing, community manager, administrative and accounting… (yep indie devs must do a ton of tasks you don't expect!)
However drawing characters from scratch isn't my thing. After Demetrios I noticed the characters art was one of the aspects people didn't like; so I'm regularly commissioning artists for help on BROK. I also have a music composer, many translators (10 languages!) and voice actors!
This is a very ambitious project…
Review Fix: What has development been like?
Breton: I've been working on it since the release of my first adventure game Demetrios in 2016. I have first developed the game entirely with placeholders so it's easier to get the global picture and make changes.
Currently, all the game is written and programmed, almost all the voice acting (23,000 lines!) recorded. However, half of the game rooms and character animations still use placeholder art. Not to mention a lot of bugs, new enemies/AI to implement and potential issues to fix!
Review Fix: What makes this game special?
Breton: This is the first ever "Punch & Click"! It combines a traditional adventure game with full beat'em up gameplay and some RPG elements.
In addition to this, it is a detective story with deep characters and narrative spanning over 6 chapters.
Review Fix: What games influenced this one the most?
Breton: I've been most influenced by 80's/early 90's cartoons actually – in particular the Disney Afternoon series (Ducktales, TaleSpin…) I even got one of those series creator/writer (Jymn Magon) to edit my first script!
But I could quote several games – Little Big Adventure for example, which had a similar mechanic of changing gameplay according to the mode you select at any time, and is also a dystopian world filled with anthropomorphic characters. Or even Shenmue, one of the few adventure games that allows you to "street fight" in the exact same locations where you can also talk to characters, do shopping etc
Review Fix: Any fun stories or wild moments during development?
Breton: Oh I've had many fun bugs happening! Here's one I uploaded on Youtube – instead of jumping, this bug caused the boss to seemingly use a jetpack… totally not what I had in mind!
Review Fix: What were the major lessons learned?
Breton: I'll tell you that after full release!
Review Fix: Do you think preserving older gameplay mechanics in new games is important?
Breton: Of course. One of the problems of AAA games is that they're recycling the same formula over and over. They're stuck with 1st person / over the shoulder 3rd person views action games with violence and won't do anything besides these. Most of them are nothing more than interactive movies where you have little control or interactivity, and you can't have meaningful conversations with characters. My game rooms may not be open world, but they're filled with possible interactions and your actions can have real consequences!
Review Fix: What's your favorite memory as a gamer?
Breton: So many! Maybe getting my hands on Final Fantasy 7 on PS1 for the very first time. It was such an incredible and huge experience – so much that they can't even remake it without cutting it into chunks!
Review Fix: How have your previous experiences in the industry helped this game?
Breton: I already had an engine for a Point & Click adventure game with Demetrios. Many systems I implemented were used, including some of the features people liked (the cookies hidden in the screens which give hints when collected, for example)
Review Fix: How do you want this game to ultimately be remembered?
Breton: As a unique experience with charismatic characters. But before anything, I'd like it to be remembered – period!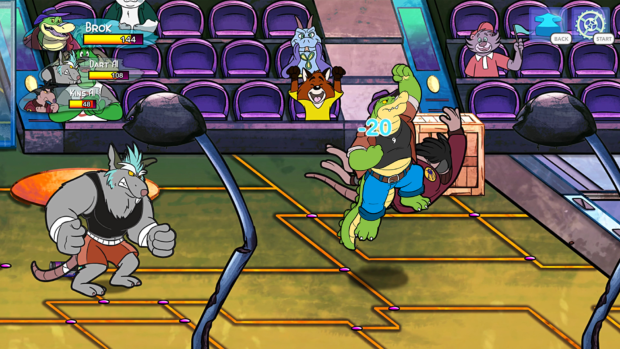 Review Fix: What's next?
Breton: Let me complete development on this one first, then we'll see XD But one thing's for certain – there'll be more BROK games in the future ;)
Review Fix: Anything else you'd like to add?
Breton: Check out the free prologue on Steam : https://store.steampowered.com/app/1318790/BROK_the_InvestiGator__Prologue/
And a Kickstarter is coming up on January 5th! https://www.kickstarter.com/projects/cowcatgames/brok-the-investigator