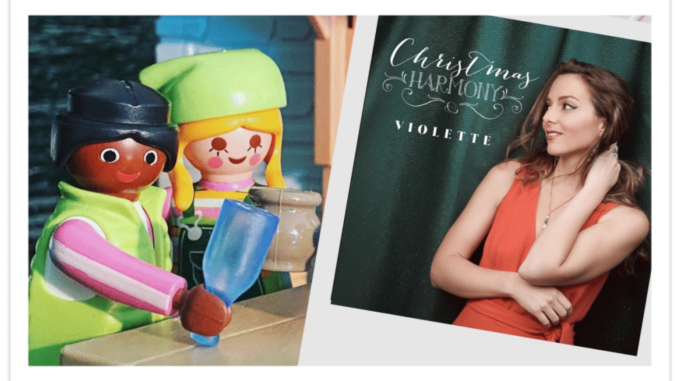 Review Fix chats with Violette De Bartillat and Bradley Hasse who discuss their new Christmas song and video, "Christmas Harmony."
About Christmas Harmony:
"Christmas Harmony", new song and music video by singer/songwriter Violette, are set to put a smile back on your face at the end of the year!
They were written, recorded and produced by Violette and her husband, the American director Bradley Hasse, during the second lockdown in Nantes, France.
In this heartwarming video, a family takes their Playmobil toys on a mission to revive Santa's Christmas Spirit after a depressing year. Watch miniatures transition from a lonely introspection to a merry dance party featuring a snowmen boy band, sheep on skis and a zoom choir. Way to end 2020!

Playmobil loved the video so much that they decided to share it on their Youtube Channel in English, French and German. You can watch the teaser in english here (more than 4 million views).
Review Fix: What inspired this track?
Violette: This adventure began about a month before Christmas: I composed the music in one afternoon then asked Brad if he'd want to write the lyrics together that evening. We finished the song in the middle of the night.

Over the next few days, we started brainstorming on an idea for the music video. The concept came from a small film that Brad and our daughter started writing and shooting at home with her Playmobil toys.
Review Fix: What do the holidays mean to you?
Violette: A time to stop, breathe and reflect on the past year.

Cherish the ones we're with, and share the simplest pleasures of life.
Review Fix: What makes this song/video a special one?
Brad: It was exciting to create something together as a family. Usually Violette is focusing on her music and I'm focusing on film production, and even when I did a video for her in the past it still felt compartmentalized. With "Christmas Harmony", we started the entire thing from start to finish together: from the song to the video concept then finally the shooting & edit.

Then of course our kids were involved as well in the video, and the initial idea really was sparked during playtime months ago when I was teaching our daughter about filmmaking, using the Playmobil characters as the "actors" and our iPhone as the camera. So the project is special because it really did spring from the limitations of this year. Our movement outside the home was limited, we spent more time as a family because of this, and new expressions of creativity came out of it.
To top it off, having Playmobil catch onto what we were doing and liking it enough to push it out to their fans worldwide was incredible. We truly love playing with these toys, imagining scenarios with the kids and having some focused playtime with them. So there is a genuine side to how we are interacting with this miniature world in the video and it feels good to have others – including the brand – join in on this imaginative journey.
Review Fix: How do you want this track to be remembered?
Violette: A musical hot chocolate! A heartwarming song you put on to sing & dance along with or without family around, to put you in the holiday spirit.
Review Fix: What's the best gift you've ever gotten for the holidays?
Violette: A Nintendo 64 ;-) I was a big fan of video games as a kid and loved playing Zelda with family.
Brad: A Sega Genesis… somehow we're still a match ;-)
Review Fix: What's on your musical wish list this holiday season?

Violette: I'm on a rock diet this season! But we have had the Lumineers on our family playlist for the past 9 years. The last show we actually attended before the pandemic was theirs, so listening to their songs kind of transports us back to the 'before life' when we could experience music in an arena with thousands of people.
Review Fix: What's next?
Brad: Collaborating in this way, from writing music together to creating the video, is something new to us and we look forward to doing more of these. Hopefully the following ones continue to resonate with people like this one has.
I'll also be releasing my first feature film this spring, a movie called Songs for a Sloth that features weird dreams, a talking sloth puppet, some great music, and a healthy mix of comedy and drama. I'm also busy writing the next film.
You can see more of what I do at www.bradleyhasse.com
Violette: Definitely looking forward to recreating this collaborative experience, then I'm working on the release of my upcoming EP 'Only Love'.
Website link:
Anything else you'd like to add?
You can listen to the song directly on Spotify: https://spoti.fi/38nT3Sq or Apple Music: https://apple.co/34swVFC.