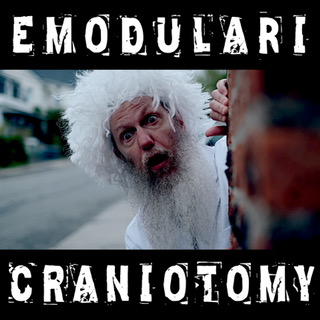 Review Fix chats with singer/songwriter Emodulari, who discusses his origin in music and new single, "Craniotomy."
Review Fix: How did you get involved in music?
Emodulari: I don't remember why my Mother decided to take me down to the local music store and buy me an acoustic guitar for my thirteenth birthday. I had already shown little interest and put little effort into the piano lessons I had been taking for about a year. I'm thankful she did. I took that wonderful Martin D18 up to my bedroom, closed the door, taught myself a few chords, started writing songs – and I'm writing them still.
Review Fix: What's your creative process like? What inspires you?
Emodulari: I'm not of the kind that can say, "Today I'm writing a song". I'll be wherever I am, doing whatever I'm doing, and a piece of a melody might start swirling around my brain, or a little riff or rhythm. Sometimes, if I've written a poem, I'll start saying some of the words over and over in my head until its' melodic soul mate shows up. Sometimes I could be noodling around with my guitar and I'll hit on a cool chord progression. Thank goodness for the voice memo feature on my phone because prior to that I was prone to forgetting a lot of those sparks of inspiration by the time I got to where I could write them down. Lyrically, the inspiration comes from all different places. Maybe something in the news bugged me and I felt compelled to write a song about it ("Venice of America"). Or something hit me really hard personally and writing the song helped me work out some of those feelings ("Hello, L.A."). "Craniotomy" – well now that's another story altogether – which will be told about four questions down the line.
Review Fix: What does music mean to you?
Emodulari: Whoa, Nellie! Well, stuff that moves makes a noise. Big stuff like the planets, sun, moon, stars, etc. makes a big noise. We are born inside of it and therefore can't normally hear it, but if you were tuned into it, you'd be listening to and living inside of a Universal symphony in perfect harmony with itself. Pythagoras understood that music is the soul-department of mathematics. There are moments I imagine myself hearing the music of the spheres; when I listen to Mahler's 1st or Blind Willie Johnson ask me to tell him 'just what is the soul of a man'. While writing a song, I hope it will be in sync with extant transcendent ratios to help effect greater harmony for all. Ha!
Review Fix: How would you describe your sound to someone who has never heard you?
Emodulari: When Sun Records receptionist Marion Keisker asked eighteen-year-old Elvis Presley whom he sounded like, he famously replied, "I don't sound like nobody." Well, I don't sound like Elvis! People have said they hear "a little bit of this" and "a little bit of that" in my songs, and I've certainly been influenced by a wide range of great songwriters' works that I've been fortunate to cross paths with over the years. The goal is to take all of that, sprinkle it onto the main ingredient – my unique self – and cook up something good that 'don't sound like nobody!'
Review Fix: How are your live shows different from your studio work?
Emodulari: In the studio, when a mistake is made, simply delete and do-over. Or, in the words of our drummer Rich Bozek, 'take a mulligan'. Live shows are like life – no do-overs (hopefully forgiveness and grace). I was watching a 'Brent era' Dead show recently and there was this beautiful moment when Brent's eyes met Jerry's and they were relating to each other on the deepest levels of joy, love and respect which was being revealed through the tapestry of sound they were weaving together at that place and time never to be repeated in exactly the same way. That's the beauty of live performance. But hanging out at the studio and putting all the pieces together to produce a track that captures the essence of what you imagined it would sound like is also cool. For Emodulari, I treat each song as a storytelling experience, and performing live gives me the opportunity to present the songs 'in character'. I get a kick out of that.
Review Fix: What inspired your latest single?
Emodulari: It's cray-cray-Craniotomy! I had been thumbing through the bad and worse news in the paper one morning when I stumbled across an article about an open-brain surgical procedure where they keep the patient awake (having them sing or play an instrument) to make sure the surgeons aren't hitting the wrong spot. That notion, along with the bizarre details as described in the piece, intrigued and excited me, and inspired me to run upstairs to my little work space and write a song about it. It has been described as "hard driving, intensely visual and visceral – and bitingly hilarious." I don't want to give anything else away about it for those who haven't yet seen the accompanying (award winning) video – check it out on our YouTube channel – but on a deeper level, the lyrics "once we're in the brain, there is no pain" (an interviewed Doctor's explanation for how the procedure works), reflects the reality that there is a part of each of us that is beyond pain. Pain is a defensive, physical reaction, but our essence lies beyond that.
Review Fix: Name another band that you think could perform this single as well as you …
Emodulari: I'd love to hear what Bowie… or Lou Reed… would do with 'Craniotomy', but, alas…
Review Fix: How has COVID affected the band?
Emodulari: Like everybody else: No gigs. Trying to lay down tracks for tunes remotely and then piecing the parts together, which, although it works technically, makes it really difficult to establish a natural vibe that emerges organically when being in the studio together. Seems like a petty complaint considering the real losses and struggles people have suffered through for almost a year now, including musicians who have been hit hard. Rough times. Better days ahead!
Review Fix: You have a unique sense of style- any thoughts at doing other mediums like a film or comic books?
Emodulari: Thank you for saying so. Before I went to Berklee College of Music I attended NYU Film School. I can visualize all my songs as mini-movies and have been fortunate to have worked with drummer Rich Bozek as Director to create really cool videos for three of the songs on the debut LP. The "Craniotomy" video recently won the "Audience" award for "Best Shortest Film" at the Film Festival Angaelica. Comic Books! Interesting idea. I recently read a graphic novel based on the martial arts parables by the famous eighteenth-century Samurai Issai Chozanshi called 'The Demon's Sermon'. There are a few of my songs which I think would lend themselves to a similar treatment. In particular, "The Mazdak Song" (Side B, Song 1), a song about the sixth-century Zoroastrian Prophet. Know any graphic novel artists?
Review Fix: What are your goals for 2021?
Emodulari: Emerge post-pandemic healthy and sane. Keep this Emodulari train rolling down the tracks, hoping it will pick up some speed and bring a lot of passengers on board to enjoy the ride.
Review Fix: What's next?
Emodulari: A bulletproof coffee & a nice full-bodied cigar.