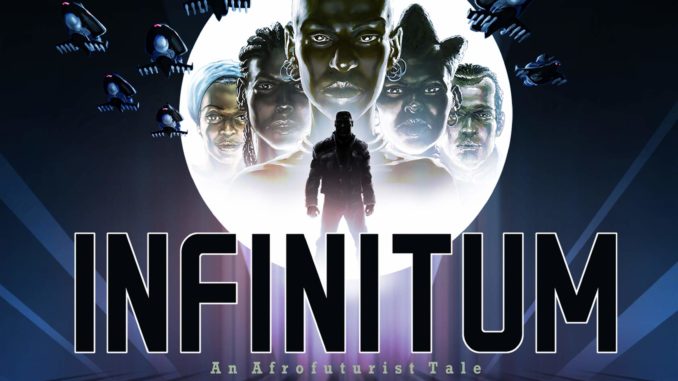 Afrofuturism involves the Black speculative narrative where you can imagine an environment free of imperialism, colonialism, colorism and systemic racism. Think of the fictional nation Wakanda in the film 'Black Panther.' The protagonist king T'Challa listens to the council of his friends, mother, younger sister Shuri, general Okoye, leader of the Dora Milaje, an all-woman royal military guard, even his ex-girlfriend Nakia. And everyone is black. Though 'Black Panther' isn't devoid of issues, T'Challa is a man who by the end of the film thrives from his beliefs, upbringing and growing up in a world where he is allowed to be his best self. Tim Fielder's graphic novel 'Infinitum: An Afrofuturist Tale' expands Afrofuturism to a place where a Black man exists in a story where everything from slavery to the future is happening and he isn't allowed to hide from the world.
Black, fierce, strong, intelligent warlord Aja Oba leads his people with his wife beside him. The one issue is that they cannot have children of their own. When Aja decides to take the son, he's had with his concubine, it leads to a fascinating and fearsome journey that deals with this man's reckoning. Having written as well as done the artwork for 'Infinitum' Fielder commands every page. Economically he wields each panel similarly to when we first meet his protagonist Aja, with mini blood-soaked scythes in each hand, well worn embattled muscles from body to face, even before we know who this character is, we understand that he is in charge. The artwork, the most arresting scenes are the silhouette closeups, not just of Aja, but others. From his lovers to his moments of despair everything is utilized. Obirin Aje, the conjure woman from full frontal to sideview is the very definition of a Black woman who knows exactly who she is. Bald, commanding and determined she bores right into the readers eyes as if she can see past you. When Aja takes their child, her anguish and pain is unbearable, yet Fielder won't allow you to look away.
What can be learned from a Black man who has lived for nearly an infinite amount of time? Who faces a life as an enslaved man after having been a king, who has continued to suffer a myriad of losses? Even in times of loneliness, there's contemplation and times in which Aja who will go by many names attempts to understand what he sometimes sees as an affliction. Tim Fielder has done a meditation rarely seen in graphic novels. He gives his character time to understand who he is outside himself. And perhaps a chance of forgiveness.
To see the expansion of the definition of Afrofuturism you can look to 'Infinitum: An Afrofuturist Tale.' Think of it as Tim Fielder's way of taking us further into the canon of Black Speculative storytelling. Most of all 'Infinitum' is a compelling take on a seemingly long-told story. Still, you will find yourself hard pressed to find another work like this one.