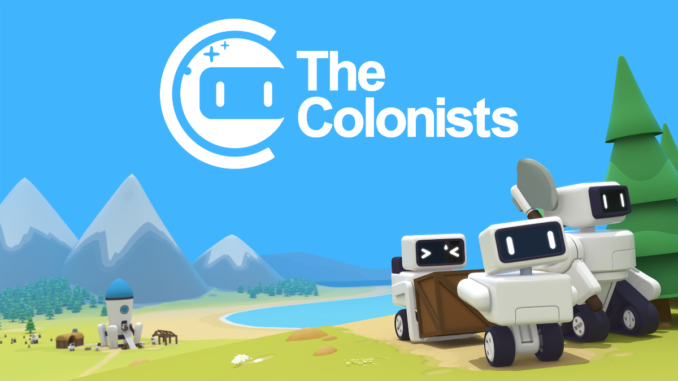 Review Fix chats with The Colonists marketing and community manager at Auroch Digital, Jemina Crow, who discusses the game's development cycle and much more.
About The Colonists:

This relaxing city-building game was inspired by classics like The Settlers and Anno. The Colonists combines charming robots and automated production to make a satisfying settlement building game.
Harvest resources and set up production lines. Construct road, boat, and train transport systems. Discover new lands and battle for survival. Increase the complexity and reap huge rewards as you chase productivity zen.
Includes both peaceful and military campaign modes, challenge trophies, and sandbox mode.
Review Fix: How was this game born?
Jemina Crow: Bristol has a really supportive games development community, that extends in the region, so Auroch Digital knew both the developer and publisher of The Colonists and so when there was the opportunity to bring it to console, we jumped at the chance! It's a brilliant game and we knew it'd be just as much fun on consoles.
Review Fix: What is your role in the game?
Crow: I'm the marketing and community manager at Auroch Digital. I work closely with the devs who originally made the game and our in house team to get the game ready to go on sale, I manage all the marketing, and update our community with the game's progress. I also work closely with press and influencers on release on coverage for the game.

Review Fix: What has development been like?
Crow: Auroch's "Port Gang" really enjoyed working on this project. Development was full of ups and downs, as it always is, but every day was fun. It was quite a challenge to bring a menu-heavy UI based game to consoles from PC, especially when the PC version was so dependent on mouse control. We had to make a lot of smart choices to not lose any of the depth of control while maintaining accessibility. The game being so cute helped a lot in this being such an enjoyable project. We all got quite attached to the various 'bots, especially teabot!
Review Fix: What games influenced this one the most?
Crow: The Colonists is a console port of the popular PC game on Steam, it has a very positive rating from over 600 reviews. It is a relaxing settlement building game inspired by classic titles like The Settlers and the Anno series.
Review Fix: Any fun stories or wild moments during development?
Crow: We used to play a game where we'd rename ONE of the sheep in a tester's save 'Wasteman' then the tester had to go find Wasteman. We also had this bug where the trees would catch fire and burn away to nothing but the apples would stay hanging in the air unscorched, that was funny. All fixed now of course! Lastly, we wanted to put Toby 'Teabot' Draper in the credits (one of our awesome QA testers) but he spelled it wrong so it says Toby 'Teapot' Draper and we're leaving it to teach him an important life lesson.
Review Fix: Do you think preserving older gameplay mechanics in new games is important?
Crow: When we are porting games from PC to Console we work hard to make the experience just as great on console as it is on PC. For The Colonists this meant keeping the core of how the game played the same but redesigning the UI and controls to feel good and look great on consoles. The heart of The Colonists remained the same though.
Review Fix: How have your previous experiences in industry helped this game?
Crow: Previously we have ported Megaquarium to consoles from PC so it's not our first time taking a PC game to other platforms. Another of our previous titles, Mars Horizon which came out in November 2020, was a simultaneous launch across PC and consoles. We learnt a lot doing that game, especially creating control schemes for joypads and catering for accessibility issues on small screens. We learnt so much doing Megaquarium and Mars Horizon and we used those learnings to make The Colonists even better.
Review Fix: What's next?

Crow: We always have lots of projects going on behind the scenes at Auroch both inside and outside of games. Make sure to follow us on Twitter or join our Discord to be the first to hear about them.
Review Fix: Anything else you'd like to add?
Crow: As well as new UI and controls we added our own Auroch flair to the game. We've added new hats to many of the bots, including TeaBot. That one is a particular favourite of the dev team so make sure to keep an eye out for it!