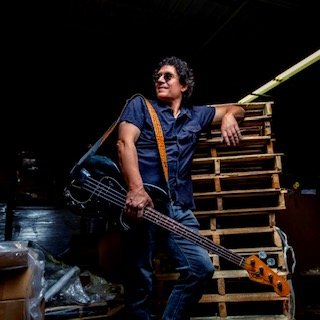 Review Fix chats with Zarbo, who discusses his origin in music and new song, "Get Up And Dance."
About Zarbo:
Zarbo is an artist and producer, recently with a focus on creating catchy electronic dance music amongst other new genres which didn't exist at the onset of his career. Entering as a public figure he was the founding member, frontman, bassist of the Canadian power pop rock trio Zarbo that formed in the 1980's. Having currently remastered and remixed his 1985 8-song LP 'A-Z Collection', as well as releasing modern EDM and Hip-Hop remixes of 4 original Zarbo songs, Alex has revived the Zarbo brand full-force in 2020, charting #1 in the European community and in overseas countries over several months.
Review Fix: How did you get involved in music?

Zarbo: I always loved music from a very young age. I love to sing but was too shy to sing in front of people. I started to played harmonica when I was 8 and my parents insisted I go on a local TV station (London CFPL's Junior Talent Hour Show) so they can show me off haha and help curve my shyness. At the age 12, I purchased a Kent bass guitar with my summers earning of $50 from local music store in Chatham where I grew up with my parents and 4 siblings. It was the only guitar that fit my budget in that store and it only had 4 strings which seemed like a wise decision since it would likely be easier to play than the others with 6 and even 12! It didn't take long to figure out how to tune it correctly (from books) and soon started to lift my favorite songs one by one. I used to create personal multi-track recordings on my father's reel to reel player by bouncing tracks back and forth and sometimes slowing it down to create higher pitch and faster lead like tracks and rhythm tracks.

Review Fix: What's your creative process like?

Zarbo: It can come at the craziest moments and sometimes you have to go with whatever time of day or night it happens and sometimes even jumping out of a dead sleep because a lingering melody wakes me up. I like to create songs starting with a hook usually on my bass guitar and sometimes using keyboard midi software in my studio. The lyrics and the theme of the song usually falls right into place and before you know it, voila – something important desperately needs to be shared with others.

Review Fix: What inspires you?

Zarbo: I am an emotionally triggered songwriter usually creating songs from true day-to-day endeavors. Since most of my lyrics are written in a pseudo-quasi parable-style format, my goal is usually to leave the message of the song totally up to the listener. As we know, no two listeners are going to get the same message out of any one song but more so when you leave gaps in the details of the storytelling. To me having a very strong groove and catchy sounds is the most essential part of a song. This inspires a feeling and creates emotion. Even though I have a distinct message in mind when writing, the story always ends up unique to each listener.

Review Fix: What does music mean to you?

Zarbo: Music is a universal language, a way of communicating with so many people. It is also a huge release of my spiritual energy.

Review Fix: How would you describe your sound to someone who has never heard you?

Zarbo: Being passionate about so many types of music I would have to say I don't like to label my music in any one specific genre but only to say that it falls into the Pop category. Pop can be Rock, Dance, Hip Hop, R&B, Reggae, EDM Electronica and much more.

Review Fix: How are your live shows different from your studio work?

Zarbo: When I perform live with my band it is usually highly interactive and energetic, traditionally in the pop Rock style with raw energy. In the studio the songs are polished and reflect a traditional radio vibe.

Review Fix: What inspired your latest single Get Up and Dance?
Zarbo: Growing up with primary influences from the Motown era coming from Detroit, I was conditioned to seeing people dancing not only for self-expression but for escaping the day-to-day harsh work schedule of life. Originally written as a dance rock song, it grew into dance-retro and then into EDM with a huge shelf life now pushing almost 39 years.

Review Fix: What makes you "Get Up and Dance"?
Zarbo: I use dance as a way to escape the seriousness of responsibility and first and foremost, pay myself for my hard earned efforts.

Review Fix: The video is so much fun! What was it like to watch it come together?
Zarbo: The video was so much fun shooting and watching the actors re-live young Alex, Derek and Greg performing as it was back then but discovering the 80s version could tie in so seamlessly with the electro remix version. Executive producer Fabrizio Giancarlo Tanoni took it to the next level by insisting that the video be primarily about the new release and having it edited in California by his professional crew.

Review Fix: Who do you think will enjoy this song the most?

Zarbo: Get Up And Dance (Electro Remix) is enjoyed by a multi-generational audience (young and old) and cross-pollinated genre driven listeners from Adult Contemporary to Top40 to the Dance Club scene.

Review Fix: What are your goals for 2021?
'
Zarbo: Hindsight is 20/20 One', Zarbo's second album will be released in mid-December. I am currently working on 2 more remixes as well as 2 more brand new tunes and enjoying it!

Review Fix: What's next?

Zarbo: If permitted Zarbo will be performing live intimate tour dates which will be announced in the later part of the year.

Review Fix: Anything else you'd like to add?

Zarbo: I'd like to say a great big thank you to the Zarbonation loyal fans keeping it real!