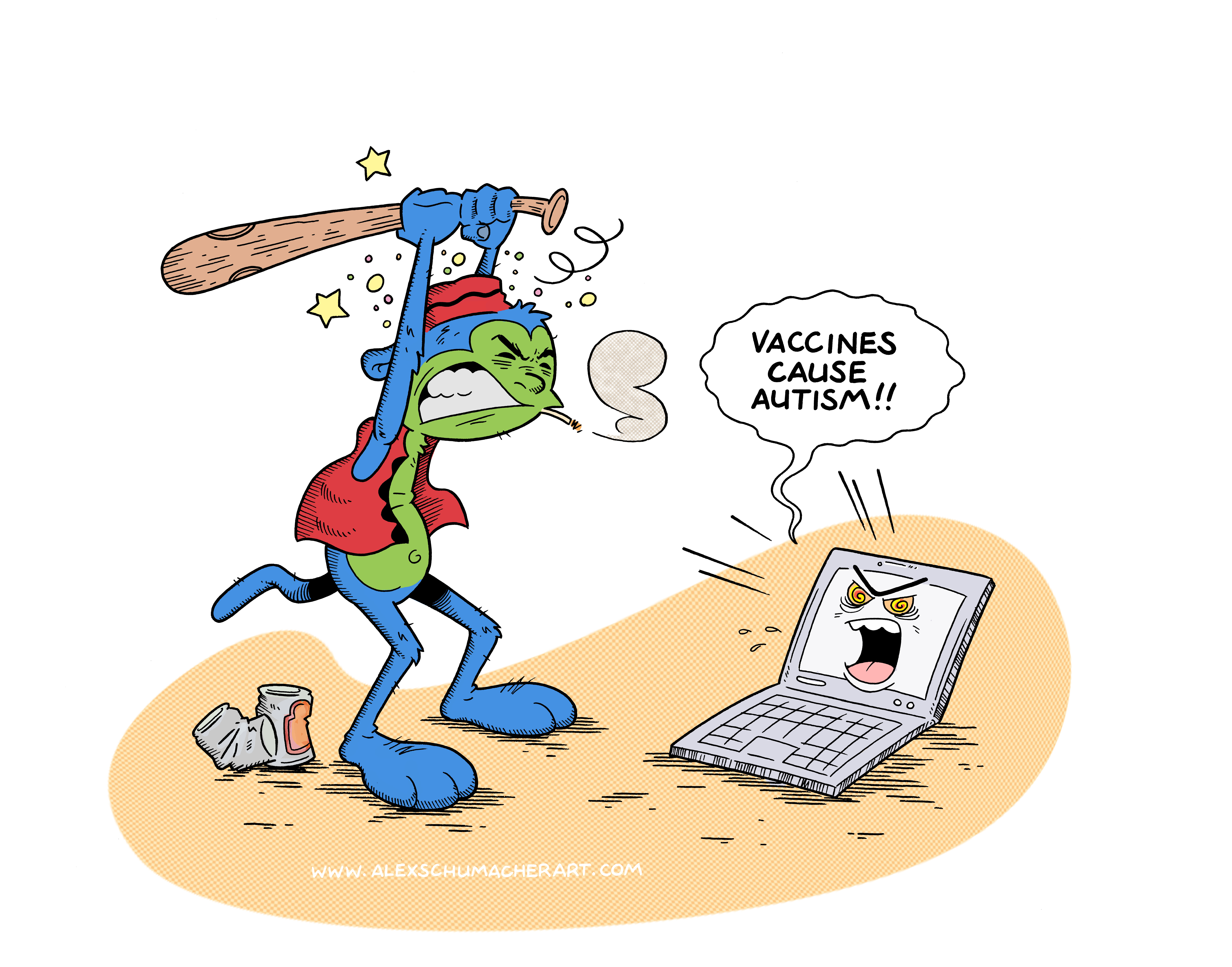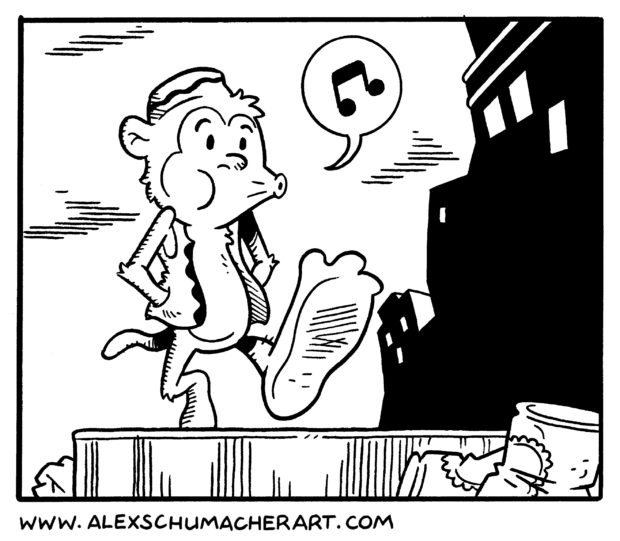 Review Fix chats with writer and artist Alex Schumacher, who discusses his Mr. Butterchips comic strip and more.
Review Fix: How did you know a career in comics was for you?
Alex Schumacher: It was a passion I discovered during childhood. I know that probably comes off as a stock answer, but it's certainly applicable in my case. The combination of art and text appealed to me from a narrative standpoint as the interaction between the two provides endless possibilities. As challenging as the career path can be at times, I've never felt I was naturally inclined towards any other vocation. While I've taken several detours into other storytelling mediums like animation and music, I always found myself gravitating back towards comics.
Review Fix: Who inspires you creatively?
Schumacher: As I revel in discovering artists which may have been previously unknown to me, that list is ever-changing and constantly in flux. An incredibly abridged list of some mainstays are Gilbert Shelton, Roz Chast, Guy Delisle, Jaime Hernandez, Morrie Turner, Derf Backderf, Toni Morrison, Michael Allred, Alison Bechdel, Peter Bagge, Marjane Satrapi, Tony Millionaire, Jim Woodring, Hubert Selby, Jr., Jillian Tamaki, Roy Crane, Chester Gould, and Ben Edlund. I'm sure once this is posted I'll think of a hundred more creators I should have included…
Review Fix: What inspired this comic strip?
Schumacher: I had been foolishly pursuing a coveted spot in the pantheon of sci-fi/fantasy comics which seemingly dominate the North American industry. This isn't to besmirch any specific creators or books, I simply had no desire to write for said genres. So initially, Mr. Butterchips was conceived as a pastiche of the underground comics of the 60's and 70's. Following the election of November 2016, the comic pivoted abruptly into a vessel for my (and many American's) aggravation with the previous administration. With SLG Publishing, the comic has once again been overhauled for a new post-Trump era.
Review Fix: How is it different or special?
Schumacher: I think what sets it apart is the world that has evolved around the character. The series can best be described as Fritz the Cat in Little Nemo's Slumberland. Ostensibly, Mr. Butterchips is about the day-to-day antics of a prickly organ grinder's monkey set in a surreal fictional West Coast town populated by an array of quirky characters. However, it is through this satirical hallucinogenic lens that the comic examines the pitfalls of a gig economy while touching on such timely issues as class disparity and intolerance, all while amplifying the absurdity of what it means to be alive in a world which seemingly becomes more insane by the second.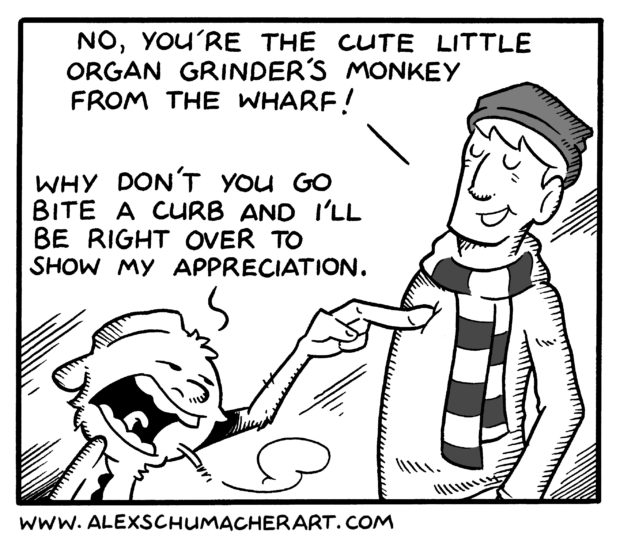 Review Fix: Who do you think will dig it the most?
Schumacher: By and large I would say those who would get the most out of the comic would be fans of underground/alternative comics, old school newspaper strips, deadpan and dark humor, satire, social/political commentary, punk rock, and anyone who loves monkeys!
Review Fix: How do you want it to be remembered?
Schumacher: At its core, the feature transitioned into one espousing acceptance and inclusion above all else. Sometimes you have to wade through the ramblings of a curmudgeonly and inebriated capuchin to excavate the message, but my hope is that it's remembered as one that promoted love and acceptance. Humans are all flawed by nature but as long as we're willing to constantly learn and evolve, I believe we're doing our very best. I suppose in a secondary capacity, I hope the comic will be remembered as being funny too.
Review Fix: Anything else you'd like to add?
Schumacher: While the decision was made early on to offer the weekly comic for free, we simply request that readers who are enjoying the series consider supporting our efforts by purchasing a copy of the Mr. Butterchips collection and/or one of the newly designed shirts available in the SLG Publishing store (https://slgpubs.com/collections/new-arrivals).
Review Fix: What's next?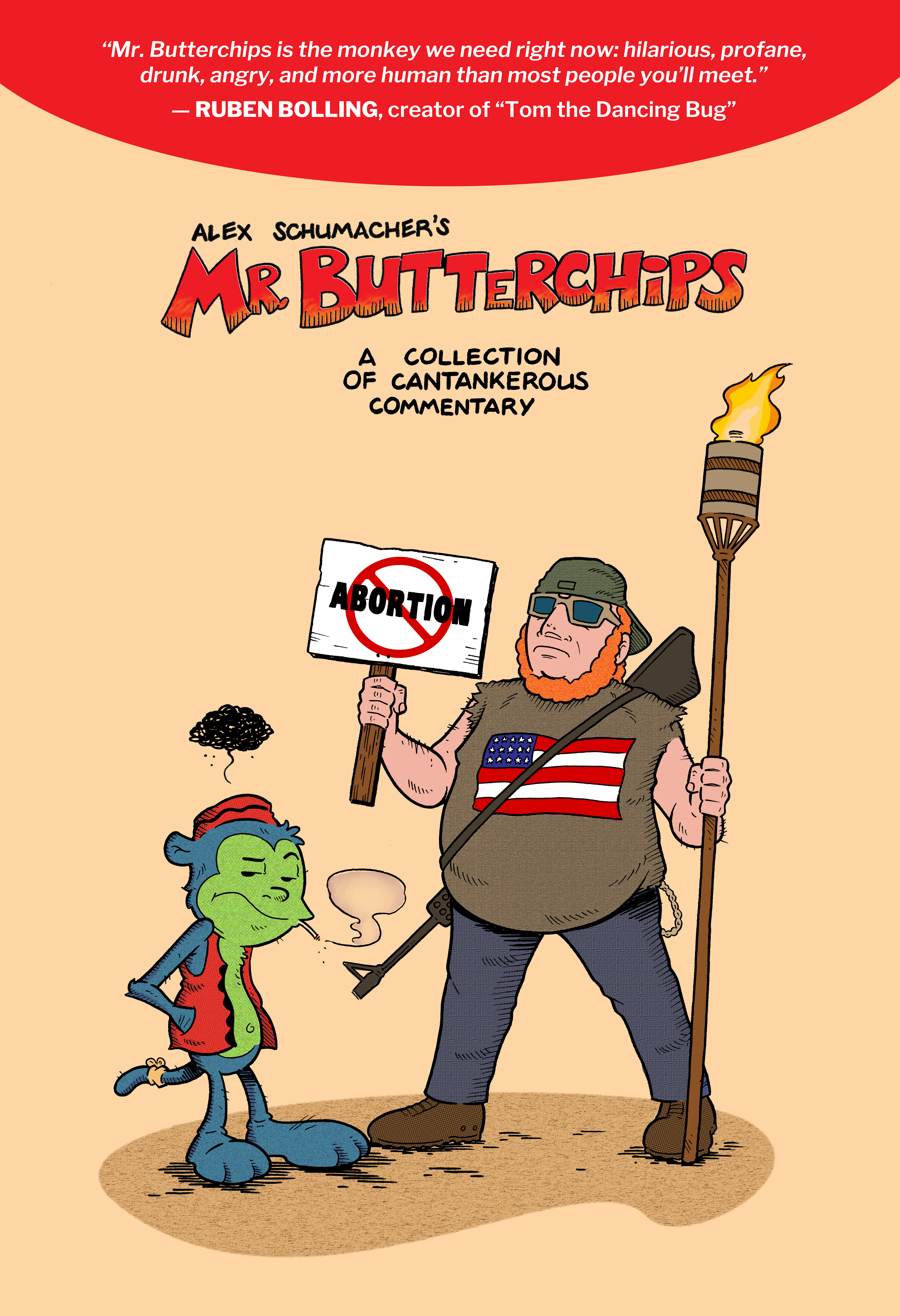 Schumacher: More Mr. Butterchips, of course! Aside from that, my literary agent is currently shopping a new graphic novel and I'm developing a single-panel cartoon series revolving around social commentary which will be pitched to a specific online magazine/news outlet market. There is also a picture book I've been illustrating for a writer friend and some plans are in the works to collect my semi-autobiographical webcomic Decades of (in)Experience which ran from 2015-January of this year.
Review Fix: Where can people find out more?
Schumacher: For more information and to remain apprised of my creative goings-on, folks can visit my website https://alexschumacherart.com/, follow me on Twitter and Instagram (both under the handle @AJSchumacherart), and support my work through Patreon at https://www.patreon.com/AJSchumacherart. I also started a monthly newsletter as of this year and interested parties can subscribe at http://eepurl.com/hdgbFv.