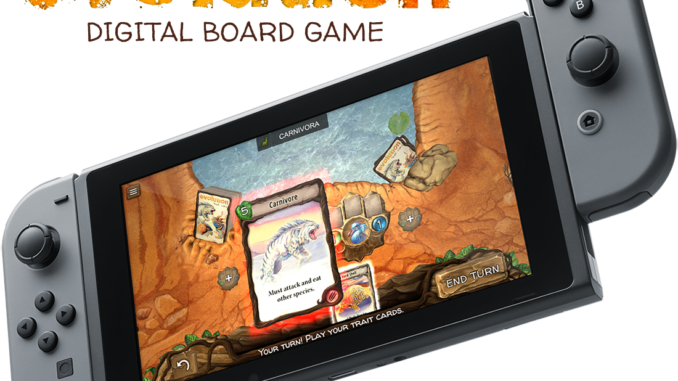 Review Fix chats with Bree Woodward, Art Director, North Star Games, who discusses the development cycle of "Evolution: Climate."
About the Game:
Evolution: Climate, the ultimate edition adding game-changing weather events and mighty temperature shifts to the strategy game adaptation Evolution Board Game, messes with meteorology on Nintendo Switch as well as Steam for Windows PC and Mac on Wednesday, July 14, 2021.
Choose from multitudes of genetic traits and play them on your species to help them forage for food or fend off carnivores who view them as a potential meal. Adapt to the added element of weather conditions as constant climate shifts bring blistering heat, biting cold, and ultimately era-ending natural disasters forcing every species to evolve… or die.
Review Fix: How was this game born?
Bree Woodward: Changes in the climate have been one of the greatest drivers of evolutionary change for over 3 billion years, so we started thinking about how to implement it into the Evolution game system. Species have developed fantastic adaptations like hibernating through winters, huge cooling frills that scare off predators, and migratory patterns that cross thousands of miles each year. Additionally, cataclysmic disasters like large meteor impacts make for great thematic content. There is something epic about a meteor that can wipe out most of the plant life on earth. It makes for memorable gameplay.

Review Fix: What is your role in the game?
Woodward: My role is Art Director, and my job is to make sure the visual experience is pleasing and delightful. I make sure that the digital game highlights the beautiful original watercolor artwork in the board game, and effects like Nocturnal, Heat Wave, or Cold Snap are impactful and give you a real sense of change in the environment.
Review Fix: What has development been like?
Woodward: Adding events into the game was a lot of fun. We sat around thinking about all of the natural disasters that could hit and all of the ways life can be wiped out.
Review Fix: What makes this game special?
Woodward: Each game of Evolution: Climate creates a vibrant ecosystem that tells an epic story, and varies dramatically from game to game. The food chains mimic something you might find in real life, sparking the imagination of nature enthusiasts (as well as professors of evolutionary biology), but it's the diversity of core strategic gameplay that keeps gamers interested game after game.
Review Fix: What games influenced this one the most?
Woodward: The card play is most similar to Hearthstone, but the natural theme was inspired by Spore.
Review Fix: Any fun stories or wild moments during development?
Woodward: I recall one early game where the game encouraged movement to the extremes, and the Climate Track got pinned at Ice Age. One player managed to go the whole game without his species surviving a single round. We figured that's a little too extreme and found a mechanic that caused it to be more dynamic.
Review Fix: What were the major lessons learned?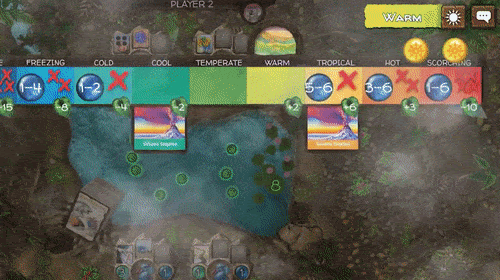 Woodward: Localizing a game across 12 languages was a huge challenge. From removing all baked-in English text in art assets, to sourcing translators (thank you, translator community!), and solving for extra long words in tight spaces (here's looking at you, Germany!), it was a herculean effort to bring the game to audiences all over the world.
Review Fix: The marketplace is crowded. How do you think you stand out?
Woodward: There's no shortage of "faithful adaptations" of digital board games that reflect the board game experience accurately. Climate is very much a faithful adaptation but it stands out because it's streamlined and simplified. We have added loads of delightful touches that make the experience come alive and play even faster in the digital version. You can get more hours of play in and test many more strategies, and always have players to play against online.
Review Fix: How have your previous experiences in the industry helped this game?
Woodward: We learned a lot when developing Evolution and Oceans digital games, and when developing Climate we had far more experience than we did when we were a fledgling digital studio 5 years ago. I think this sped up the development process, and we implemented systems that helped with iteration and testing. We're getting faster and better at this.
Review Fix: How do you want this game to ultimately be remembered?
Woodward: I would love for this game to be remembered as not only a faithful adaptation of the board game, but an improvement on the experience, and a "classic" that people return to again and again for its beauty, speed, and endless combinations of strategies of play.
Review Fix: What's next?
Woodward: Nothing public yet, but we do believe the card play systems that the Evolution line has started are ripe for further exploration.
Review Fix: Anything else you'd like to add?
Woodward: Evolution: Climate mixes engaging gameplay with a theme that mirrors nature. It has not only won many awards for its strategic gameplay, but it has been used in the evolutionary biology department at the University of Oxford and covered favorably by many scientific journals including Nature, Science Magazine, and the International Journal of Organic Evolution.