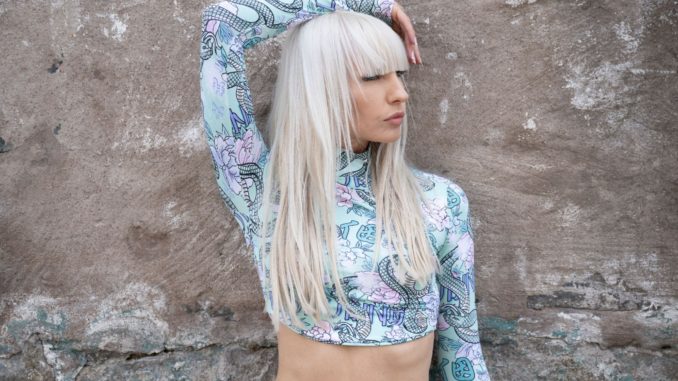 Review Fix chats with singer/songwriter Linda Varg, who discusses her origin in music and new single.
Review Fix: How did you get involved in music:
Linda Varg: Well, I started singing in a gospel choir when I was 14 years old, but I loved singing already when I was 7. Back then I was an expert in imitating artists like Michael Jackson but I had no idea that I had a voice that was going to be heard by millions of people.
At the age of 16 I watched the musical Chicago and I decided I wanted to become a musical artist so I auditioned for The Swedish ballet academy which is the no 1 school for performing arts in Sweden. I got rejected twice but I had made up my mind that I was going to become a musical artist and I got accepted on my third attempt.
A year into my education I watched a talent show on tv called Popstars and a year later I auditioned for the show and ended up as one of the winners forming the multi-platinum selling group Supernatural and that's where my journey as a pop artist started for real.
Review Fix: What's you creative process like:
Varg: Many songwriters write music when they are sad and heart-broken, but I'm the opposite. I'm most inspired when I'm full of joy and feeling good.
An idea for a song can come at anytime and anywhere.
For example, I wrote "Give it a shot" in the car when I was on my way to the studio to record "You gotta come home".
"Standing in the middle of the road", which is my latest song, came to mind when I was feeling strong and empowered and decided never to be bothered by other people again.
I think my fans can feel the strong underlying emotions in my songs when they listen to them. For example, my most popular song "Keep going", conveys a deep meaning of appreciation for the gift of life and the possibilities to make the most out of it.
Of course, sometimes, I write songs when I'm feeling a little sad but that's not very often, thank God
Review Fix: What inspires you:
Varg: Joy inspires me.
Growing as a person inspires me.
Having fun inspires me.
Strong people who have a passion and goals inspire me.
Writing music inspires me to write more music.
My husband inspires me.
A wonderful summer day inspires me.
Challenging myself inspires me.
Trusting in life inspires me
Review Fix: How has Co-Vid affected your art:
Varg: Covid has influenced my life in a way that has made me grow as an artist.
I started livestreaming right at the beginning of the pandemic which made me more visible and able to play my music to more people.
It was also through my livestreams that I was discovered by my current manager Kiara Laetitia.
Since I could not tour as I have done for many years I focused on releasing more music which boosted my creativity to write even more music. I also connected with and started to work with new people in the music industry.
Review Fix: What does you music mean to you:
Varg: I live for music.
I love writing music.
It's impossible to describe in words the magical feeling of having written a song.
Even though I sometimes can't sleep at night because the song is playing on repeat in my head! Lol!!!
I love performing for people and seeing their satisfaction when leaving the show and I know they will carry that feeling for a long time to come.
I was born to live my life with music, in me and around me.
Review Fix: How would you describe your sound for someone who has never heard you:
Varg: Almost all of my songs are empowering and uplifting anthems. You can probably find influences ranging from pop and rock, to reggae and urban, with a sprinkle of punky attitude and a 90's flavoured tinge.
My latest single, "Standing in the middle of the road", is a euphoric alt-pop-folk song with finger-picked guitar, foot-stomping beats and layered vocals which overflow with a wholesome feeling of togetherness. I think it's a modern twist to a timeless building block of analog energy. It's a flow of energy rising above the dark.
Review Fix: How are your live shows different from your studio work:
Varg: The difference between my studio sound and live performances can vary. Sometimes I play unplugged and then I build the sound on acoustic guitars and cajun.
When I play with my band, I try to make it sound as close to the original as possible.
At the moment I'm not using any tracks on my gigs, but I might do so in the future if, for example, drum samples are needed or special synths, or if there are large choral arrangements in some songs.
But if possible, I prefer to play without tracks.
I want the audience to have the absolute best experience and I want to deliver it to them as close to the original as possible.
But I think it holds a certain charm to hear that it's played live, it gets a little rough around the edges and you never know exactly what's going to happen, you might want to double a chorus or a solo or a sing-along with the audience. I love it and I intend to keep it that way.
I'm also going to add dancers to my shows in the future. I love to dance myself and my upbeat pop songs are perfect for dancing.
I want to make it an exciting experience for the audience both sonically and visually.
Review Fix: What inspired your latest single:
Varg: My latest single "Standing in the middle of the road" was written from my own experiences with bullying. It's a personal message but it's also giving off a much bigger meaning, with the track applying to those who have gone through emotional hardships and risen up from the ashes, despite the pain and battles.
The message is that you should never let anyone, anything or any circumstances run you over. What might seem as a failure, broken dreams or insurmountable obstacles or challenges can instead be the passage or opening to something much greater than you could ever have imagined. So do whatever you want in life and don't live as a victim of your own bad thoughts.
Review Fix: What are your goals för 2021:
Varg: I'm a big dreamer and I believe that anything is possible!
My goals and wishes for 2021 are that "Standing in the middle of the road" will spread all over the world and touch millions of hearts.
I wish it will help people feel stronger and inspire them to do what they really want to do with their lives and ultimately take the steps to make it happen. I wish they would stop listening to the bad voice inside that says that it's impossible.
I wish that they will remember:
Life is for you, not against you.
And of course, I would love for the song to top the UK and US charts ;)
Review Fix: What's next:
Varg: I just came home from Stockholm where I've been recording my next single, shooting pictures for the cover art and filming a music video. My management and I are planning the next release as we speak and we've already started some new collaborations.