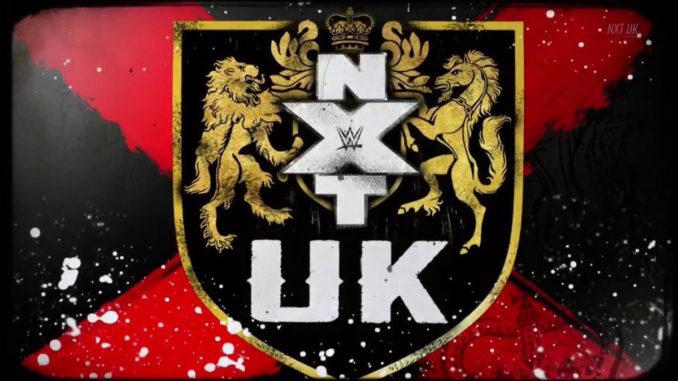 NXT UK had one of the best matches I have seen all year (and I say that having watched Danielson v. Omega in person just a few days ago) this week. So let's get right to it.

Honorable Mention: Trent Seven, Ashton Smith and Oliver Carter: This trio set up Mustache Mountain v. Smith and Carter via an argument over if the Rock Bottom or the Book End were a more effective move and you cannot understand how much I love that. Jordan Devlin. Despite having his dressing room hijacked by the bullies called Gallus celebrating Wolfgang's win Devlin stood up for himself by telling them he's going to tell Johnny Saint! I for one, am fully supportive of Devlin taking the high road and not stooping to the levek of these hooligans and their dumb coffee/Coffey jokes.

5: Jinny: Isla Dawn was being her typical creepy self all match and it was ultimately her downfall. As Dawn was perched in the corner jawing and perhaps flirting with Joseph Conners outside Jinny was able to knock her off balance leaving her teetering on the middle ropes and allowing Jinny to nail an X-factor for the win. As far as we could see Dawn left this week without a souvenir and Jinny deserves credit for that.

4: Wolfgang: Despite a bum arm the least attractive member of Gallus managed to pull out a win over Teoman this week. I was surprised as I thought for sure this tournament was setting up Teoman v. Tyler Bate. Wolfgang got the first fall of the match with his great looking spinning inverted suplex. Teoman evened the odds in round 3 after working over the arm with a sliding forearm to the head of Wolfgang. After an altercation outside between both men's seconds Wolfgang scored the deciding fall in round 4 by catching Teoman with a spear right after he attempted a handspring. Wolfgang advances to the finals to take on Noam Dar with a shot at Tyler Bate and The Heritage Cup at stake.

3: Rampage Brown: This main event was so incredible that I'm giving all 3 guys involved the top slots this week. This is going to almost certainly go down as my most underrated, overlooked or "hidden gem" match of the year. Rampage was primarily the powerhouse and base of this match that allowed A-Kid and Frazer to showcase their insane abilities in that ring by he played his role to a T. Early on he was double teamed before coming back and using his opponents against each other. He powerbombed A-Kid on to a crawling Frazer earlier in the contest and caught Frazer coming off the ropes into a powerslam later on. He'll go down as the most underappreciated part of the most underappreciated match this year.

2: Nathan Frazer: The former Benjamin Carter may have been the one pinned in this match but he showed once again how insanely athletic he is. He is fast. He can fly. He's got sneaky strength and he's a future star. Frazer landed a middle rope moonsault slam while holding A-Kod that looked phenomenal. He felt like the clearest cut good guy in the match and I'd love to see him and WALTER in the near future.

1: A-Kid.: MY LORD THIS MAN IS SPECIAL! I mean, Frazer is just as special but A-Kid got the win and is the next contender to Ilja Dragunov earning the top spot on this list. A-Kid and Frazer had my spot of the year when Frazer attempted to spring board off the middle rope and A-Kid HIT A GERMAN SUPLEX ON HIM AS HE SLID THROUGH THE MIDDLE AND TOP ROPE TO THE OUTSIDE! It looked as absolutely nuts as it sounds. Go watch this match! He also had a fantastic series late in the match where he got on a standing Brown's back and locked in the sleeper, then without touching the ground transitioned to a guillotine before being lifted by Brown for a suplex (all without touching the ground) only for Frazer to superkick Brown. A-Kid finally got the win after superkicking Brown to the outside and then finishing off Frazer with a German Suplex and a running jumping super kick. There's so much more to this match that I forgot even with 3 segments to talk about it. Go watch it! I can only imagine how much fun Dragunov v. A-Kid will be.