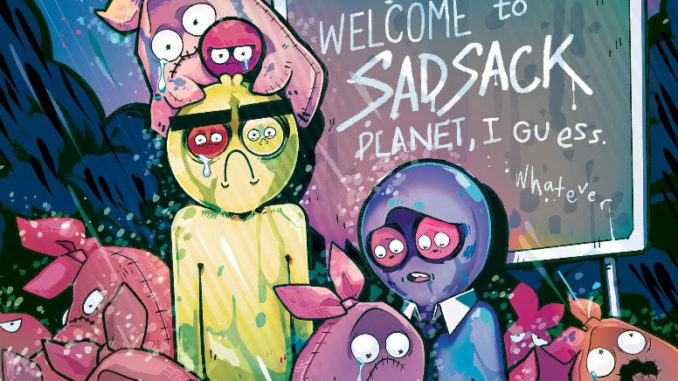 Image/Skybound is excited to reveal a first look at Trover Saves The Universe #4, continuing the hit limited series from acclaimed author Tess Stone, based upon the eponymous hit video game by Justin Roiland, Co-Creator of Rick & Morty and CEO of Squanch Games.
When the shocking identity of his employer is revealed, Dr. Kill sets his sights on the ICJ! Can Klover and Bo escape the planet Sadsack to warn Trover, Pink Trover, and the rest of the eyehole monsters in time? And how can they ever match up against Dr. Kill's ultimate power baby?
Trover Saves the Universe #4 (SEP210208) will be available at  comic book shops  and digital platforms including Amazon Kindle, Apple Books, and Google Play on Wednesday, November 10.
Trover Saves the Universe is currently available on PlayStation 4, Xbox One, Nintendo Switch, and PC and VR via Steam, the Epic Games Store and the Oculus Store.
For more information on all things Trover Saves the Universe, visit the Trover site, follow the Squanch Blog, and like Trover Saves the Universe on Twitter, Facebook and Instagram.
For more info and updates on the comic book, visit  www.skybound.com.