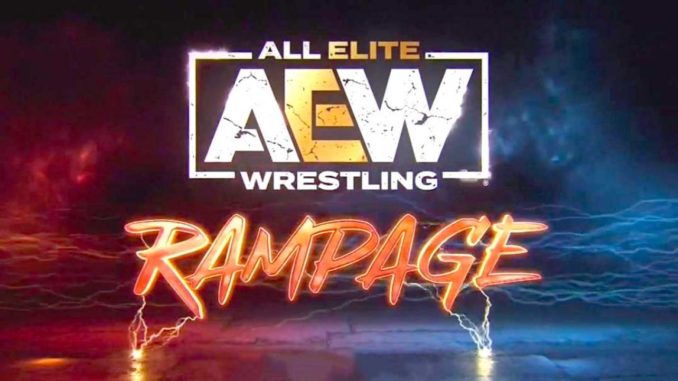 We had another great episode of Rampage this week so let's jump right into it with the Power Rankings!

Honorable Mention: Daniel Garcia: Garcia looked like a future star wrestling one of the biggest current stars in wrestling. Despite being just 23, Red Death more than held his own with CM Punk. I waffled on putting him over Cage but the man who lost despite the numbers advantage narrowly got beaten out by the man who lost to the advantage.

5: Brian Cage: Cage nearly had Starks beat but ultimately succumbed to the numbers game.

4: Jade Cargill: AEW's version of Goldberg ran her undefeated streak in singles action to 17-0 this week ending Skye Blue with a Glam Slam in quick fashion.

3: The Lucha Brothers: Rey Fenix needs to take PCO's moniker because he's not human. The things this man does in a ring and the speed and fluidity he shows while doing them never cease to amaze me. After a strong opening rap from Caster that included lines about Arn Anderson and Ben Simmons it was mostly downhill for The Acclaimed. Despite eating a nasty boombox shot from Bowens as he dove out of the ring Fenix got the win after Penta sent Caster off the top during a mic drop attempt and Fenix rolled Bowens through for what I can only call the taint stomp followed by an assisted piledriver for the win.

2: Ricky Starks: You couldn't have a show in Philly and not have a Philly street fight and the Team Taz member rightfully came away on top of it. Despite being worked over with a chair by Brian Cage earlier in the match and spearing himself hesd first into a chair in the corner Starks pulled out the W with some help from his teammates. After a Hobbs distratcion to allow a Hook low blow on the top rope Starks hit the roshambo for the 3. The highlight of the match was Taz yelling (and apologies in advance for the butchered spelling) "There's ya gamageerie right in the nuts!" Such a technical yet Red Hook way to call a move.

1: C.M. Punk: The tie has been broken! Punk now officially has more AEW matches than UFC fights and with infinitely more success. Young Daniel Garcia tried his best to pull a Mickey Gall tonight and give Punk his first loss but to no avail. This match was my personal favorite of the 3 he's had since signing. Garcia and 2.0 did their best to take advantage of the numbers game, working over Punk's leg against the apron and the ring post outside before Gracia locked Punk in a sharpshooter. What would a Punk match in 2021 be without a Bret Hart tribute spot? Punk showed he remembered something from his MMA training when he checked a Garcia kick at one point in the same sequence that saw him land a Dusty elbow. Punk was, as the kids say "In his bag" tonight pulling out the Pepsi Twist and a crossbody off the top to the floor on to 2.0 & their son Daniel Garcia following Garcia accidentally sending both Lee and Parker to the floor. The finish ultimately came with Punk hitting a springboard clothesline, a piledriver and locking in the Anaconda Vice for the tapout. Punk having his third straight solid showing with the third of AEW's top young acts has to lock down his place at #1 this week.