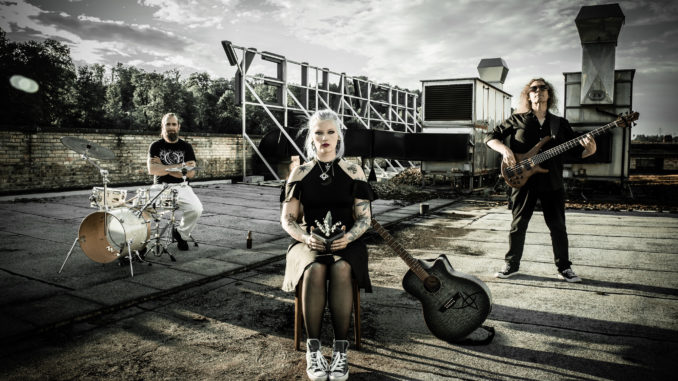 Review Fix chats with Dead Venus' Seraina Telli and Mike Malloth, who discuss the band's importance in their lives and so much more.
Review Fix: How did the project start?
ST: I formed Dead Venus in early 2015. First I was on the road as a solo artist with Piano and Acoustic Guitar. But then I decided that I need a team to develop my ideas. Dead Venus was never supposed to be a "Singer-Songwriter-Thing" so I started looking for the right people to play my music with. Mike Malloth (drums) answered my call and recommended bassist Andre Gaertner to complete the trio. I still play the keyboards or guitars besides the singing of course. (smiles) In 2019 we released our first full album "Bird of Paradise." The album was released digitally on all of the common streaming sites such as Spotify and Apple Music and also worldwide on CD and double-vinyl. Recently we've just finished working on our next album "Flowers & Pain" which will be released in early 2022.
Review Fix: What's your creative process like?
ST: Talking about how I get started or what generally inspires me to create a new song: I think life itself is the brightest inspiration for my songwriting. Experiences, pain, fear, losses… all this is being processed and transformed into something more beautiful which in the end brings back new strength and power to carry on. Hopefully not only for me! (smiles) About the workflow: Normally I write a song, do a simple recording with only piano/guitar and vocals and send it off to André & Mike. Like this they can already get an idea and aren't completely overwhelmed on the spot. (grins) Then we meet for a rehearsal and jam the song together. We find out which bass- and drum-part suits the song and also put together a basic version. Once we've got that we do another basic recording and keep on working/playing (on) it till it's ready to be recorded professionally.
Review Fix: What's your standout song? How was it written?
ST: I think we don't have something like a standout song. Our songs are very versatile so some people like this song and others like that song – it's quite balanced. The biggest response so far we've gotten to 'Redemptionless'. I assume it's maybe because it was the first "real" video clip we released after our first album "Bird of Paradise" was out.
Review Fix: What are your goals for the rest of 2021?
MM: To achieve world-domination there's not enough time left in 2021 so we postponed this to 2022 (laughs). No seriously, like maybe most of the bands out there we want to reach more listeners. Because it's still difficult to plan for live-concerts we're focusing on spreading our music online, also with the help of our management. Releasing singles, EPs and videos that promote our upcoming album "Flowers & Pain," taking care of the social-medias and staying in a good musical shape to be ready for our tours in 2022 keeps us busy. Doing all that and more we're working toward our goal to communicate to as many music-lovers as possible as often as possible to maybe give them some more moments of happiness in their everyday-lives.
Review Fix: How do you want your music to affect people?
ST: As a songwriter I'd like to touch people's hearts and make them think about their life and actions. There is so much cruelty in this world. But I think with music you really have the chance to communicate with many different people all over the world and they will listen. Music & art are two of the very few things that really can change the world and its inhabitants.
Review Fix: What's next?
We're just finished with the mix of our next album, Flowers & Pain" and can't wait to release another single of the upcoming album on october 15th! We will also release TWO visualizers for the song which will be out on october 22nd. Furthermore we got a very special offer for our fans: Until the new album will be released, a four-piece-EP Package including four new songs as well as four special tracks is available and can be ordered (only) through the band now! In case anybody is interested in ordering the physical EP-package please don't hesitate to contact us on FB, Instagram or write us an email to deadvenus@gmx.ch to order your copies. We're also very much looking forward to the Europe tour with Orphaned Land, which hopefully finally can take place in March/April 2022!