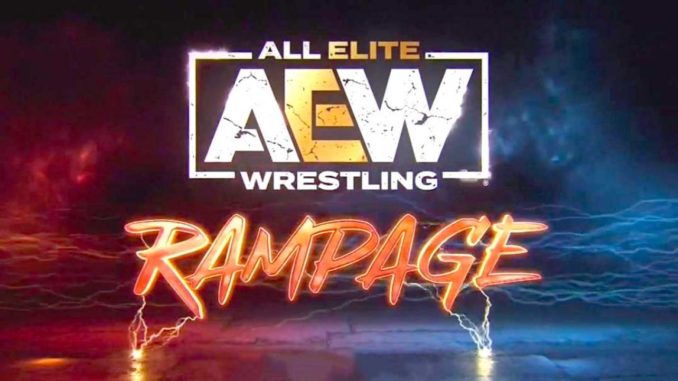 For the wrestling promotion that claims to be more than a t-shirt company A.E.W. sure acted like a retail chain by offering Black Friday Deals tonight. Was Riho able to cash in before the deal's expired? Read on to find out!

Honorable Mention: Orange Cassidy, Wheeler Yuta and Daniel Garcia: All three competitors had really strong showings despite their losses.

5: FTR: The former A.E.W. tag champs and current A.A.A. tag champs said that the Lucha Brothers can only beat them when they pin the illegal man so they want a 2/3 falls match for the A.E.W. tag titles next week. This should be a BLAST I just wish both sets of titles were at stake to make it feel even bigger.

4: Tony Nese: Nese challenged Sammy Guevara to a TNT title match next week saying he's been studying Sammy and he sees the holes recent opponents have not. Sammy accepted the challenge but Nese hit him with a cheap shot before stabding over him with the belt and saying "The only reason you have that is guys like me weren't available yet" He's no C.M. Punk or MJF but this was the best Nese has ever sounded just by getting to say something. I do think he's a bit of a redundant signing as A.E.W. seems to have 50 little guys who can flip but I'm still excited to watch that title clash next week.

3: Eddie Kingston: Despite being outnumbered 3 to 1 by 2.0 and their son Daniel Garcia Yonker's own got the win after a side suplex and spinning backfist to Red Death. Garcia did a number on Kingston's leg throughout the match but Eddie went back to his roots using such technical moves as eye pokes and biting to help him claw his way back before getting the win. This was another strong showing by Garcia in a loss in a Rampage main event and he's really nailing down his place in the sort of second generation of A.E.W. pillars with guys like Dante Martin and Lee Moriarty. It's great to see this company so stacked with current stars but so loaded with future stars as well.

2: Riho: Commentary reminded us that she never got a rematch after losing her championship and the inaugural AEW Women's Champion finally earned another crack at it after picking up a huge upset win over Dr. Britt Baker D.M.D. with a roll-up in a "Black Friday Deal" match where Riho would earn a championship opportunity with a win. This match was relatively quick but now it makes sense seeing we'll be seeing it again in the near future. I love the ides that somebody just has an opponent's number even if they're not normally viewed on the same level. Thus far Riho has had Baker's number in A.E.W. but will she have it with the title on the line? Probably not. But it should be a fun meeting.

1: Adam Cole and Bobby Fish: The duo I'm dubbing The Unchallenged Epoch got a win over Orange Cassidy and Wheeler Yuta when Fish hit a big falcon arrow off the top rope to Yuta for the 3. While Cole found way after way to stop Cassidy from getting his hands in his pockets early on Orange showed that his comedy, much like Thanos, is inevitable. It started when Yuta ran full speed into the corner 2 or 3 times while Cassidy took the entire time to walk to the corner to get one Irish Whip out of it. After what commentary called a "luke warm tag" Cassidy finally got his hands in his pockets and landed his lazy kicks to the hamstrings of Cole & Fish. He followed up with a double dropkick and a double hurricanrana followed by kicking off Cole's chest to give Fish a tornado DDT. Yuta & Cassidy were on their game tonight with more dives, splashes and even a Beach Break but none of it was enough to beat the former stablemates. It feels like we'll soon see Fish & Cole climb the tag rankings which would be a really fun story if the Bucks still had the belts but I get the feeling the may have to clash regardless when both are in the top 2-3 of the rankings.