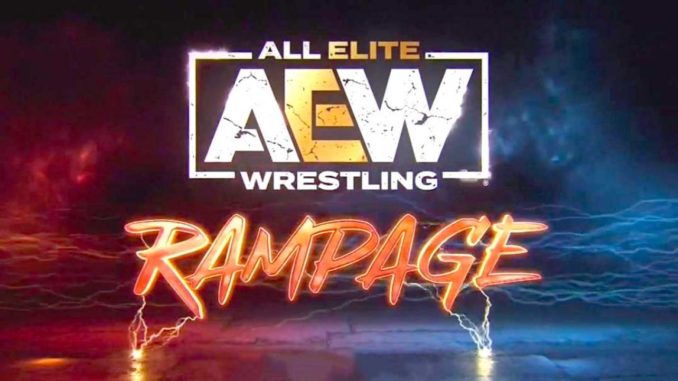 It's only fitting that the Halloween weekend edition of Rampage featured a dentist v. a zombie in the main event. Even the tables were in the holiday spirit; doing their best Bruce Willis impersonation and becoming Unbreakable!  But before that we had a couple of other matches so let's get to the rankings! 

Honorable Mention: Thunder Rosa: She wasn't on the show at all but there were multiple mentions of her throughout the main event calling back to the St. Patrick's Day Lights Out match and explaining that if that had counted she'd probably have had a title match by now. A rematch with Rosa still feels like the long game for Britt. 

5: Eddie Kingston: For years wrestling fans complained about "Super Cena" "squashing" talent left and right and leaving them for dead. And for years I'd defend it saying that it's not Cena's fault it's creative's for forgetting about so many of the guys Cena beat once he was done with them. AEW reinforced my belief in that tonight keeping Eddie strong despite him losing his bid for a title shot. Kingston went to war with Bryan and looked like an absolute Stone Cold like badass flipping Bryan off as he passed out but after turning away from a post-match handshake attempt from Bryan Kingston tore through the back irate that the bell rang despite him never tapping. This led to Kingston slapping the mic out of Schiavone's hand during an interview with Punk and the two having a confrontation where Punk asked him if he wanted to "Go to sleep again?" There was no word on when Punk v. Kingston might happen but I'm crossing my fingers this gets added to a loaded Full Gear card. 

4: Abadon: Like Kingston Abadon looked very strong in defeat. Abadon was up first after Baker landed both a swinging neck breaker off the apron into the table and a suplex into the table; both of which the table no-sold worse than Austin Aries at the end of Bound for Glory 2018. She also sent Britt into tacks with a uranage and got up immediately after having her head stomped into a chair. Despite some comedic elements like Justin Roberts introducing her as "Crawling to the ring" and commentary playing "Guess what's in the bag?" (Jericho had a really small snake, Taz had a handful of lugnuts and Starks guessed plastic spoders) Abadon proved she is no joke and a real threat if and when the odds are even. 

3: Dante Martin: With Rush in his corner Martin didn't come out of the gates 100 miles per hour like he has in the past but he eventually got there to get his first win in three meetings over Matt Sydal. Once again AEW is always telling us a story beyond the story as commentary talked about Martin possibly feeling hesitant to leave his brother Darius behind as he aligns with Rush. Dante's hangtime on some of his moves is just ridiculous. He hangs there like the fish in those toy gel aquariums. At one point I counted nearly 3 seconds in the air on a spirngboard dropkick. The world needs Montez Ford v. Dante Martin before they both call it a career. He also had a high jump sunset flip that looked great, a moonsault to the outside off the middle turnbuckle and a sideways dodging flip with 1 foot on the bottom rope to avoid Sydal running at him in a move you just have to see for yourself! Martin got the win after flipping out of the same Lightning Spiral that got Sydal the win in their first two meetings and hitting his double jump springboard moonsault for the three.

2: Bryan Danielson: American Dragon matches seem to all go the same way for me. I watch the first ten minutes saying to myself "Man, this is slow and unnecessary" but then his chest looks beet red and the exciting moves kick in and I leave loving what I saw. This was no different. Kingston poked the eye and ran at Bryan but Bryan pulled the rope down sending Kingston outside before following up with running double boots between the second and bottom rope. Bryan tried a running knee off the apron but Eddie caught him with a forearm smash and saito suplex. Bryan dropped at 8 but got in at 9 to barely save himself. Kingston followed up with another saito in the ring and a stretch plum. Kingston recognized the neck as the weakness of Bryan and attacked it. After an exchange in the corner Bryan sent Kingston off the top with a belly to back suplex. Bryan finally got the W locking Kingston in a triangle and making him pass out. Bryan's finisher being not having a finisher is one of the most fun, unique things in wrestling today and lends so well to his more MMA-ish technical and grappling based wrestling style. The finals of the #1 Contender's tournament at Full Gear are going to be insane whether it's Moxley like I expect or the shocker of Orange Cassidy standing across from him. 

1: Britt Baker. D.M.D: Britt called herself the "Hardcore Legend" during the pre-match interview with Mark Henry but it's becoming less of a joke and more of a real badge of honor. The only woman I can say I enjoy watching as much as Baker bell to bell right now is Bianca Belair and there is no woman I enjoy more in hardcore match settings. Despite all the aforementioned punishment Baker put Abadon through she took some herself getting slammed into tacks and having to kick out while on them, which is something I wish commentary had pushed more. Britt nearly had another contender to her title when she hesitated to hook the lockjaw into Abadon's zombie mouth and instead got her fingers bitten because of it. However, in the end the brilliant Britt Baker tooth taker used the numbers game to her advantage and got the win siccing her own zombies Hayter and Rebel on Abadon and the ref respectively allowing Britt to roll up Abadon for the win. My only complaint is that we haven't seen nearly enough from Conti to think the Full Gear match will surpass this or Baker v. Soho from Grand Slam so I really hope Conti has some surprises in her bag.