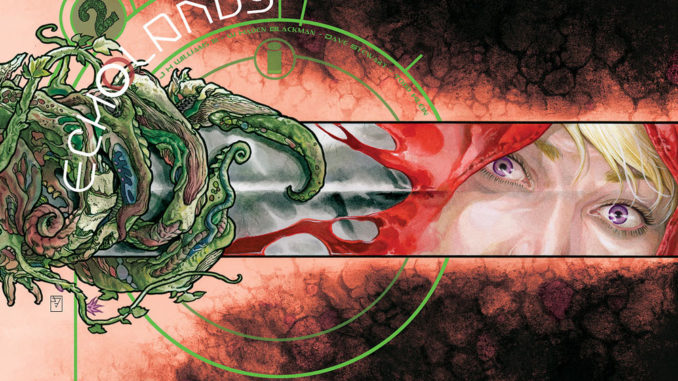 The eye popping new release to hit shelves—Echolands #2 by J.H. Williams III (Promethea, The Sandman: Overture, Batman), W. Haden Blackman (Star Wars, Elektra), colorist Dave Stewart, and letterer Todd Klein—has hit big with readers and sold out completely at the distributor level. Image will fast-track the issue for a reprint in order to keep up with growing customer demand.
"We all continue to be humbled and astounded at the response the series has received so far," said Williams III. "The embrace from the readership is wonderful, and we hope that they will enjoy the upcoming chapters just as much."
In Echolands #2, Hope Redhood and her companions, Cor, Caniff, Castrum, Dena, Rabbit, and Rosa, are on the run from the Wizard, Teros Demond, and his terrifying daughter. Why is the Wizard willing to kill to regain his stolen gem? Can Hope and her crew escape the strange robots lurking in the tunnels beneath San Francisco? And will they survive a betrayal by the pirate captain, Bloody Gums?
This breathtaking series defies comic book medium expectations and provides an unforgettable feast-for-the-eyes in a sprawling landscape format. Each spread page expertly showcases the artwork and the unique reading experience instantly sent fans abuzz with excitement for its mesmerizing story.
Set in a bizarre future world that has forgotten its history, Echolands follows reckless thief Hope Redhood. Hope holds the key to excavating a strange, dark past—but only if she and her crew can escape a tyrannical wizard and his unstoppable daughter. But fate will send them all on a path leading to a war between worlds.
Echolands is a mythic fiction epic where anything is possible; a fast-paced genre mashup adventure that combines everything from horror movie vampires to classic mobsters and cyborg elves, to Roman demigods and retro rocket ships. It's going to be a helluva ride!
Echolands #2, second printing Cover A (Diamond Code AUG218991) and Echolands #2, second printing Cover B 1:25 copy incentive (Diamond Code AUG218992) will be available at comic book shops on Wednesday, November 17.