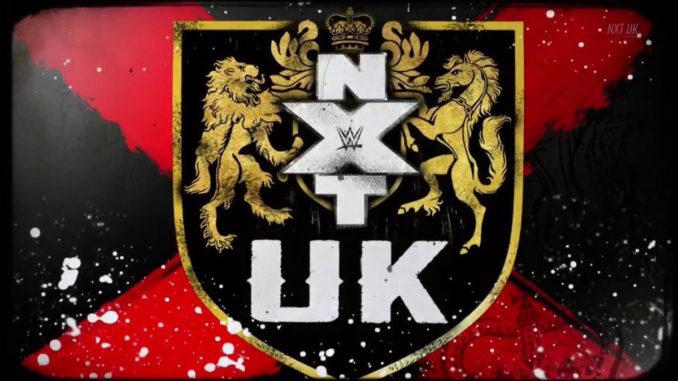 NXT 2.0 is supposed to be about introducing us to the stars of tomorrow but WWE has a slew of them being harbored across the pond in the BT Sport Studio and tonight's NXT U.K. was a prime example of who that crop includes. So jumping right in to the water filled with fresh fish here's this week's NXT U.K. Power Rankings!

Honorable Mention: Ilja Dragunov and Xia Brookside: Dragunov was interviewed about his match with Rampage Brown in 2 weeks and he had a great line about how "Legends and myths aren't written about the giants but the courageous heroes that make them fall" On the opposite end, Brookside continued to evolve her new spoiled, rich, "Daddy's girl" act when she showed up 15 minutes late for training and said she doesn't have to train with the rest of the people, she has lrivate sessions and she has a note.

5: Teoman and Rohan Raja: The evil eye sees all and thankfully Teoman saw what an asset young Charlie Dempsey could be for his family. Teoman's foresight helped them score the win over former NXT U.K. tag champs in Gallus when they finally turned the tables and got the numbers game in their favor and hit a lone Wolfgang with an Evil Eye followed by a Paydirt for the win. As much as I joke about Gallus the 4 men in this match had a really solid outing. Not on par with some of the recent NXT main events but still a fun match nevertheless.

4: Kenny Williams: The "Scum of the Earth" lived up to his name once again by using his dirty tricks to defeat the much larger, scarier Saxon Huxley. Williams' showed how low he'd go early on by maintaining a headlock via pulling Huxley back by his hair. He'd go on to get the win using a tactic commentary equated to a roach escaping the light when he crawled under one side of the ring and came out of the other and attacked Huxley from behind while he searched for Williams. With Huxley reeling from the attack Williams hit the "Bad Luck" inside the ring for the 3.

3: Aleah James: The promising newcomer James impressed with her athleticism yet again by beating the larger, more established Nina Samuels with a tilt-a-whirl turned into a small package. James showed a lot of potential earlier in the match when she bounced backwards off the top rope to break up an armlock and jumped from the outside apron to the inside with an X-factor like split turned into a hurricanrana in a really smooth looking spot. I'd love to see (as the fans chant) Ah-lee-ah, Ah-lee-ah mix it up with Sasha Banks down the road. I think that's how good James could be if things break right for her.

2: A-Kid: Some kids are terrified of lightning by A-Kid had no problem standing up to "The Thunderstorm" Sam Gradwell in one of the brand's hotter openers in recent weeks. A-Kid's holds and submissions continue to be a thing of beauty. He maintained a cravat through a roll-through and managed to catch one off a kick-out that just looked tremendous. A-Kid also bridged back out of a Boston Crab in a nice looking spot. He's not just all holds as he also hit a dive through the ropes and a top rope crossbody. Gradwell had some great power spots too like throwing A-Kid in the air in the middle of a tilt-a-whirl attempt and a nailing a 1 arm lift and drop of A-Kid while he tried to lock in an omoplata. Gradwell also has some of the most brutal looking forearms in the game and used them on A-Kid. The crowd harkened back to Sheamus' time sporting a mohawk chanting "You look stupid!" at Gradwell but after tonight I want to see those two exchanging shots one day. Despite my appreciation for Gradwell's effort it was A-Kid keeping an armbar in even through a powerbomb attempt that earned him the win and #2 place in this week's rankings.

1: Charlie Dempsey: I've been shouting from the rooftops that Dempsey is the next big star in WWE and that Gallus are a group of bad guys we shouldn't be encouraging. That made tonight's ending so satisfying as Dempsey showed up to even the odds for Teoman and Raja by helping to take out both Coffey brothers and leave Wolfgang alone in the ring to eat the pin. I am slightly concerned since Teoman has previously teased growing his family. Dempsey should not be doing the bidding for him but rather Teoman and Raja should be underlings for Dempsey. Despite having more than enough star power as a solo act this does get Dempsey right in the mix with former tag champs in Gallus and a former #1 Contender in Coffey to really feel big time. The image of Joe Coffey being choked against the rops by Dempsey is something I expect we'll see replayed many times. Don't be shocked if in a decade from now this is looked back on as a key but forgotten moment in the career of a future WWE Champion.