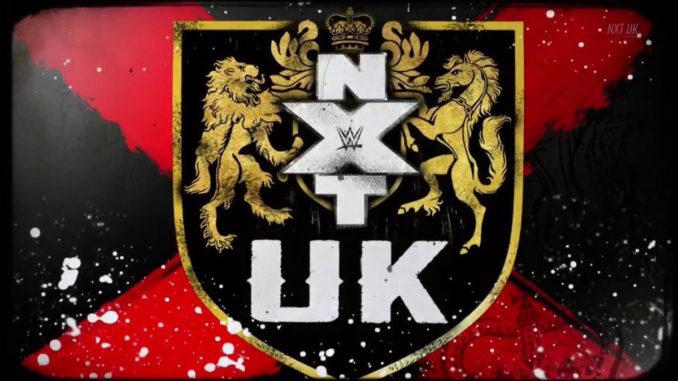 We sent last week's NXT UK back to the kitchen and after sitting at the table for a week twiddling our thumbs the waitstaff at Peacock brought out a piping hot, delicious serving of the show more in line with what they normally serve. So let's take a big bite out of this week's power rankings. 

Honorable Mentions: Symbiosis, Oliver Carter and Ashton Smith and Dave Mastiff and Jack Starz: The main event was really solid this week and all four teams played a big role in it. T-Bone showed his strength by hittin a fallway slam on Mastiff, Mastiff used his size to crush people over the course of the match, Primate ran around like a maniac, Starz went dropkick crazy and powerbombed Seven and Smith and Carter hit some fun double team moves including their signature electric chair/springboard twisting cutter combo on Mastiff that just looked bananas. They all deserve a spot and would have had them if this show wasn't as good as it was overall. 

5: Dani Luna: If Tyler Bate is the "big strong boy" of NXT Dani Luna is the "big strong girl" She handed Stevie Turner yet another loss nailing her signature firemen's carry bomb for the 3. Later in the night she was confronted by Blair Davenport who told her to stay at the bottom because the further she climbs the further the fall will be when Davenport knocks her down. Davenport continues to feel like the biggest threat to Satomura but Luna has been built as a worthy opponent for Davenport to solidify herself as the #1 contder so hopefully we get that meeting sooner than later.

4: Nathan Frazer: AEW has their "Four pillars" of MJF, Darby Allin, Sammy Guevara and Jungle Boy but I'm dubbing Frazer, A-Kid, Charlie Dempsey and Tyler Bate the "four posts" of NXT UK. I think that's a foursome you could build not just NXT UK but main roster WWE around for a decade or more. Frazer showed off his insane athleticism here jumping to the top rope for a moonsault which he missed but landed on his feet for, rolling through a missed Phoenix Splash attempt and hitting an absolutely wild looking Spanish Fly off the middle rope as he caught Andrews trying to springboard off the top rope. 

3: Mark Andrews: He and Frazer had a blast of a match to start the show. This was fast paced, high flying back and forth action that got an "NXT" and "This is awesome!" chant from the crowd. While Frazer had some very impressive moments it was Andrews coming out on top. Andrews took Frazer off the top corner with a 619 to the legs while seated. He caught a Frazer kick and flipped him backwards into a facebuster. Andrews finally put Frazer away after a stundog millionaire followed by stacking him during a roll-up attempt from Frazer. This was a hoot and you should check it out. 

2: Pretty Deadly: Once again they make the list without a match. That's how good they are. This week the traveled to the theater to learn a literal Magic Mike routine which, of course, they mastered in a mere 30 minutes. They explained that they were "Pretty Serious" about learing the Magic Mike dance and wondered what they'd be "Pretty Serious" about next. They are following in the long line of teams like the Fashion Police, Team Hell No and New Day as guys who do great comedy work but can flat out go once that bell rings. Let's see if they can take out Moustache Mountain once and for all. I think they can. 

1: Moustache Mountain: Tyler Bate is still the biggest, strongest boy and he's still saddled with the oldest, softest man in Trent Seven. Thankfully for Seven, Bate showed out in this match and helped them leave victorious and with yet another shot at Pretty Deadly and the NXT UK tag team championship! Insults aside, everyone's favorite handsome grandma Trent Seven did some work in this match. He recovered from being thrown (not tossed; this is the UK after all) off the top on to a crowd outside and nailed a Seven Star lariat late in the match for 2. At the end of the day though it was still Bate with the most impressive spots. Bate got Primate in an airplane spin and Starz in a big swing at the same time to show off what a big strong boy he really is. The end came when Bate and Seven landed a burning hammer/knee combination for the pin. After the match Pretty Deadly showed up to taunt them with the titles and I cannot wait for this rematch!