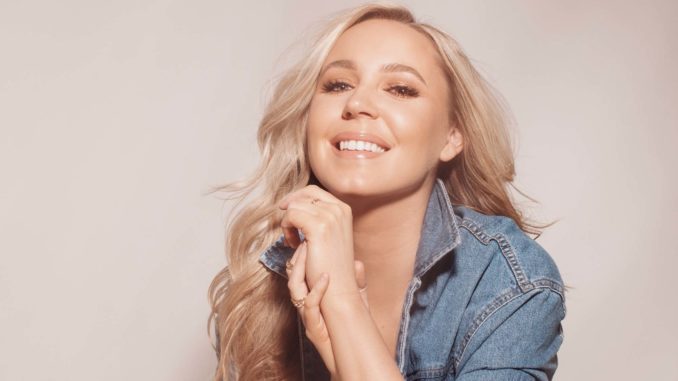 Review Fix chats with singer/songwriter Elyse Saunders, who discusses her origin in music and new EP, Free.
About Elyse Saunders:
Canadian country recording artist Elyse Saunders is thrilled to announce the release of her new EP, "Free", which drops October 21st on all digital platforms.
"Free" uses a modern country production canvas to integrate a seamless and dynamic blend of propulsive power pop elements, R&B influences, traditional classic country licks, and heartfelt storytelling across six songs. These artistic choices set the tone for the broader themes of the EP that Elyse wanted to convey.
She says, "I created 'Free' as a means of bringing joy to others. I want people to listen to it and get excited – not only about the music, but also about embracing their own identity, and finding happiness and freedom in every moment."
Three new songs will be unveiled with EP release: The inclusive and empowering "Genes" produced by CCMA award-nominated Dan Swinimer, the sassy and campy "Famous" produced by BCCMA Award winners Paul Shatto and David Wills, and the breezy bonus track "California" produced by CMAO Award-nominated producer Shawn Moore.
Review Fix: How did you get started in music?
Elyse Saunders: Music has always been a part of me since I can remember.
I started songwriting in my journals, then performing live through dance, which then turned into singing competitions and meeting my very first music producer, who had a great impact on me early on. I knew at the end of high school that doing music as a career was really possible, so I spent years self-developing by playing at large country clubs and collaborating with other songwriters.
Success doesn't happen overnight, but it's exciting to look back at where I started and see how far I've come. I'm so excited about what's been happening these days!
Review Fix: For those who have never heard your tunes before, how do you sell yourself?
Saunders: I'm a singer/songwriter, female country recording artist who loves to entertain!
I've always been an entertainer and put a priority on giving my fans a memorable live concert experience! I've always looked up to big vocalists and my voice is my main instrument. When people come to see me live, they can expect big vocals and a big show! I also love recording and writing songs with modern melodies and stories with messages of positivity, empowerment, and being in the moment.
Review Fix: What makes Canadian Country music different?
Saunders: As people, our core values and experiences are very similar. The only difference would be that we might have longer winters here, really enjoy a good poutine, love hockey, maple syrup and Tim Hortons coffee. Haha!
All jokes aside, because of the vast amount of cultures we have ingrained in our country, I'm sure it's made an impact on our surroundings and who we are, which would bleed into how we create based off of some unique experiences.
Review Fix: You've worked with some amazing producers. What have you learned from them?
Saunders: Each of them bring something unique to the table just on the sole fact of how they work in the studio and how they like to best capture the performance and essence of the song. I've really loved working with all of them and having all of these experiences. The main thing I've learned from all of them is how important it is to share a vision, to always come prepared and professional, and to always be authentic to who you are.
Review Fix: What inspired "Free"?
Saunders: "Free" was inspired by my youth of growing up in my hometown when I felt a little more free of responsibilities, where I found my love for country music, nature and experiencing all of the new exciting adventures you have in your teens. It was a time where I was still getting to know myself and although I felt pretty self-conscious and unsure in many ways, it was a time of living in the moment and experiencing the world around me.
I really wanted to capture that feeling in a song and the message of finding time to slow down once in a while to just be free. It's a good reminder to myself and for anyone else that resonates with that message to slow down once in a while, to just be in the moment, and be yourself. It was the first track off of my EP and led to so many other firsts and new milestones in my career. It's the title track and fits perfectly with where I'm at in my career and for this EP.
Review Fix: The song has over a half million downloads on Apple Music – how does that make you feel?
Saunders: It feels amazing and gives me a real sense of how far I've come in my career! To know that my music is connecting with so many people is the ultimate honor and compliment. As a singer/songwriter, the goal is always to make a difference for people and it's so cool to see that my music is doing that now. I've always believed in what I do and have put a lot of my life into getting my music business to this point. I can finally call this a full-time career doing what I love and to look back at all of the years of hard work to get to this point makes it so much more rewarding!
Review Fix: What is special about this EP?
Saunders: This EP is really showcasing my music and this brand new chapter in my music. It really captures who I am as a writer, vocalist and entertainer and is the EP that holds so many songs that are really making an impact! It was funded by both Factor Canada and Creative BC and was produced by multiple producers, including Dan Swinimer on 3 of the songs and the duo Paul Shatto & David Wills on two of the other songs. Although the productions are slightly different, I like being able to give my audience a slightly different edge through production styles that are different enough but also compliment each other.
Review Fix: What are your goals for it?
Saunders: My goals are to reach as many people as possible and to use it as a lifting-off point to continue the momentum and release more music! It's opened up many more doors of possibilities for me and I'm looking forward to exploring it all. I've also really enjoyed creating a lot of video content to go along with the music releases and I can't wait to share more.
An example of more video content was my online CD release party and EP premiere. We took viewers "Behind The Songs" with sit-down video of me talking about each song and sharing a verse and chorus of each song with brand new video content never been seen before. It also included a live Q&A with my fans, so we can talk about the EP and what they can expect when they buy a physical copy! It's been exciting for me to release the EP this way, as it gives viewers and listeners a unique experience and then I'll showcase all of the songs through a live showcase in the new year!
Review Fix: What's next?
Saunders: I can't wait to play a lot more shows, record more music, release more music videos, collaborate with more writers as well team members so we can keep this train going!
Review Fix: Anything else you'd like to add?
Saunders: Thanks so much to you all at Review Fix for the wonderful support and the interview today. Also big thanks to anyone that has streamed, bought, shared, and liked my music!! It means a lot and I can't wait to see you at a live show soon.