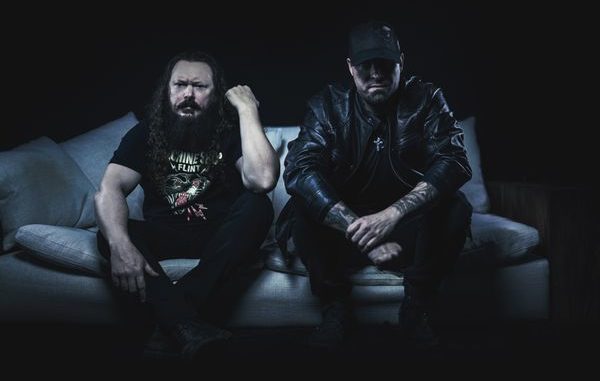 Review Fix chats with Sunflower Dead's Michael Del Pizzo, who details the band's new album, March Of The Leper, their creative process and goals for 2022.
About Sunflower Dead:
Sunflower Dead have traveled the U.S. on tour with the likes of Scott Stapp (Creed), HELLYEAH, All That Remains, Ill Nino, In This Moment, Powerman 5000, Hed (PE), SOiL, Hurt, Smile Empty Soul, Avatar, Shaman's Harvest, Mushroomhead and Nonpoint over the past several years supporting their releases. Their brand of infectious hard rock has managed to turn the heads of new fans, effectively known to the band as 'Evil Seeds,' at each new stop along the way.
Review Fix: We last interviewed you back in 2015 to promote your "It's Time to Get Weird" disc. So catch us up to what has happened over the past half decade.
Michael: We have been through a whirlwind since that time. Â From taking off the makeup to show that we have more to offer than just a visual, to a complete member overhaul with now very serious players, to releasing our 3rd album C O M A in 2018 which yielded 2 Top 40 Active Rock Singles and 3 successful tours supporting that album to writing and recording (during the lockdown) our 4th album March Of The Leper which is set for release on March 4, 2022 to already being out on tour now in 2021 with many more tours lined up!
Review Fix: How has the band dynamics changed? We see the band now only consists of Michael and Jaboo.
Michael: Since dropping the makeup and moving forward with different supporting members, the vibe of the band is much more positive and 100% more serious. Lyrically, everything is so much more weighted and musically, we now get to take the gloves off and show what we have to offer. The focus is so much more apparent with everything on the upcoming album and the live show has been turned up ten fold.
Review Fix: How was the band affected by the tour shutdown during the pandemic? What did Sunflower Dead accomplish during that time besides recording of the upcoming album.
Michael: We for off tour 5 days before the shut down happened and like everyone else, all our touring for 2020 was postponed. We quickly shifted gears and wrote and recorded our upcoming new album and it might have been the best thing for us. We have a process of being very easy going with things we can't control so we just went into writing mode and thank god we did. Luckily, we remained healthy and safe.
Review Fix: What's your creative process like for the upcoming "March of the Lepers" vs. previous releases?
Michael: Focus…. Focus on only what Jaboo and I wanted to accomplish. Focus because we had the time to make things as right as we could. Focus because we produced this album ourselves. Focus because we had no outside influences or outside opinions pushing things in ways that were not 100% Michael & Jaboo. Focus because we were able to learn from our past 3 albums (which we are very proud of) and take things to the next level.
Review Fix: So far you have released two songs from the upcoming release, The Underneath and more recently Falling Down. Will you release more singles prior to the release of March Of The Lepers due out in March 2022?
Michael: Yes, in October we are releasing our cover of INXS Never Tear Us Apart (completely rewritten Our Way) and then in January another single will be dropped. It all culminates on March 4 with the 5th single drop and album release.
Review Fix: So, do you have a standout song on your upcoming album March Of The Lepers?
Michael: In my opinion there are 9 songs on this album that are all stand apart pillars holding up entirety of what is March Of The Leper. Each song is its own epic.
Review Fix: When we last interviewed you, downloads and physical sales were still prominent but now it has become a 'streaming' world, what is your personal opinion of it? How have you adjusted?
Michael: My opinion of the way people get their music will never change…. Whatever it is at the time, it is. My focus is writing and performing music that gets me closer to the truth of who I am as an artist. The delivery of the music business wise is what it is.
Review Fix: What are your goals for 2022?
Michael: Always the same… Continuing my path of self discovery, being thankful for the opportunity to rock and of course WORLD DOMINATION.
Review Fix: Anything else you'd like to add?
Michael: You can preorder March Of The Leper now at www.sunflowerdead.com. Thank you for having me again!