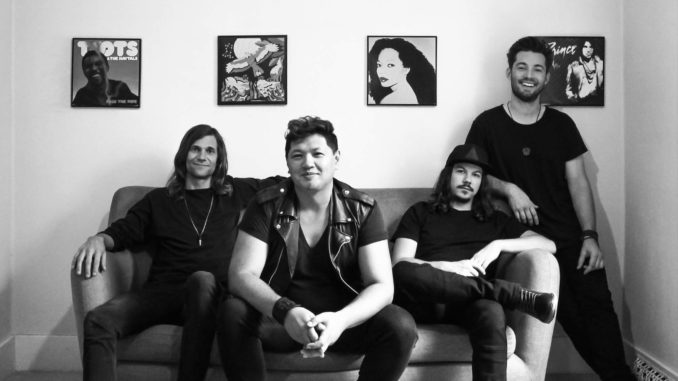 Review Fix chats with The Steadies frontman Earl Pereira, who discusses his origin in music, Canadian music and the band's new Single, "Light Me Up."
About Light Me Up:
Highlighted by sleek and sexy grooves alongside emotionally uplifting vocal melodies from both The Steadies and featured artist (and co-writer) SNJÜ, "Light Me Up" showcases the band's pop-rock flavour with a hint of world reggae influences. Drum layers bring out the song's massive sound, while electronic and organic percussions allow enough room for the harmonies to soar.
Earl Pereira – the band's frontman, who also co-wrote the track with SNJÜ – says, "Finding a love that can ignite the light we all have deep within us was the inspiration behind 'Light Me Up'. We wanted to capture the feelings of true romance and happiness (like finding your soulmate) through dreamy sonic soundscapes, danceable rhythms, and uber-catchy melodies."
A Juno-nominated and WCMA Award-winning music veteran dating back to his days as a co-founder of Canadian rock band Wide Mouth Mason, Pereira has guided the four-piece band (alongside Jesse James Clark, Kurtis Schultz, and Chris Valleau) – through four albums, international touring, and a growing fan base – among them "Riverdale" star KJ Apa, whose on stage jam with the group at a Vancouver show resulted in a video that quickly went viral.
Review Fix: Pleasure to meet you Earl! Let me ask you, what makes this project special for you?
Earl Pereira: Well this is my baby and a sound and style I created that is purely me. I'm an positive upbeat person who enjoys making people feel good and that's exactly what The Steadies are all about!
Review Fix: What do you get to do here that you didn't get to do with Wide Mouth Mason?
Pereira: I am the primary songwriter and band leader now, whereas in Wide Mouth Mason, I had an important role as the energy guy and heart and soul, but I wasn't able to have my voice heard in the same way. I also love singing lead, and have a lot to say lyrically, whereas before, I was more of the arranger creatively.
Review Fix: You've shared the stage with legends. What was the biggest lesson?
Pereira: Getting to watch and learn close up from some of the best in the biz like Mick Jagger, Angus Young, Billy Gibbons, and Ziggy Marley, I learned a lot about professionalism on and off the stage and also how to engage the audience.
To become one of the greats, you have to be consistent, even when you're not feeling your best. That's the difference, they always bring it every single night.
Review Fix: What makes Canadian music different?
Pereira: I think what makes Canadian music different is that we have so much diversity and culture that varies from province to province. You have the Celtic sound of the East Coast, the indie rock and jazz of Ontario, blues and country of the Prairies, and the rock and world beat of the West Coast. I love that variety and that it's tied to the fabric of the various regions.
Review Fix: Did you miss being on stage?
Pereira: Oh yes very much so. I am – first and foremost – a performer before anything else, so for people like me, it was torturous. But I was able to take some time to focus on other aspects of music and the business. Definitely stayed productive!
Review Fix: How did the Pandemic impact your music?
Pereira: The pandemic impacted our music in a positive way, actually. We're such a touring band – always on the go – that it was nice to just take time to write songs and be creative. At the end of the day, it's making music that is the most important way to build our career and fan following.
Review Fix: Tell us about your new single and EP?
Pereira: Our new single "Light Me Up" is a collab, as I co-wrote it with Vancouver-based singer-songwriter, Sanjay Seran from the popular electronic-worldbeat group Delhi2Dublin. It's song about finding someone who brings out the light within you. Musically it's very eclectic, combining our island-rock style with South Asian rhythms and electronic soundscapes.
Review Fix: What are your goals for it?
Pereira: We want the song and video to be seen and heard more than anything we've released up until now. It's the first time we have had music released through a record label – in this case, Bristol Records – so we're excited that the extra marketing will help The Steadies achieve more recognition worldwide.
Review Fix: What else makes it special?
Pereira: I think it's one of those songs that instantly makes you feel good even if it's not normally the type of music you might listen to. It has universal pop-crossover appeal which could bode well for us if it catches on.
Review Fix: What's next?
Pereira: We've been doing shows in Western Canada as much as possible in support of the single and are planning our winter now. Our EP will come out next year and it's part of a larger project that we'll be announcing soon. Hopefully, we can also get back to international touring once restrictions allow it.
Review Fix: Anything else you'd like to add?
Pereira: Thanks for taking the time to chat and shine a light on The Steadies!