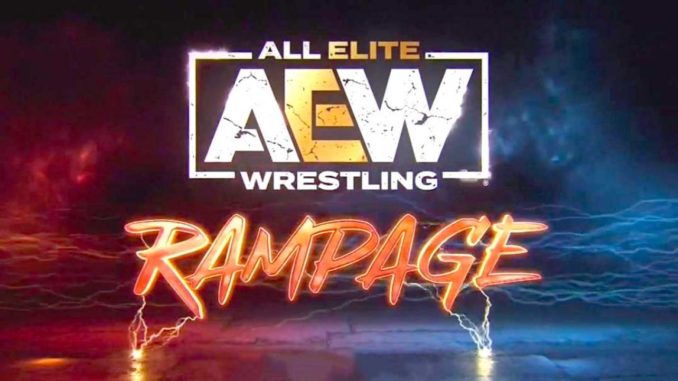 Check out this week's AEW Rampage Power Rankings to see who ended their 2021 on a bloody awesome note.
5. Andrade El Idolo. In an unexpected move Andrade came out following Darby v. Bowens and stood there for a minute before returning to the back while The Acclaimed jumped Sting and Darby post-match. I'm not sure if this was setting up an alliance with Andrade & The Acclaimed or just a match between Andrade and Darby (or maybe even Sting) but either way I'm excited for the possibilities. If we get Darby v. Andrade that's already a Match of the Year candidate for 2022 for me. And if people decide to overlook the recent Flair controversey he with or in the corner of Andrade against Darby and or with Sting could be a hoot!

4. Darby Allin. Darby is so good and could easily get the #1 spot every time he's on Rampage. He's only this low because of the stakes of the title match and insanity of the street fight. The story here was the speed of Darby v. the power of Anthony Bowens. Darby's ability to look like he just got murdered is second to none ans it was on full display here when Bowens, standing inside the ring, whipped Darby, while standing on the apron into the post and Darby flew into and around the corner. After his 100 mph suicide dive on to both members of The Acclaimed Darby hit the Coffin Drop on Bowens for the win.

3. Cody Rhodes. It's only fitting that the guy who drew "Let's go Cody! Cody sucks!" chants be in the tweener spot of my 5 spot list. This was a solid first defense in this reign as TNT Champ for Cody. He continued his path towards being more and more brutal as he worked over Page's knee all match with chop blocks, an Indian Deathlock, then a figure 4 after ripping the knee brace off of "All Ego" Despite interference from Scorpio Sky, who was run off by Dustin Rhodes, and Page surviving an earlier Crossrhodes and Cody Cutter Cody got the W following the same 2 Crossrhodes and Tiger Driver 98 sequence he used to beat Sammy Guevara last week. There was also a nice, more subtle spot early in the match where Cody reached up on the floor and a fan helped him to his feet. I can see that coming back when he completes the turn when he reaches up and no fans grab him.

2. Penelope Ford & The Bunny. For a match I expected very little from man did all the women in this street fight deliver! Bunny may be a former Nightmare sister but her time spent near the family paid off as she was bloodied so bad it'd make a Rhodes blush. Ford hit a nsaty looking moonsault off the top on to Tay Conti on a table outside but the table didn't break. At some point maybe wrestling promotions will take the hint and get tables that require less weight/force for the women's matches…maybe? This feels like an all too regular occurence. Ford also hit a nasty looking cutter on Tay on to a ladder outside. Not to be outdone Bunny actually broke a table sending Anna Jay backwards through one in the corner while locked in the first Queenslayer attempt. Then there was a spot near the end that, whether intentional or not looked brutal as The Bunny fell in a split into some tacks. Just an overall blast of a match despite these 2 taking the loss.

1. Tay Conti & Anna Jay. I've made it no secret that I'm generally not much of a fan of women's wrestling. It's not the women themselves. It's that for most of my wrestling fandom I've been taught by wrestling companies that women's matches are just there to fill a quota and that their matches will more often than not be more tame and less creative than their male counterparts' offerings. But 2021 started to turn me on that way of thinking. Sasha Banks v. Bianca Belair at WrestleMania was my overall match of the year and Thunder Rosa v. Britt Baker on St. Patrick's Day is also in my top 5. So it's only fitting that a year that helped sway me on women's wrestling end with a top 3 women's match of the year for me. Like The Bunny Conti wore a crimson mask after eating an early glass bottle to the side of the head. Anna Jay hit a middle rope suplex on Bunny into tacks. Conti hit a gotch style piledriver on Ford through a table with a chair on it. And the ending came in a creative spot where Jay wrapped her arm in barbed wire before getting the tap via the Queenslayer. A standing ovation is deserved for all 4 of these women for being way tougher than I'll ever be and just bringing it like the Rock!

Here's hoping 2022 brings us even better wrestling than the awesomeness 2021 brought! Happy New Year everyone!