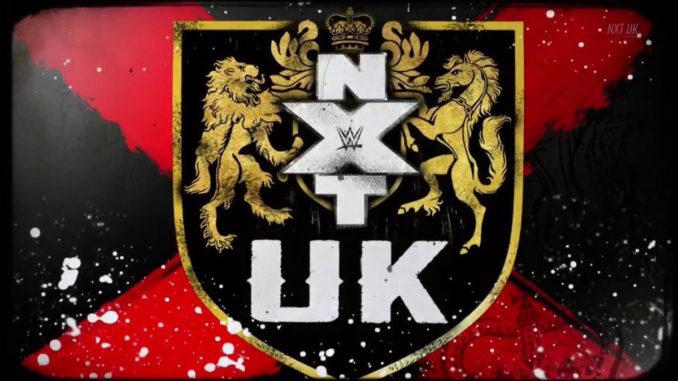 "I'm not brave any more darling. I'm all broken. They've broken me." – Ernest Hemingway, but also probably Nathan Frazer after tonight's main event. Unlike Ferdinand Foch WALTER left this war victorious and got to leave NXT UK on a high note. I've gone on record saying WALTER only has 2 matches; great or terribly boring. This was a great one! So here's this week's rankings:

Honorable mention: Jinny. She did a good job on commentary tonight. She said she's always in the title picture because she is the picture. I like "The Picture" much more as a nickname than Charlotte calling herself "The Opportunity" and saying Amale telling everyone her sob story looking for sympathy is pathetic. Amale isn't a fashion icon and wears clothes that she wouldn't even give her housekeepers. Times like these make me wish wrestling would go deeper with story telling. I'd love a story where Jinny came from a family of "help" and she's been ashamed of her roots which is why Amale being so open with her story bothers her.

5. Charlie Dempsey. He was on the show so match or not he deserves a spot. I won't let those cowards from Gallus take that from him! He was a damn good teammate today and should have helped his Famile members get the win if not for those attention seekers.

4. Amale. With Jinny on commentary smack talking her all match "Hope" got the win over Stevie Turner with the Hope Breaker. She also landed a bulldog during the match which made me chuckle because, get it, French bulldog?! I'm here all week, try the veal. In the back after the match Jinny got in Amale's face who shoved her back and a pull apart ensued.

3. Dave Mastiff & Jack Starz. Once again Gallus ruined my good time. The hooligans (no offense Rocky Romero and Alex Koslov) cost Die Famile (apparently not FamiliA) a well earned win when they came out to try to bully poor Charlie Dempsey and their unwarranted distraction allowed Mastiff to hit a booming German suplex on Rohan Raja to allow them to advance to face Smith & Carter in the finals of the tag title #1 contender tournament. The highlight here was a great spot from Starz when Raja whipped Starz to the outside for Teoman to catch him in the apron like they did earlier in the match (while Dempsey had a very thoughtful discussion with the referee) but Starz ducked under the apron, nailed Teoman and then flipped in from the apron rolling over the back of Raja and diving to Mastiff for the hot tag. Mastiff also impresses me every time out with his athleticism, this time with a standing Green Bay Plunge like move. The tag tournament final being 2 face teams to earn a spot at face champions is a very interesting concept. My gut says there's either Pretty Deadly involvement to make the title match a triple threat or fatal 4 way, or one of these 3 teams turn but neither thing happening would be pretty refreshing.

2. Nathan Frazer. Frazer has become the 2021 Detroit Lions of NXT UK. He keeps losing but he keeps putting up a good fight in the process. He's on a 6 match skid but the 6th was a near classic. The story of this match was Frazer surviving and thriving by using his speed and high flying combined with a relentless assault to WALTER's legs. He managed to get out of 3 powerbomb attempts; first by hitting a hurricanrana, then by turning a powerbomb into a yoshi tonic and finally when WALTER's leg gave out on a 3rd attempt. Aside from working the legs Frazer also hit a curb stomp, a frog splash (which commentary mentioned was taken from his mentor Seth Rollins), a standing shooting star press and a moonsault into an inverted DDT a la A.J. Styles. At just 23 years old Frazer has a tremendously bright future ahead of him but I hope the wins in these matches come sooner than later. With Sam Gradwell needing a partner for his clash with Pretty Deadly next week I'd do a rarity for NXT UK and have Frazer go back to back shows and let him and Gradwell get the upset.

1. WALTER. The Ring General was honorably discharged from NXT UK with a win in a great, hard fought match with Nathan Frazer. WALTER spent a surprising amount of this match on the defensive with Frazer trying to cut WALTER down to size via leg attacks. Despite a bum leg the big Austrian showed he should be on Ink Master because he absolutely tattooed the torso of Frazer with big chops from start. In the end the former champ who reigned for 870 days exited the UK brand with a big, thundering powerbomb to a very game Frazer for the 3 count. My assumption is WALTER makes his stateside debut in the Rumble and my dream is an Imperium v. New Day 6 man tag at WrestleMania but time will tell what's in store for the Ring General.