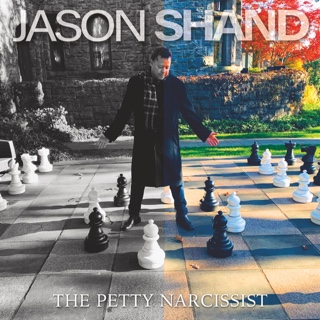 Review Fix chats with singer/songwriter Jason Shand, who discusses his new album "The Petty Narcissist and so much more.
Review Fix: How did this new project come together?
Jason Shand: It just manifested itself organically. I was gigging and writing whenever inspired. After Because of Zeeva was finished, I remember worrying that I wouldn't be able to write another whole album. But everything just took care of itself. It turns out I had a lot to write about these past few years. And I had some in the vault that needed attention as well.
But as this developed, it turned into me pursuing the fantasy of every song on the album being a single. My goal with this 14 song collection became making a substantive personal pop album that not only catered to this new single driven era, but also catered to the old school of having a full length album where each song flows into the other, taking the listener on a sonic story telling ride. As there are no fillers on this album with EVERY song being a potential single, I'd like to think I succeeded.
Review Fix: How is it different from your previous work?
Shand: Maturation on all fronts from songwriting to singing. And more of a sense of what I wanted sonically, production wise, and even down to the way this record was mastered.
Review Fix: What's the standout song on this album? How did it come to be?
Shand: Hard question to answer as not one song on the album is filler… but I'd probably say the title track – 'The Petty Narcissist (Arctic Ocean)' – may be my favorite. It's very dramatic, very emotional- it came from a place of heartache, pain, and anger. A lot of emotional complexity masquerading as a very catchy pop song. It is probably my most deeply personal song on the album. I guess the happy ending to the story is that the subject of the song and I – we mended our relationship a few years after the song was composed. Right now, all it is to me is a great song. The heartache and pain associated with writing the song is thankfully gone."
Review Fix: What's the song you think some people may not get the first time around, but is special to you?
Shand: I'd say the track 'What I Want'. People will mistake it for a love song, but in reality it's a twisted love song about a stalker I had in my life and the song is sung from their warped perspective. Like the title track 'The Petty Narcissist (Arctic Ocean)', it masquerades as a catchy pop song. I'd say the arrangement of the song is the give away to the psychosis of the stalker. Tie the arrangement together with the lyrics and it's more obvious. I went thru a lot because of this sick individual. So the song is special to me in that writing it was cathartic.
Another song that may be in that category is 'Say You Love Me (Please Stay)'. That song is about an individual that gave me mixed signals. It was so frustrating. It thankfully didn't work out with that person romantically as I'm happily married now. I probably dodged a bullet.
Review Fix: There's a beauty through simplicity in your lyrics that I adore. How did this happen?
And I am standing here
Because I know
That we were meant to be
Yeah yeah
Whoa hey hey
Shand: Awww… thank you! I guess it's a style that I developed over time. Unconsciously I guess – it's not something I do pre-meditatively. But I am aware of that stylistic simplicity you pointed out.
Review Fix: What are your goals for 2022?
Shand: To get this album out to as many people as possible and see what happens. A Grammy would be nice. :-)
Review Fix: What else is on the horizon?
Shand: Hopefully a tour of some kind. Just need Covid to get out of the way!
Review Fix: Where can people find out more?
Shand: Follow me on Twitter, Instagram, and Facebook – 'jasonshandmusic' is the handle for all of them. Also www.jasonshand.com .