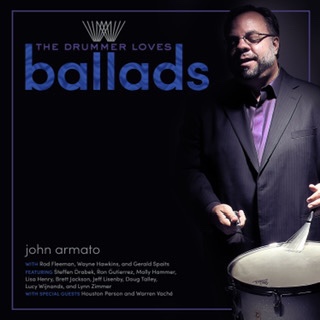 Review Fox chats with John Armato, who discusses his new album, The Drummer Loves Ballads.
Review Fix: How did you put the team together that helped you with this album?
John Armato: Boy, I'm glad you're starting with the team, because left on my own, very little would have happened. It took 28 musicians; five engineers; five creative team members like graphic and web designers, a videographer and an animator; plus a publicist and a radio promotions specialist; and countless other advisors, supporters and suppliers to make The Drummer Loves Ballads a real album and not just a dream. Easily 40 or 50 people were involved start to finish.
Chief among them is John Cushon. John is a drummer – a world-class international touring and recording artist best known for his work with his wife, Oleta Adams. He's also a dear friend of nearly 40 years, a travel buddy, mentor, sounding board, confidante – you name it. I'd carried the idea of the album around with me for decades, but I didn't really know how to make it happen. So in late 2016 I asked John to produce. Thankfully he said yes, and in that moment, he became my "accountability partner." I was a boulder. He knew how to get me rolling down (and sometimes up!) the hill.
John led the way in finding the studio and engineer, Justin Wilson, and we collaborated on tune selection and players. We agreed immediately on the quartet: Wayne Hawkins on piano, Rod Fleeman on guitar, and Gerald Spaits on bass – all world-class players I knew from my early days. So it started with John and the quartet, and then as the vision for the album expanded, the team expanded. For example, when we started talking about larger ensemble arrangements, we hired Paul Roberts, who I knew from the conservatory in Kansas City, to write them. John was involved in every musical decision. I worked more independently on the branding, packaging, and promotion side of things.
One thing that has to be said, though, is that core to all of our decisions was relationships and connections. From the start I knew I wanted this to be a celebration of some of the people I had learned from and "come up" with when I was starting out as a player in Kansas City in the 80s. I'm a sentimentalist and working with people I had history with was really important to me.
Review Fix: How did you feel once everything was recorded?
Armato: Overwhelmed. Amazed. Humbled. Privileged. Fortunate. Astonished. Thrilled. Every form of joy you can imagine. When we had final edits, I could hardly believe we had created this beautiful thing. And then the great Howie Lindeman did the mix and it got even more polished and I was even more ecstatic. And then we mastered with the legendary Greg Calbi at Sterling Sound, and everything opened up with even greater clarity and I was just giddy. Everything exceeded my hopes – and my hopes were high.
The wonderful thing about experiencing that kind of joy is that it shrinks whatever frustrations and hurdles you encountered along the way. You don't forget them, but they don't matter anymore because now you know … it was worth everything it took to get here.
Review Fix: What song do you think hits the hardest?
Armato: "The Shadows of Paris" got the attention of radio stations around the world – it hit the top 10 on the Euro Indie Music charts – and people always comment to me about the vocalist, Lucy Wijnands.
The tune is particularly dense with talent and compositional interest, in my opinion. Lucy is stunning. The late Jeff Lisenby added the perfect sound of Paris to it with his accordion. Rod takes a Django-style ride that I never get tired of hearing. And Steffen Drabek, a violist from Bremen, Germany, with one foot in the jazz world and one in the classical world, makes a brief appearance with an intimate solo. Meanwhile we layered an eight-piece string section into a lush orchestral backdrop. An American Francophile friend of ours, Carol Bar, takes the tune out with French spoken-word delivery of the key lyrics. She brings an aching but restrained emotional element to it that I just love. That was Cushon's idea, by the way.
I have a special affinity for the tune because early on I had a concept for blending it with the third movement from the Third Symphony by Brahms. Due to licensing delays we weren't quite able to merge the two exactly as I had hoped, but we used the Brahms as a prologue to the tune, and I think it works amazingly well.
Beyond that, everyone seems to have their favorites, all different, and that makes me happy.
Review Fix: What song do you think has that slow burn, that gets better every time you listen?
Armato: Among the pure quartet tunes, "Lonely Woman," which features Gerald on bass, has a lot of space to explore. The closer you listen the more you can lose yourself in it, in my opinion.
Among the larger ensemble pieces, I just love "Moonlight," featuring a vocal duet with the late Molly Hammer and the wonderful Ron Gutierrez. Especially at the end where they play off each other, the combination of their voices is something special. Wayne takes an especially lyrical piano solo that I'm just kind of amazed by every time I hear it. I think it's one of those rare, perfect solos. I find that I gravitate toward the tune when I just want to listen to the album casually after being away from it for a while.
Review Fix: What did this album teach you about yourself as a musician?
Armato: To trust my instincts. To create with vulnerability, but to follow through with conviction.
I made the album for an audience of one: me. It's the kind of thing I wanted in my collection. I trusted others would like it, but I didn't shape it to meet anyone else's expectations. The album is very delicate in some ways and hard to pin down. There's my film noir-like spoken word intro set to my drumming, along with two other spoken-word interludes. There's the purely classical Brahms in the middle of all this jazz. There's a different featured artist on every track. There's an original, "At The Trocadero," co-written by Wayne and me, that has a rather non-traditional form to it. We reapproached classic tunes in different styles, like "For All We Know" as a bolero and "Poinciana" as a shuffle.
When you describe the pieces and parts of it, it really doesn't sound like it should work, but it does. There's a cohesiveness and continuity to it, a storytelling quality, that I think surprises people. And honestly, you can't pull something like that off if you're not listening to your own creative impulses. You have to trust yourself. Otherwise you'll end up making the album other people want, not the one you want.
Review Fix: How are you different now because of it?
Armato: I have exponentially higher confidence in myself as a creative professional than I did before. I've moved from "I wonder if I can …?" to "I'm going to do …"
From a purely musical standpoint, this was the most time I've ever spent in the studio and the studio is absolutely unforgiving. If you overplay or fill space out of habit rather than musical choice, the playback monitors practically reach out and slap you. The experience quickly reinforced what I like and don't like about my own playing and the lessons have lingered in my live playing. I'm much more subtractive than I've ever been. I'm taking more things out, playing with more intention, and leaving more space for others.
Review Fix: What are your goals for this one?
Armato: Well, the project has already exceeded the expectations I had for it. It's been played around the world. Reviews have been uniformly flattering. Sales are steady. A veteran jazz writer named it one of 2021's top 10 albums associated with Kansas City. Heck, I recently learned that even basketball legend and jazz aficionado Kareem Abdul-Jabbar is a fan. He recommended The Drummer Loves Ballads in his Substack newsletter just before Christmas. All of that is beyond gratifying.
I'd love to continue to get more airplay and there are some review opportunities still to come — fingers crossed. I'm toying with the possibility of a vinyl release down the road, but that depends on too many things to count on right now. At this point, my main hope is that the album establishes some longevity. I hope people are buying it and listening to it for years to come.
Review Fix: Why should someone pick it up?
Armato: Because it's a unique full-album listening experience designed to be a new soundtrack for lazy Sunday afternoons, romantic evenings, and melancholy midnights, but you'll swear it's a long-lost jazz favorite. Because it's as rewarding to listen to closely as it is to listen to casually. And because it will take you on a journey. Listen to it in sequence from beginning to end and you'll appreciate more than the individual tunes. You'll discover a narrative arc and realize the additional sort of satisfaction you get when listening to a story.
Review Fix: What's next?
Armato: For now I'm just enjoying the fact that this thing that was spurred by a real-life experience in 1981, that incubated for literally decades, and that took five years to produce is finally out there! I hope to have a Christmas single out in 2022, based on a live performance video we made this past Christmas, but I'm not rushing into another album project right away. I'm incubating again. I have a couple of concepts that keep tugging at me for possible future albums, but we'll see if it makes sense to try to move the boulder again or not.
Review Fix: Anything else you'd like to add?
Armato: The most common question I get from friends, is "why?" What did you hope to achieve?" by making the album. It indirectly hints at the age-old tension between art and commerce and my answer probably sounds a little naïve or idealistic. But I didn't make it to get rich or famous. Lord knows, especially in the reality of today's streaming music models, I'll be lucky if I ever break even. And from what I can tell, fame isn't particularly worth chasing.
I made the album because years ago I was thinking a lot about a kind of self-development question that was popular at the time: "What is your personal mission statement?" I pretty quickly knew my answer: "I want to create, or be part of, moments of beauty." So that's it. I made the album to try to add my little contribution of something beautiful to world.