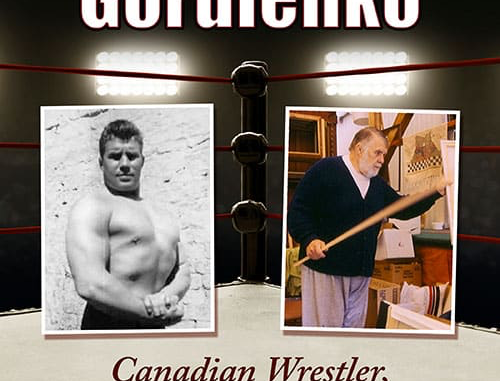 Review Fix chats with George Gordienko Canadian Wrestler, Artist and Renaissance Man author Steven Verrier who lets us know about this awesome wrestling bio and so much more.
About the Book:
George Gordienko (1928–2002) may be the greatest wrestler you've never heard of. From humble, Ukrainian/Cossack immigrant roots in the Canadian Prairies, he endured a tough childhood during the Great Depression to emerge as a leading "shooter" and one-of-a-kind artist on the mat. Excluded from wrestling in the U.S. during the McCarthy era because of his association with the Communist Party as a young man, he was deprived of a run with the NWA World Heavyweight Championship, for which he was hand-picked by the great Lou Thesz. After retirement, Gordienko transitioned to a different sort of canvas and became a successful painter. This first full-length biography traces his remarkable career.
About the Author:
Steven Verrier has previously written works of short drama, fiction, and nonfiction published in the United States, Canada, and Japan. He lives in Bonney Lake, Washington.
Review Fix: How did this project begin?
Steven Verrier: I was long familiar with some aspects of the career or careers of George Gordienko, but I never considered researching his life and writing his biography until Vance Nevada suggested it might be a project I was suited for. I'd just completed a biography of Gene Kiniski, and Gordienko was a wrestler from a fairly similar setting and background during the same era who, like Kiniski, accomplished some great things.
Review Fix: What makes George a captivating subject?
Verrier: Gordienko wasn't just an elite wrestler but, you could argue, a victim of history who simply wouldn't let himself be a victim for long. Barred from the United States during the McCarthy era, he went on to be a top attraction worldwide for about two decades. And throughout his amazing wrestling career, he never lost sight of his long-term goal of being a full-time artist.
Review Fix: What was the research process like?
Verrier: I went through many materials pertaining to his life dating back to his youth in North Winnipeg, Manitoba, where he was a top amateur athlete in multiple sports. Then I talked to as many people as I could who knew Gordienko from the 1940s until his passing in 2002. George's nephew Ted Gordienko provided materials and insight that would have been difficult or impossible to gather elsewhere.
Review Fix: What did you learn that you weren't expecting?
Verrier: Perhaps what struck me most was the gap between the extent of George Gordienko's accomplishments in wrestling and art and the extent to which so many people, even in his home country of Canada, are unaware of him. Gordienko was a Canadian of great accomplishment.
Review Fix: Where do you think he'd rank if he was a wrestler today?
Verrier: Gordienko was a top shooter or legitimate grappler of his era, and one of the most powerful. I don't think there are many true grapplers near his level even today. But a lot of high-profile professional wrestling nowadays has become so silly that I doubt he'd even want to be involved in it. He was an excellent submission artist, and I suspect, if Gordienko were in his prime today, he might be involved in mixed martial arts and not pro wrestling. Even when he was wrestling professionally decades ago, he liked to mix it up for real outside the ring with fighters from other disciplines.
Review Fix: What are your goals for this book?
Verrier: I just mentioned the gap between Gordienko's great accomplishments and people's awareness of them. I hope the book will help close that gap at least a little.
Review Fix: Who do you think will enjoy this book the most?
Verrier: Gordienko was an international figure, and there's interest in the book particularly in some of the European and Asian countries where he wrestled. But the audience I'm probably hoping to impact most are fans of wrestling and art in North America who know little or nothing about this amazing athlete and artist but really ought to, along with other people who are just hungry to learn about an amazing life.
Review Fix: What's next?
Verrier: After George Gordienko: Canadian Wrestler, Artist and Renaissance Man, my next book, which should be out in the summer of 2022, will be The Two-Party Trap, which is about US politics and not wrestling—though there are some similarities between the two.
Review Fix: Anything else you'd like to add?
Verrier: I've started cowriting a biography of another wrestler from the Gordienko and Kiniski era. It'll be another account of a fascinating life, and it should be available in 2023.