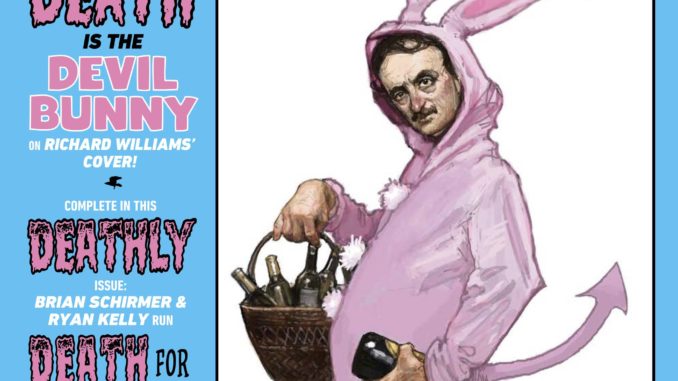 Ahoy Comics' "Edgar Allan Poe" series has created plenty of laughs at the expense making fun everything but a kitchen sink since its inception. Its newest issue, "Edgar Allan Poe's Snifter of Death #6," is still up to its old tricks but the humor isn't quite there. 
"Putting the 'D' in 'DC'" by Brian Schirmer and artist Ryan Kelly is about the people of the United States voting for Death as their president of the United States. Problem is, Death is unhappy about it and this the American people are pushing the joke a bit too far. The joke on paper is hilarious, but the execution is a dud. The artwork is also underwhelming. "Silence, A Fable" by Paul Constant and artist John Lucas is about Poe creating an alcohol made out of his own blood. This causes a demon to appear who shows him what the world will look like in the 21st Century. The joke here is much better than the previous comic since Poe will obviously hate the 21st Century.
The comic does a great job of showing just how stupid humans have become in the 21st Century that all anyone wants to do is just avoid it. The artwork makes the comic look like a massive trip (which is probably what Poe's blood caused him to do) and if that isn't the best interpretation of the modern world nothing else is. "Hate to Meet You" by Austin Wilson is about two high school coaches arguing with each other and then settling their score. That's the entire story. A bit boring with a weak payoff.    "25 Cents," written and drawn by Tim Hamilton, is an eight panel comic about a girl winning a literal screaming man from a crane game. Like the above, that's the entire comic.
It's short and just there. Nothing much to say about it. 
Finally, "The Picture of Amontillado" by Carl Cafarelli is about a painter named Dorian Gray who liked painting still lives because people and especially nude people mad him nervous. He receives a bottle of Amontillado by his friend Edgar Poe which Dorian paints and then drinks. Seeing the bottle is open and less full in the picture and unopened in real, Dorian continues to drink. You will feel drunk alongside Dorian after reading this. The ending is the funniest thing in the entire comic. 
"Edgar Allan Poe's Snifter of Death #6" doesn't live up to the previous issues with stories that aren't as funny or interesting to read as other issues. "Silence, A Fable" and "The Picture of Amontillado" are the only stories worth reading.