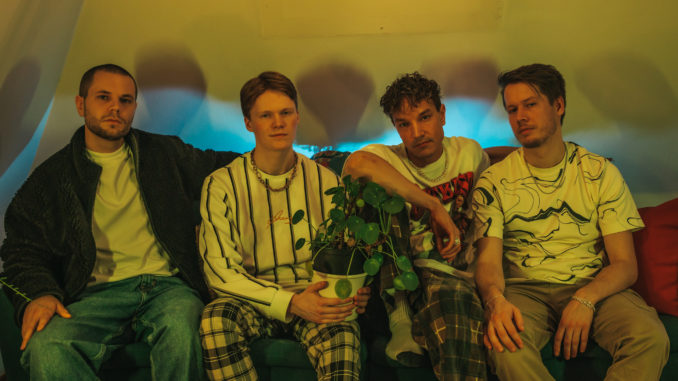 Review Fix chats with Janos' Janos Andersson, who discusses the band's origin and new single.
About Janos:
Scandinavian based band JANOS is a colourful, genre-bending group made up of Janos Andersson, Aksel Krystad, HÃ¥vard Haugland and Kristoffer Sakseide. Pulling elements from an amalgamation of contrasting genres, the band fuses a nostalgic, melancholic vibe with energetic grooves, resulting in feel-good dancey tunes.
Moving to London in 2015, Swedish vocalist and songwriter Andersson set out as a solo artist, gaining experience and exposure playing regular gigs around the city, however relocated to Oslo in 2018. Amping up his musical pursuit, he connected with songwriter and guitarist Haugland and bassist Sakseide over social media, then fellow songwriter, keyboard player and producer, Krystad through playing shows. It was when the pandemic struck, that momentum ramped up with Andersson and Krystad penning songs and recording demos, eventually leading to the musicians forming a band under the name JANOS.
Their new single "JUICEBOX" is the second song from their upcoming EP, which is set to drop in Spring 2022. Fighting the inner conflict of good and bad, the track explores the struggle to not make the wrong choices when enticing opportunities arise. With clear influences from Glass Animals trickling through, "JUICEBOX" is a bouncy full-flavoured pop track with eerie guitars, woozy electronic bass and keys, and a tastefully ear-worming melody.
Review Fix: How did the band get together?
Janos Andersson: It all started with me ( Janos ) moving to Oslo from London in 2018. I got in touch with HÃ¥vard and Kristoffer on Facebook forums for musicians, and we started playing a shitload of gigs over the next years. Up til 2021 I was doing this as a solo artist with band. I met Aksel on one of those gigs, he was playing with his band too, and we clicked on a lot of musical references so we decided to start writing together. Then came Covid and we ended up writing a LOT and finally decided to become a band all of us – and here we are!
Review Fix: What makes you guys different?
Andersson: Mixing elements in songs and sound per track, a band in a pop world of solo artists.
Review Fix: How is the Scandinavian music scene different?
Andersson: A lot of solo artists singing in their native language at the moment, lots of Rap, Rnb and Singer songwriter stuff also EDM.
Review Fix: What inspired Juicebox?
Andersson: We been major fans of artists blending alternativ pop and trap and we wanted to do something similar for a while. HÃ¥vard came up with a riff and we started writing around it. Melody-wise, its a lot of Bruno Mars in there.
Review Fix: How did the song change during the writing process? Any fun moments?
Andersson: It was a tricky process. We started writing it in one session, didnt like the final result and decided to do over and just keep parts of the chorus. We also tried using a lot of different producers but ended up using the demo tracks and the demo vocals.
Fun fact we actually wrote the chorus with a different timing but by a mistake it ended up as you hear it now, we liked it better so we kept it.
Review Fix: What are your favorite lyrics from the song? Why?
Andersson: Your mixing dreams with life now I cant sleep.
Review Fix: Who do you think will dig it the most?
Andersson: Anyone who`s into alternative music / pop basically.
Review Fix: How do you want this song to be remembered?
Andersson: As something different, unique and cool. Also with an amazing music video by Gabriel Goujon and Morten Sunde.
Review Fix: What's next?
Andersson: Next single of the EP is dropping on March 18th, also releasing an EP with 7 tracks this spring.
Its the first of 2 EPs we are releasing this year. And hopefully playing some concerts!