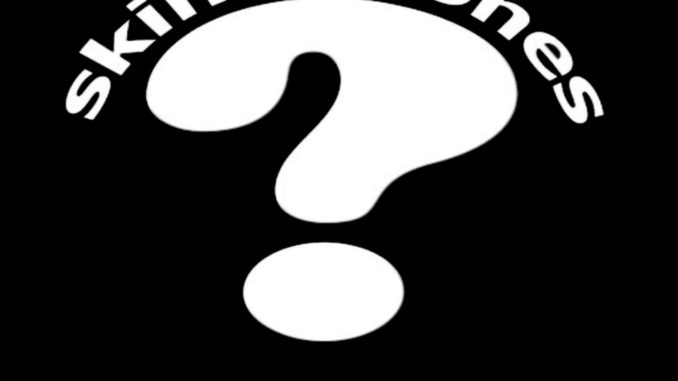 Review Fix chats with SkinsNBones members Red and Bones, who detail the origin and their latest re-released track, "Is There Meaning?"
https://www.youtube.com/watch?v=UE7Jomxr9tY
Review Fix: What made you want to rerelease this track?
Red and Bones: It is a powerful song that people connect too and deserves to be promoted properly, which can now be achieved. By chance, Bones was making videos for her own YouTube channel and used "IS THERE MEANING?" as a backing track for a ME/CFS & Long Covid advocacy video, filmed quickly using an old mobile phone, some by Red, and, as if it was meant to be, the footage matched up to the track as if staged, right down jerky amateur camera movements to an unusual radiant light's movements used in the leadbreak, again caught while making an advocacy video for Bones channel.
Global well-being matters to skinsNbones, and millions of people have and are being infected by this devastating illness, some not knowing why they are suffering, many being misdiagnosed as mentally ill, as Bones was even though accurately diagnosing herself 5 years prior and being ignored, right down to physical symptoms, as millions have been and are. Which leads Bones to question: if science believes that minds can transform matter, why didn't psychology study the obviously very powerful mind that can do this? Why were these 'powerful minds' mistreated and drugged instead of being studied? Answer? When science can't explain they victim blame. Do you believe you can choose for your involuntary bodily reflex actions to not work? To choose to not respond to pain? To choose go to sleep and not wake up for months and, without critical medical care, organ failure occurs due to not eating or drinking due to choosing to 'hibernate'? As you've 'resigned' from life? Please look up: "Resignation Syndrome" and decide whose minds need to be assessed.
IS THERE MEANING? has been brought into the present to highlight many societal issues in the one video, showing the versatility of the lyrics and song, but more, showing the graphic truth of living with MECFS/Long Covid; of raising awareness to this devasting condition with the public, some labelled as mentally ill yet relating to what is seen on the video so they too can start their journey towards better well-being; to show those with this condition and those with similar symptom that there are simple bodily biomechanics that can be applied with the natural force of gravity and laws of motion, that can do work for you, provide energy; and to show that health doesn't dictate ability – to produce, to create, to be rely able, do a good Job; and finally and most importantly, there are some unexpected silver linings to this condition, related to Circadian Rhythm changes and 'fibro fog', that are so beneficial to innovation and creation that people practice meditation for years to try and achieve the same state. To think millions of people now have this ability, without knowing, and much time to lay quietly and 'practice' once they know, leaves this body, in torturous pain from MECFS, full of possibility and hope, wHolly based on science and reality. This time around IS THERE MEANING? is really showing the olSkool rock N nuSkool roll side of skinsNbones by educating the public on many complex topics in a simple rockNroll way with rockNroll music.

Review Fix: How do you think it has aged?
Red and Bones: Is There Meaning? Was written 2006 and more moves through the ages than ages. It's a song life and asks life's big question, for which no one answer can be found due to uniqueness of being and feelings at the time, and if the answer is found it will change for that person over time or else the person will have stagnated, stopped growing. Meaning always grows, evolves, just as IS THERE MEANING? has through the ages. It's a song for life's real rockNroll moments, those times we all have, some more than others, some greater than others, yet heavy hitting so felt all the same, regardless of age or era the song is played or what moment is played over. The simple words have multi definitions, that mean so many different things, that differ again to so many different people, are words that will change in definition over time, as all words do, ensuring the song's continued growth, meaning and relevance.

Review Fix: What makes this one so special for you?
Red and Bones: IS THERE MEANING? is will always have great meaning to us as it was the very first song we recorded together as skinsNbones. Rereleasing it in this current climate also shows it is a song for many different situations globally, socially, and politicly, which means it can span the ages and that matters. The recording of with an eclectic mix of muso was interesting as we feel the song and skinsNbones benefited from the experience. On a personal level this song can fit over any part of Bones accident rockNroll life that's she's continued to grow and learn from, re-minding her in those real rockNroll life moments that there is meaning, even if it can't yet be seen, and that's pretty rare.

Review Fix: How would you describe your sound to someone who has never heard you?
Red and Bones: Our sound is rhythm based. We don't mind experimenting with the mix of the instruments to suit individual tracks but stick to a drum driven sound not over reliant on the bass. The guitar can often be back in the overall sound which is probably not the norm for olSkool rock music, which we base our sound on, along with the nuSkool roll of educative and though provoking lyrics and videos. It's our own twist on the basic rockNroll formula. A no frills in your face sound that gets your feet tapping and your head banging, singing and thinking, all at the same time.

Review Fix: How are your live shows different from your studio work? Are you looking to perform this single again live?
Red and Bones: For our live shows be prepared for loud Aussie energy and attack. We've yet to perform this single live, as it was originally released just prior to COVID which prevented any performances or touring. So, it will be a first for all in that regard. Ye t we know the song very well and are really looking forward to finally getting to play it with the full live intensity IS THERE MEANING? deserves.

skinsNbones live shows come from years of treading the Aussie 'boards' including many Aussie pub gigs. Aussie bands are known for an extremely high standard of live performances, which has been demonstrated time and time again by the Aussie bands that have been successful in overseas. These bands have set the standard expected of live Aussie performances and we've all been through the same music 'scene' of the Aussie pub crowds that determine 'success' and what standard of music is acceptable. Believe it or not, highly uncouth Aussie pub crowds have extremely high standards – when it comes to music – and are known to know all the words to songs and sing along. Aussie crowds are very interactive with bands, and very vocal about band's abilities, good and bad, and there's not enough venues (or "chicken wire") for bands – that can't perform. (Forgive me, it's Bones, trying to be Funny Bones, lol, the "chicken wire" was just for you, it's funny coz it's true… on the outback tours! Lol, hope you're smiling/laughing, cracked us up, and laughing literally makes us feel better: "Laughter is the only good infection, contagion N addiction" – "?" 2020)

Review Fix: How is it different from your other work?
Red and Bones: IS THERE MEANING? is more 70s classic rock with an anthemic feel that took on a life of its own while being written, so the song doesn't follow a typical song arrangement yet still has something familiar to classic rock lovers. Melodies, vocal phrasing and music needed to flow while be on point, and still having punch with the standard Aussie rockNroll attack. This song also really allows the "skins" of skinsNbones to play centre stage with an unusual thumping rhythm that drives and the song without using a great deal of bass, as all skinsNbones songs start with Red on 'skins' and Bones singing the pre-arranged song – or close to pre-arranged. For this reason all skinsNbones songs work well with only vocals, guitar, and drums, including acoustically, and IS THERE MEANING? is based on this formula more than any other of skinsNbones songs, so far.

Review Fix: What are your goals for 2022?

Red and Bones: In 2022 we're considering heading back to the recording studio to record 2 new singles. Collaborating with great musos we haven't met yet might seem a strange thing to say but we're always looking for someone different to play with. It's our way of keeping things fresh and new. A tour of the US later in the year is also a major focus, which we regard as being extremely important to get ourselves a wider audience and recognition as great live act, unable to be achieved in Australia due to strict regulations and laws for years preventing live performances that are only just starting to be relaxed.

Review Fix: What do you feel you have to do to get to the level you want to in music?

Red and Bones: We keep raising the bar on the quality of the songs we release, and the quality of the musos we collaborate with. We keep ahead of social and global issues as these issue matter, so we always have plenty of questions to ask regarding these global problems, which includes deciding on the messages that can be best delivered, and the messages that will be received the best. We've continued to be innovative and creative with our music and well-being concept as well as reinventive with the re-release of and new messages delivered in IS THERE MEANING? That shows our songs can keep connecting through staying relevant, so there's every reason we can get to the level we want to be at in the near future.

Review Fix: What's next?

Red and Bones: What's next depends more on the music and entertainment industries ensuring that entertainment, especially new innovative delivers of current events, which takes precedence over entertainment, are heard by the public, and not have to pay for the possible privilege of doing so. The unequal distribution of wealth in the old 'online' media model that ensures the creators of music are paid amounts of cents doesn't make sense, only extremely large dollars for the industry taking the vast proportion of the money to be made. As COVID has ensured touring and live performances are extremely difficult with laws for years that prevented any live performances from emerging and if young, years lost developing the skills from 'treading the boards', we question the industry, "What's next?". Where are all the new acts going to come from after years of no performing or ability to make money? This is the result of the current model and, as the current 'hits' that don't remain relative keep proving, what comes from not investing in new talent with new inspiring songs that make a difference in the world, music that people stay connected too, and is still played decades after release. Maybe we're just too 70s. Music means something to us and is meant to mean to DO things to help the world progress, and not just sing about it, and not just to make money and build a career. So many older artists have noted the same, the disappearance of good songs, songs that mean something and are musical, which was covered well by a simple quote: "you can't whistle that." If the public cant replicate the music, which is what music is all about, getting others to 'sing' along, the music can't ear worm anyone. If the public can't replicate your music, which to us is DOING acts in the world that bring about growth and beneficial change, not cents, for all, then the 'magic' of music is being lost. Music that means something is being lost and natural the act of the public replicating the same and DOING something to bring about beneficial growth and change for all is being lost, which is clearly seen today. The world is complex, yet music has been with us as we evolved for good reason, one being communal connectiveness and cohesiveness, to see and know one's Self as being part of something bigger and join in to do something about that. That's not complex. It's a simple part of human nature that is being lost, more taken from us, due to the current capitalised unequal model, at a time when we are being physically separated and physically can't touch each other, simply pat someone's shoulder to say: "I'm here" or "well done", the arts are also being taken from us by a select few, arts that can literally touch us and move us and make us feel good, make us truly feel and know we're not alone, even if isolated . Musos do "play for the love it" and this has been taken advantage of for too long. What the masses hear has been controlled for too long, by a minor few in charge of the industry, that love the money more than the music. So, having lived through may musical evolutions and revolutions ask again: "What's next?"