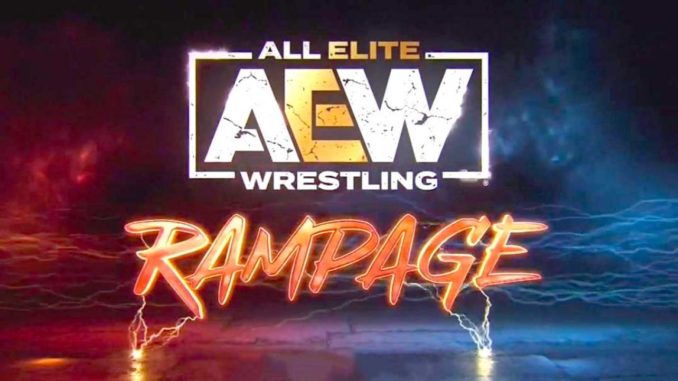 Another week brought another strong offering from Rampage and more refs being inept at their jobs. So let's get to the rankings!
Honorable Mention: The Jericho Appreciation Society, Swerve Strickland and Ricky Starks. The J.A.S. gets it partially for trying to enter the arena unsucessfully but more for the intro for Garcia that starts with "The Jericho Appreciation Society, for over 6 weeks the recognized symbol of excellence for sports entertainers" which gave me a chuckle. Swerve makes it because during a backstage interview Tony Schiavone had with he and Lee Swerve said Lee was "perturbed" with Team Taz and he just learned that word from Lee a few weeks ago. He said Team Taz won the battle but they're going to "pay that back in blood" because "the war is far from over!" And Starks gets it for calling Swerve and Lee a "Broke ass Keenan and Kel" and as of this writing Swerve already Tweeted out a graphic somebody made for he and Lee as the Keenan and Kel logo and silhouette and I need that on a shirt!
5. Eddie Kingston. With the Jericho Appreciation Society banned Kingston finally got a win over Daniel Garcia via backdrop suplex and spinning back fist. Garcia did his best with everyone banned from ringside and spent most of the match working over Eddie's back and mid-section with some creative offense that included an Eat Defeat type faing foot to Kingston's mid-section. There was an awkward spot where Garcia had Eddie in a Boston Crab and he slapped the mat looking very similar to a tap out but everyone just ignored it and Garcia switched to a Sharpshooter. This was a fine match and after Kingston took off his belt an teased hitting Garcia with it but instead grabbed the mic and said "Chris, I'm leaving this whipping for you!" and telling Garcia "This is just a message! Send it to your boss!"
4. Lance Archer. Jake was the only Snake leaving the arena in a good mood when Archer made short work of Serpentico with a Blackout. After the match Archer directed a symphony of his own crushing Serpentico with 2 chokeslams before teasing a 3rd only to drop him. This was a strong way to build up Wardlow's toughest challenge yet.
3. Hook. Danhausen has been trying for weeks to unsucessfully curse Hook. This week he took the lowest of low blows when he greeted Hook with chips smashed all over the floor! But never one to take disrespect lying down Hook grabbed Danhausen, shoved him against the wall by his throat and with his eyes said "What goes around, goes around, goes around, comes all the way back around." but with his voice said "You wanted my attention?! You got it now!" before dropping him and walking away. These were the first words I recall Hook every speaking but his voice fits the character and I will never not love the dichotomy of these 2 together.
2. Adam Cole. With The Forbidden Door PPV announced we got an early taste of what it might look like as Cole went 1 on 1 with "The Stone Pitbull" Tomohiro Ishii (accompanied by Chaos members Rocky Romero and Orange Cassidy) in an Owen Hart Foundation Tournament qualifying match. This had your typical New Japan strong style shenaningans as there were multiple instances of Ishii no selling strikes from Cole and even leaning into forearm shots from the leader of the Undisputed Elite. They had a cool sequence where Cole dodged a sliding lariat attempt, kicked Ishii's leg and then face, dropped the knee pad and went for The Boom only for Ishii to duck and hit the sliding lariat for 2. Towards the end of the match Jay White came out and tossed Romero into the stairs drawing the ref's attention and allowing his former Bullet Club brethren Cole to neuter "The Stone Pitbull" with a low blow and land The Boom for the win and a spot alongside fellow UE member Kyle O'Reilly.
1. Jade Cargill. Only 143 wins behind Goldberg Jade ran her undefeated streak to a perfect 30-0 tonight with a mostly one sided dominant win over Marina Shafir. Shafir tried some submissions on an arrogant Cargill but to no avail. 29-1 was the closest to becoming a reality in the waning moments of the match when she had Cargill locked in a calf slicer but Jade stomped on her face and delivered Jaded to retain the TBS Championship. We got the expansion of the "Baddies Section" as both Red Velvet and Kiera Hogan joined the ringside posse of Jade. The duo paid dividends too as they got some shots in on Shafir over the barricade early in the match while Mark Sterling drew the ref's attention and later on jawed with Shafir distratcing her long enough for Jade to crush her with a pump kick. They also gave Jade an Undisputed Elite like double kiss on the cheeks over the barricade. Jade followed up on the kick with a nasty chokeslam into the timekeeper's table that only half-collapsed rather than being broken. Cargill continued to show growth not just as a character but in the ring when at one point she turned a standing guillotine from Shafir into a twisting falling powerslam. I'm enjoying Jade's rise and her seemingly getting a faction is something with potential that we haven't seen enough of in women's wrestling. If only there was a face women's faction to feud with because it doesn't feel like the only other trio; Baker's group, fits that mold.