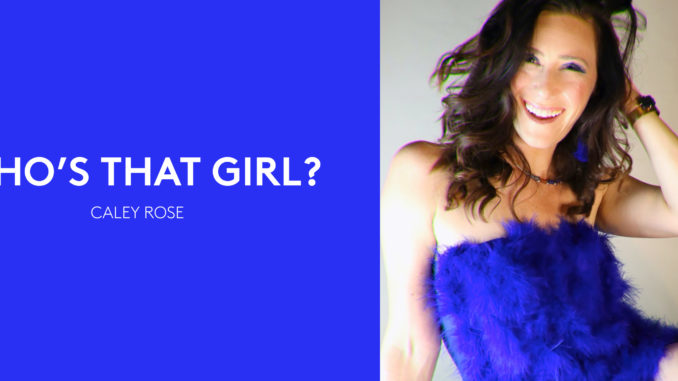 Review Fix chats with singer/songwriter Caley Rose, who discusses her new single, Lonely Bird.
Review Fix: How did you get involved in music?
Caley Rose: I always knew I loved pop music, but I thought I "should" be singing something else. Pop music was way too fun to me!
Then one day, I realized that we only have one life, and why not do (and sing) what you love? That was a revelation, but I still wasn't quite singing what I wanted to sing.
Then everything changed when I studied songwriting at the Songwriting School of LA and took my music into my own hands. It was like the world opened up and the path became illuminated. Getting an education in songwriting gave me the confidence to tell the stories I wanted to tell and gave me the tools to write the songs I felt passionately about singing. Now I get to do what I love every day! https://linktr.ee/caleyrose
Review Fix: What's your creative process like?
Rose: Sometimes I'm outside and hear a melody while in nature, which is how I came up with the idea for my latest single, Lonely Bird (out April 15th). The melody and lyric came to me, and then I captured it in a voice memo on my phone and took it to paper and the piano to tease out some more. Sometimes, I bring an idea I have to a co-writing session. I love co-writing, because it feels like a fun social hang in which we create music together. I also love how co-writing keeps you accountable. It helps to have different minds bouncing ideas off of each other, but some songs are more solo endeavors, it just depends on what the song seems to need.
Review Fix: What inspires you?
Rose: Everything- conversations, nature, the unexpected. With my last release, GAME OVER, I was inspired by a video game sign that hung above my head in my 12 year old brother's room!
Song ideas are everywhere, so much so that it's overwhelming, but it takes a really exciting idea for you to follow through and go through the process of making it. I need to be passionate about the idea.
Review Fix: How has CO-Vid affected your art?
Rose: I have really missed live performing. Cancelling shows like my Hotel Cafe show due to COVID was a real bummer, but I'm SO excited to get out to playing live this month! I have a show April 30th in Chattanooga at the Hits 96 Summer kickoff event, the Running the Chihuahuas and then a Porch Concert May 3rd to benefit the charities, Upturn Arts and Raintree Services.
Review Fix: What's a song you'd love to cover one day?
Rose: I'd love to do a moody, cinematic cover of Credence Clearwater Revival's Bad Moon Rising.
Review Fix: What does music mean to you?
Rose: Music helps us realize that we're not alone with our experiences and emotions. That's what I want my music to give people- a sense that they're not alone.
Review Fix: How would you describe your sound to someone who has never heard you?
Rose: My songs range from upbeat songs that empower you and help you to feel more confident to songs that are dark, moody, and cinematic like you'd hear in a film trailer.
Review Fix: How are your live shows different from your studio work?
Rose: My live shows are a party! My favorite parts of live shows are the candid unplanned moments where I really connect with the audience or when I go into the audience and dance with people. I bring a ton of energy and love to have a good time during my live shows.
Review Fix: What inspired your latest single?
Rose: "Lonely Bird" (releasing April 15th) was inspired by my seeing a solitary hummingbird at rest and personifying it with my grief over losing my grandfather. I imagined that the hummingbird must be at rest, because it was also missing someone.
Review Fix: How is it different from your other work?
Rose: "Lonely Bird" features a very different mood and sound than my past 4 releases! It's much darker and cinematic, where my last few releases were very high energy and confident songs.
Review Fix: What are your goals for 2022?
Rose: In 2022, I'm so happy to be kicking off my cross country tour! I started with Kansas City and Charlotte, next is Chattanooga and New Orleans, then LA in June!
Review Fix: What do you feel you have to do to get to the level you want to in music?
Rose: I think marketing is the most important thing right now for musicians and there are a million ways to do it!
Review Fix: What's next?
Rose: I just started a podcast in which I talk with creatives about what makes them successful and confident called "I'm a Big Fan Of…"
Also just started a program to take into schools and empower kids called "Music with a Message." I speak with them about confidence, talking about standing up for yourself, and sing my empowering songs.
Review Fix: Anything else you'd like to add?
Rose: Links to my music podcast, and all my latest endeavors :) https://linktr.ee/caleyrose