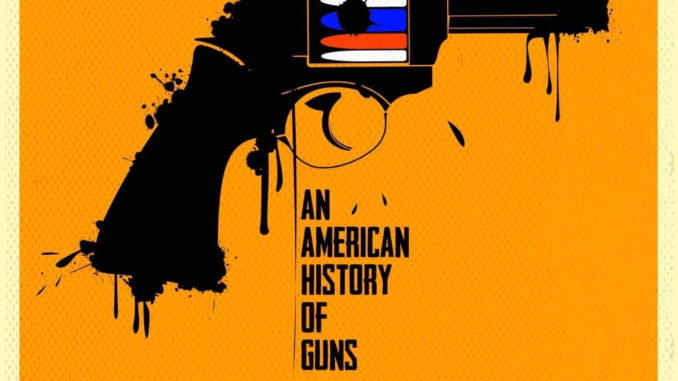 Review Fix chats with playwright Lenny Schwartz, who walks us through his newest production.
About The Production:
AN AMERICAN HISTORY OF GUNS
Written and Directed by Lenny Schwartz

Performances: April 14-23
All shows @ 8:00 PM

WHERE:
The RISE Playhouse
142 Clinton Street
Woonsocket, RI
Ample municipal parking available

Tickets: $15
Available at the door or online at www.ristage.org

WOONSOCKET — Daydream Theatre Company, in collaboration with RISE, is proud to present the world premiere of An American History Of Guns, a play written and directed by Lenny Schwartz.

Schwartz's daring, dramatic script provides an abbreviated history of guns in America from 1607 to present day, examining gun culture from its inception – and the people affected by it.
Review Fix: What was the inspiration for this project?
Lenny Schwartz: I was interested in two things when I first started writing this in 2018. I wanted to learn more about gun culture as I didn't know a lot of the ins and outs. How did guns actually make their way to the United States? How did we get to where we are today? What are the nuances involved?
The second thing I wanted to do was to use those facts and do a sort of murder mystery…but in inverted way. You'll have to see the play to understand that.
Review Fix: What was the creative process like for this one?
Schwartz: This one had a lot of facts that constantly changed…it's been interesting. A fact or statistic may change due to the nature of violence in the world.
The creative process is interesting because it felt like a horse that I was trying to wrangle constantly. But again; the topic lends itself to that feeling.
Review Fix: What makes this production different or special?
Schwartz: Well, originally we were supposed to go up in April 2020…and, as you can imagine, it's been delayed. So we have literally been holding onto it for two years.
What's different is that the production takes place in real time and throughout history happening side by side. It gives you facts but it is also unflinching. And one of our characters may be a killer.
Review Fix: What did you learn/are learning about yourself through this process?
Schwartz: I learned that no matter what, once I set on an idea I need to do, it'll happen come hell or water. Pandemic or not:
Believe it or not? Patience is rewarding. I am happy things happened the way they did.
Review Fix: What are your ultimate goals for this production or your company for the future?
Schwartz: I want people to see it talk about it. Have a discussion after. I don't want people's eyes to glaze over, I want to to remain engaged throughout. Also, I want them to be entertained and involved:
Review Fix: What's next?
Schwartz: Fall of 2022, I am doing a play about the co-creator of Batman, mr Bill Finger. I am excited as it's a really strong story and I am honored to finally tell it in the way I have always wanted to.
I an also directing a film that I wrote called The Hunted and The Haunted. We are raising money on Indiegogo right here https://www.indiegogo.com/projects/the-haunted-and-the-hunted-a-horror-feature/coming_soon/x/502621?status=confirmed&fbclid=IwAR0qWxCt2JzrZrEgFT22Q0nFB7S2PUjhkSSdPBTUYwJjz6-hnQif1msw0OY
Review Fix: Anything else you'd like to add?
Schwartz: Just that this will be a world premiere play, my first one in 2 and a half years. I'll never take that for granted.
Come see it and much love to you all.