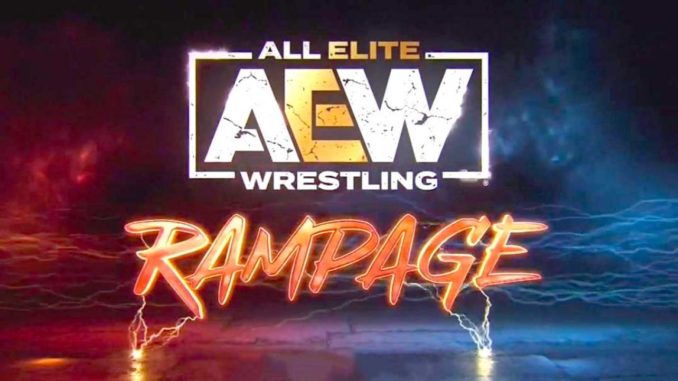 Today's secret word is NSync. Now you all remember what to do when anyone says the secret word right? Now that that's out there; I watched Rampage coming off watching literally every pick of the NFL Draft and my brain may be mush by this point so forgive me if this isn't my best work. But here come this week's rankings! 

Honorable Mention: Chris Jericho. I know people hate his commentary and it can be obnoxious at times but he feels very 1990s Jerry Lawler to me and I don't mind it as much as I should. This week he gave himself the "Sports Entertainer of the Week" for shooting a fireball at Kingston and said he's a "wizard" His wife's political leanings might make him a grand one but that's neither here nor there. He then got attacked by Santana while Ortiz tried to block security but ultimately Proud and Powerful left without a lot of struggle and Jericho got off pretty easy compared to Kingston last Wednesday. 

5. Keith Lee. The handling of "Limitless" continues to confuse me. This match is officially listed as going 5:57 on cagematch but it felt a lot longer because Lee took what felt like way too much offense from Colten Gunn. I get that The Gunn Club have been booked strongly as a team and I don't think Lee should just squash everyone but one half of an unranked tag team should be disposed of in much quicker, more 1 sided fashion. Lee got the win via the still unnamed in AEW formee Big Bang Catastrophe and he did yeet Colten at one point so he makes the cut. 

4. Jade Cargill. Cargill, Kiera Hogan and Red Velvet were in trios action against Skye Blue, Willow Nightingale and Trish Adora. Jade hooked Adora for the Jaded. Velvet then intercepted Blue with a spear while Hogan dropkicked Willow letting Jade hit her finisher and getting a win for The Baddies. I'm a big fan of both Nightingale and Adora and want to see both get longer, more competitive showings in AEW but I understand wanting to keep Jade strong. Maybe they run this back as either a traditional tag or singles match with Jade out of the equation so Willow & Trish can get a W. 

3. Samoa Joe. Joe defended his ROH TV title in the main event of tonight's show in a solid clash with Trent Beretta. Ian Riccaboni was on commentary and Bobby Cruise was the ring announcer for this match which were nice touches to make the ROH matches sound and present a little different than your regular AEW matches. The highlight for me was Joe going for a dive to the floor, Trent avoiding, hitting a sliding knee off the apron and then following it up with a big asai moonsault. Trent also hit a crossbody to the floor from the top post. There was a smart moment here when Joe covered Trent's eyes with the STF locked in to prevent him from seeing the ropes but Trent managed to get a foot on them anyway. The finish came when Trent flipped through a muscle buster attempt, landed a running knee, then ate a urinage slam in the corner and got locked in a rear choke and put to sleep. After the match Trent and Joe shook hands and followed the code of honor but Lethal, Dutt and Singh came out and there was brawling between them, Joe and The Best Friends and we faded to black with Joe and Lethal being pulled apart. 

2. Hookhausen. What was scheduled to be a face to face confrontation between "The Handsome Devil" and the "Very Nice, Very Evil" one almost ended very poorly for our unlikely duo. After Danhusen, as always "all pressed up in black and white" told them to "Send Hook!" they came face to face. Danhausen proposed maybe they do this another time. The uncharacteristically talkative Hook responded "We're doing this right now!" before "Smart" Mark Sterling interupted and said he didn't want to see them fight only for Tony Nese to jump them from behind. Hook ultimately tossed Nese and when Sterling & Nese teased getting back in the ring Danhausen cursed them leading them to back off. Or so he thought. In reality Hook was standing behind him and the reason they left. This pairing of strange bedfellows is a hoot and I hope they stay together and get more NSync (AHHHHHHHHHHHHHHHHHHHHH!) over time. 

1. Darby Allin. He and Swerve Strickland opened the show in an Owen Hart Foundation Tournament qualifier and needless to say this was a lot of fun. Excalibur mentioned this being their 6th meeting and Sweve being up with 4 wins in the series. I cannot understate how much I love that wrestling outside of AEW exists in the world of AEW. That more than anything else adds to that "sports feel" so many people wanted. Early on Swerve did his signature handstand exit to the outside but Darby immediately hit the flipping stunner on the floor. Darby followed up with how "lowpe suicida" dive but was met with a big pump knee from Swerve. Swerve started to stomp Darby in the corner inside but Darby caught the leg and rolled out into a kneebar. Once again, I like little things in wrestling and at one point Swerve snatched Darby's wrist on the floor and rolled through to hit a suplex where both of Strickland's feet left the mat and it was just such a cool way to freshen up a classic move. Strickland went for the diving stomp but Darby avoided it, flew over his back and then came back with a Code Red for 2. Darby followed up with a Coffin Drop but Swerve got his knees up. Swerve hit the House Call but Darby grabbed the rope to break the count. Swerve then suplexed Darby out of the ring to the floor a la The Briscoes v. FTR spot but this looked a lot cleaner. Ricky Starks then came down but Sting cut him off. But Starks got the outcome he wanted regardless because when Swerve reentered the ring Darby caught him in the Last Supper pin for the 3. A really nice touch here came later in the night when Darby said he didn't like the way it ended and offered Swerve 5 more minutes. Swerve declined and said he's rooting for Darby in the tournament but now he has to get Keith Lee and finish his business with Starks and Hobbs. This kept Darby looking honorable despite a questionable pin and these sort of little things go a long way towards establishing characters.