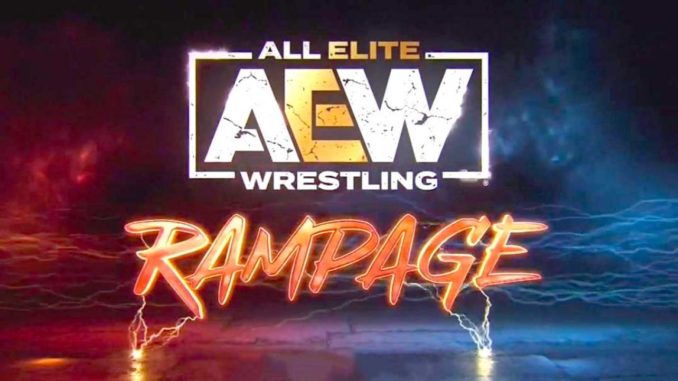 This week was a loaded Rampage so like the start of the show let's not waste any time with the intros and get right to ranking!
Honorable Mention: Everyone in the backstage segments. There wasn't much to write home about but Jay Lethal called Samoa Joe a lazy champ and Satnam Singh spoke for the first time saying "We're just getting started" as he put his arms around Lethal and Dutt and Sonjay in a very comical 80s manager way told him he's gotta loosen up. Keith Lee gave Swerve 30 seconds to explain himself before he'd "dismantle, no…beat (his) ass" I love the idea of Lee throwing his verbose vocabulary out the window when he's pissed off. Swerve started to explain that they were Shaq and Kobe before Team Taz cut him off and said they still haven't beat them. Starks and Hobbs felt a bit random here but I'm fine with AEW stretching out the Lee and Swerve break-up until things get a little roomier after Forbidden Door. Malakai Black and Pentagon also went back and forth in pre-taped promos to hype up their clash in the All Atlantic Championship qualifier. 
5. Hookhausen. "There's a thousand words that I could say…" but Hook only needed 3 tonight. After Hook refused to answer a couple of questions about his opponent from the New Japan L.A. Dojo next week and if anything excites him Danhausen showed up to say they're going to "Destroy! Annihilate! Eviscerate them!" Hook put his hand on Danhausen's chest and said "I got this" and walked off. 
4. Max Caster and The Gunn Club. Yo. Listen. First, the trio went ahead and took out Bear Country then they beat Leon Ruffin and stopped him from winner's money. Ruffin's really great and I hope he gets more shine. But it took longer to write this rap than they got in TV time. 
3. Jade Cargill. In a week where the Celtics wished they still had 33 the TBS Champion got a 33 of her own defeating Willow Nightingale to run her record to 33-0. Nightingale is wildly over and I'm shocked she's yet to get the "Is All Elite" treatment. She's wholesome "af" and the perfect combination of Bayley and a female Keith Lee. Nightingale tried a pounce but Jade dodged it sending her to the floor so Kiera Hogan could take some cheap shots on her. Jade did her dribbling elbow to the corner and tried it a second time but Willow got her feet up and chopped Cargill. Willow followed up with a 2nd rope shotgun dropkick for 2 and a cannonball senton for 2. Jade then hit a pedigree on Willow followed by Jaded for her 33rd win. After the match, Hogan hit a leaping leg drop to Willow as Athena's music played. With the heels focused on the ramp Athena appeared perched on the ring post and flattened Hogan with an O Face. Jade pump kicked Athena and went for Jaded but Kris Statlander hit Stokley Hathaway in the back of the head on the ramp and came down to run her off. There was a funny exchange on commentary during the match where Jericho named Jade his "Sports Entertainer of the Week" and said Stokley, as her publicist should contact all the news outlets and let them know. This was fun and I like all the women involved but I wish AEW didn't have to try to cram these big post-match clusters into so many matches and just gave the women even 1 more segment a week to switch it up a bit. 
2. Jon Moxley. He opened the show with a hoot of a match with Dante Martin. Martin offered a handshake before the bell but Moxley slapped it away. The story here was similar to Mox v. Yuta but without all the blood as Moxley going hard at Martin slowly made him more aggressive and angry over the course of the match. This had a lot of the high-flying action you'd expect from a Martin match and hard-hitting you'd expect from a Moxley match that included Mox using a couple of William Regal's moves but because the main event was also so action-packed I'll just jump to the finishing sequence. Dante hit his no-hands leap to the top rope and double chops to Mox's neck on the floor before rolling him in and hitting a crossbody off the top for 2. Mox then ducked a Nose Dive attempt and after a switch exchange got Martin in a rear-naked choke but Dante was able to climb the corner and turn it into an Avalanche Sliced Bread for 2. Mox tried for a Paradigm Shift but Martin blocked. Mox caught a kick and flipped Martin which he immediately followed with a cutter. Dante ducked a King Kong lariat and hit a sunset flip for 2. Mox then hit the King Kong lariat for 2, laid in the hammer and anvil elbows and a body lock/choke with a hammer lock that finally forced Martin to tap. Commentary sold Dante getting closer and closer to a win with each meeting with Mox. I don't know how many more people I want added to Blackpool Combat Club but in the long term, I think an old guard v. new guard Civil War with Mox and Danielson v. Yuta and Martin could be a lot of fun! Speaking of Danielson, Regal talked about Zack Sabre Jr's challenge to Danielson from Dominion and said if he's not careful he'll find out who the best technical wrestler in the world is. ZSJ v. Danielson would be a top 2 match on Forbidden Door for me right now only behind Cassidy v. Ospreay. 
1. Darby Allin. If I was to list my favorite wrestlers I'd probably forget to include Darby but he's become the one person more than any other in the business who I feel like I have to stop and watch when he's on and tonight was no different. Before the match, he promised to break Fish's leg but in his match with Bobby Fish, the mustached half of reDRagon was the one who came much closer to accomplishing that. Darby hit his low-pe at a thousand miles per hour on Fish on the floor. But Fish got to his feet and Dragonscrew leg whipped Darby into 2 different barricades. Fish vaulted in with a senton and hit a suplex for 2. Fish didn't let go of the hold despite the kick-out and landed a 2nd suplex, but as he tried for a 3rd Darby dropped into a sick-looking Scorpion Death Drop that shocked the whole crowd. Darby hit the Coffin Splash in the corner and tried for a 2nd but Fish caught him in a choke and Darby climbed the turnbuckle and back rolled into a pin for 2. Darby hit a Code Red for 2 then hit a Coffin Drop off the top post to a standing Fish on the floor. Back inside Fish speared Darby through the ropes and tossed him into the steps. Fish got an ankle lock on Darby on the apron and then pulled him back into a German suplex on the apron. Bobby hit an Avalanche Falcon Arrow for just 2 and then snatched an ankle lock but Darby was able to turn it into a Last Supper pin for 3. When the match was over Kyle O'Reilly came down wielding a chair only for the lights to go out and Sting to make his return. He used his bat between Kyle's leg for a count of 2 balls, and 1 strike. He tossed Kyle's chair to Darby who put Fish's leg in it and landed a Coffin Drop on it to fulfill his promise of breaking Fish's leg. Sting then wrenched Fish's leg with the bat on the floor. Sting's return was something I should have seen coming but didn't and if we're already having 1 match with all AEW talent at Forbidden Door in Rosa v. Storm maybe we can throw a 2nd on there in Sting and Darby v. reDRagon? If not I hope to see it on Blood and Guts.