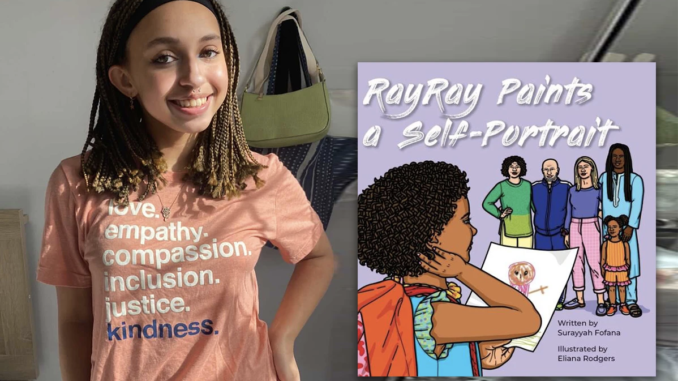 Representation, inclusivity, and diversity are words that hold several meanings when it comes to how children of color see themselves, particularly through the literature they consume. The children's book 'RayRay Paints a Self Portrait' by Surayyah Fofana eloquently journeys through the layers of a young girl's multiracial identity. 
When referring to race it is a social construct which shows how people who have multiple ethnicities may describe themselves. For RayRay, a young girl whose father is a Black African from Senegal and mother a white, Jewish woman, a seemingly simple class project becomes a moment of crisis. RayRay and her class are tasked with drawing a self-portrait. Crayons in hand she happily draws herself, until she reaches her hair. Told in vibrant color RayRay begins to investigate how to draw her hair. She quickly becomes despondent as she compares her hair texture to those of her family, her father with dreadlocks, mother with long blonde hair, even her younger sister all have different textures. This smart, young capable child further becomes frustrated when she compares her extended family's hair texture to her own only finding that though everyone is blood related, there are several differences among the men and women who she claims as kin. Ray comes to the realization that her unique hair texture is an amalgamation of her family's and that it should be celebrated. There is no one like her, yet she is part of this diverse family of mixed ethnicities.
Vibrant illustrations by Eliana Rodgers show how each page have intricate levels of details throughout this children's book. From the red staple on Mrs. Edelman's desk to RayRay's tightly coiled, well moisturized hair, and the other hairstyles, are interwoven to tell Fofana's story of inclusion and diversity. When we see the kindergarteners drawing their self-portraits there are children of different ethnicities, in wheelchairs, some are curvy, tall, short. The backpacks of the children reflect their personalities as does the clothing. In essence a microcosm of society. RayRay's classroom showcases representation without making it a character, this is just a part of the main character's world.
'RayRay Paints a Self Portrait' is based on Surayyah Fofana's experiences of being biracial and as an author, dancer, and high school student is an activist for inclusiveness. For Fofana the hope for this book is for children to see themselves reflected in what they are reading. Representation Matters is not only a hashtag, but also key to understanding how important it is to consistently show how the lives of young Black people and children of color are not tied to their trauma. Rather, have growing up be a normal experience of spending times with friends and family, looking forward to small things like sharing school experiences with your little sister and just being uniquely you.