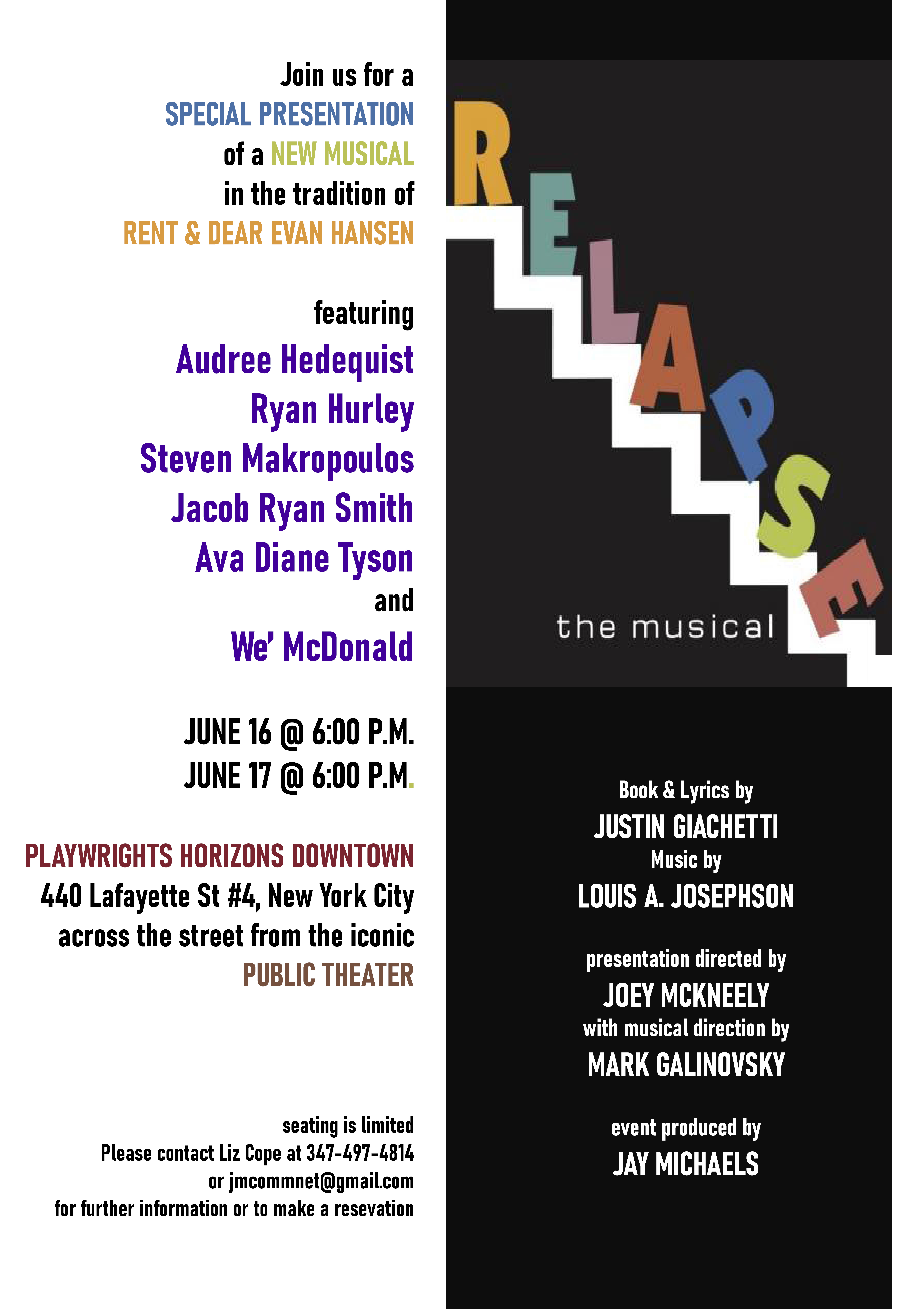 Review Fix chats with Relapse director Joey McKneely discusses his newest program, Release.
About Relapse:
Book & Lyrics by Justin Giachetti
Music by Louis A. Josephson
This pop/rock original musical examines how we all try to find normality within our neuro-divergencies and the community and isolation mental illness can cause.
Presentation directed by Joey McKneely
with musical direction by Mark Galinovsky
Event produced by Jay Michaels
Featuring
Audree Hedequist, Ryan Hurley, Steven Makropoulos,
Jacob Ryan Smith, Ava Diane Tyson
and We' McDonald
June 16 & June 17 @ 6:00 p.m.
Playwrights Horizons Downtown
440 Lafayette St #4, New York City
across the street from the iconic PUBLIC THEATER
Seating is limited; Please contact Liz Cope at 347-497-4814 or jmcommnet@gmail.com for further information or to make a reservation
After an alcoholic relapse at his high school reunion that almost kills him, a young musician is ordered to a behavioral unit to detox and seek help. There, he meets a colorful and complex group of patients who each suffer from the likes of bulimia, anxiety, borderline personality disorder, schizophrenia, and more. Together, they navigate a flawed mental health system on their journey of healing and self-acceptance.
Review Fix: What's your creative process like?
Joey McKneely: Every project is different depending on the stage I am brought in as a director. For this, it was really unearthing the type of show Justin and Louis were trying to tell. They had solid characters, a dynamic subject matter and some very impressive songs. What the show needed was focus. I think me being objective and an outsider looking at their show really was an eye opening for them. You have to ask the tough questions which forces deep thoughts on the answers. From there, the sparks fly.
Review Fix: What makes this different or special?
McKneely: It's honesty in tackling the subject of mental illness.
This is not a boy meets girl, boy loses girl, boy gets girl back kind of story. It's real. It's powerful. It tells a very compelling story. If anyone has ever been to therapy, dealt with mental illness or addiction or known someone who has, then they will definitely connect with this show.
Review Fix: What did you learn about yourself through this process?
McKneely: After being denied theater for over 2+ years (thank you Covid), I learned I must be a theater artist at all cost. It's who I am. It's where I live and thrive. It seeps out of my pores with such velocity that I must be apart of it. There is no other choice.
Review Fix: What are your ultimate goals for this production and for the future?
McKneely: To continue to grow with this show and see it actually realized in a full scale production. Really want to see it in front of an audience. Every night!
Review Fix: What's next?
McKneely: I'll be continuing to share my vast experience and knowledge with any musical theater artist that comes before me. I am committed to nurturing the next generation and seeing how I can help lead the evolution.