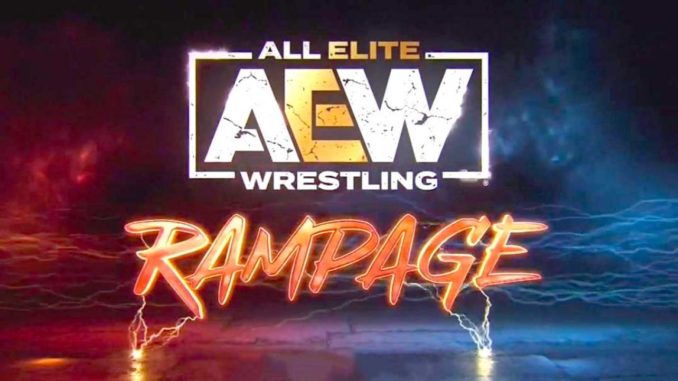 This week Rampage fell on Bobby Bonilla Day so I hope everyone celebrated responsibly. In his honor I will use approximately 1.2 million words to recap this show opening battle royal. And it wasn't just any battle royal, no, this was the Royal Rampage! And what exactly made it different than a regular battle royal or a Royal Rumble? Well, let's get to ranking so we can find out!
Honorable Mention: Jonathan Gresham and Hook. I've never really got the appeal of Gresham. Guys who are as short as he is typically have to have high flying, fast paced styles for me to care. But he did pull me in tonight when he hyped up his match with Moriarty against The Gates of Agony from Tully Blanchard Enterprises next week. What got me wasn't anything he said about that match itself but the fact he mentioned that there's 2 guys in AEW who claim to be the best technical wrestlers (which was accompanied by footage of Claudio and Bryan) but he's spent 17 years chasing his dream of being just that and bow that he has the ROH Championship it proves it. With ROH having the Death Before Dishonor PPV later this month and Tony running both ROH and AEW a Gresham clash with Castagnoli or Danielson would be a hell of a main event that might just pull me off the fence and make me a Gresham believer. I tend to think it was said that way to hedge their bets so that if Bryan can go it's Bryan, if he can't it's Claudio but also leaving the door open for Moriarty to either challenge Yuta for the PURE title or Gresham himself. As for The Cold Hearted Handsome Devil he was on his Kyrie Iriving level tonight which is a little scary. Remember Uncle Drew Kyrie in Cleveland? Everyone loved him. That was Hook until now. But then Kyrie started trying to be a pseudo intellectual and get really cryptic and deep with thoughts that really weren't that at all. And it turned me and plenty of people on him. Well tonight when Alex Marvez tried to interview him and said people think Hook's more of a "Go with the flow" guy Hook aggressively got in his face and said "That's the problem Alex, most people don't think. Anything essential is invisible to the eyes." If this is a 1 off to just show that Hook can take things seriously it's fine but if these are Hook's true colors shining through and he's going to become this kid who thinks he's a deep thinker he's an instant heel in my book and it'll feel like a major misstep by AEW. Time will tell.
5. Everyone else in the Royal Rampage. There was a lot of fun spots in this match. John Silver and Hangman Page reunited to take out Powerhouse Hobbs and then hugged for a big pop from the crowd before Page grabbed Silver and teased eliminating him only for Silver to do the same to him and them both laugh about it. Max Caster had some funny lines during his entrance about assaulting people like they're Rudy Giuliani and how he's going to get a hug from Tony Khan when he wins. Penta tried to get revenge on Rush for his attack on Fenix last week when he went through the ropes and attacked an entering Rush with a thrust kick and sling blade on the ramp. As they brawled on the apron Rush kicked Penta with a low blow like he did to Fenix but Penta grabbed Rush's hair sending them both to the floor. Andrade then chucked a chair at Penta on the outside. Takeshita had a great showing too tearing through his ring with quick attacks on Darby and Swerve before hitting a double German suplex on both men. He also flattened Orange Cassidy with a monster chop after Cassidy troed his lazy shove. Takeshita then stopped a tornado DDT attempt from Cassidy mid spin and picked him up for a brainbuster. Despite the impressive run Takeshita was taken out by The Butcher and The Blade. Swerve then continued teasing a heel turn when he eliminated Orange Cassidy. In the other ring blinded by his thirst for revenge Keith Lee eliminated Powerhouse Hobbs only to be taken out by Ricky Starks. The contrast of Lee trying to get revenge on the men who've been a thorn in he and Swerve's side and it costing him a shot while Swerve was out for himself in the other ring was a nice subtle piece of story telling. Page low bridged Starks to have he and King as the final 2 in the red ring. This wound up being a well booked match and a good, creative use of the 2 rings and a fun mash-up of both the World War 3 and Royal Rumble concepts. This 2 ring battle royal could work as a more fun way to get the final 2 for the Dynamite Diamond Ring if that happens again because the image of winning your ring just looks cooler and less awkward than 2 guys standing there in the same ring while the bell rings.
4. Darby Allin. Darby paints half his face and won half of a battle royal tonight. When "The Royal Rampage" was announced I just assumed it'd be a regular battle royal just in 2 rings and with a different name. But no, AEW added a twist to that concept and while like most AEW original concepts it was a little convoluted but a lot of fun. The two rings were dubbed the "red ring" and the "blue ring" and 10 entrants each were assigned to the respective rings. The natch started with Hangman Page and Powerhouse Hobbs as the first 2 men in the red ring and Darby Allin and Tony Nese as the first 2 men in the blue ring. From there timed entrants were added and eliminations happened until there was only Darby left standing in the blue ring and Brody King left in the red ring. Not only did King hold the clear size advantage he also was the much fresher man as he was the final entrant in the red ring. The one thing commentary didn't address that I wish they'd have toyed with, especially given the amount of hosses they had here, was what happens if you throw an opponent into the other ring before the final 2? Is that an elimination? Do they have a time to get back in? Because Keith Lee who was in the red ring just yeeting Dante Martin or John Silver into the blue ring and hitting Swerve with them could have been a fun spot but they kept the blue and red rings from any physical interaction. Darby managed to survive Tony Nese, Max Caster, Swerve Strickland, Frankie Kazarian, Konosuke Takeshita and Orange Cassidy to bring the final 3 in the blue ring down to him, The Butcher and The Blade. With the odds against him Darby managed to toss out The Blade and then low bridge The Butcher to win his ring. He then had a fun exchange with King before losing that I'll take more about later but for surviving as long as he did he gets a spot on this list.
3. The Young Bucks. While Forbidden Door happened nearly a week ago Hirooki Goto and Yoshi-Hashi stuck around a few extra days as the duo known as Bishamon took on The Young Bucks in a title eliminator match. This had all the expected Young Bucks spots but I was impressed by Goto and Yoshi-Hashi and some of the things they pulled out. They hit a Headhunter (Russian Leg Sweep/Running Blockbuster combo) on Nick Jackson for 2. Yoshi-Hashi super kicked Nick and threw him into Goto who got him up in a fireman's carry so Yoshi-Hashi could hit another super kick and Goto could hit an AA variation with Nick's head slamming into Goto's knee but again it was only enough for 2. Matt hit Yoshi-Hashi with a blind side superkick and pulled Nick off his shoulders before they delivered a BTE trigger on him. Nick crossbodied Goto who was in the other ring at this point before jumping off the parallel top ropes of the 2 rings to deliver a double jump Meltzer Driver for the win. Bishamon won't be getting a title shot after the loss (another welcome thing to see in wrestling and something WWE absolutely needs to do more of if they insist on title eliminator or "champion contenders" type matches) but I would like to see them back in AEW at some point and that's a pretty high compliment because there aren't many New Japan guys I really enjoy watching.
2. Toni Storm. Storms are typically good for roses. Not so much tonight. She and Nyla Rose had a strong main event meeting that saw Toni leave victorious and one step closer to a rematch for the AEW Women's Championship. Nyla, getting a rare chance to show her sense of humor on AEW TV mimed looking at a weather map in the Mark Henry pre-match segment and said that if Marina Shafir (who was with her for the segment and match) was a problem for Toni Nyla's a "God damn catastrophe!" Storm said she was going to beat Nyla and go after Thunder Rosa again. Early in the match Nyla distracted the ref allowing Shafir to low bridge Storm. Rose followed up by whipping Storm into the stairs and powerslamming her on to the floor. Nyla tried to hit Toni against the post but Storm ducked and Nyla wound up smashing her arm against the post instead. Toni sent Nyla into the barricade and back in the ring but Rose used the high ground to her advantage dropping an elbow on Storm as she entered the ring and taking control of the match. Rose locked in a modified STF but Storm reached the ropes. She tried a running cannonball in the corner but Toni dodged it and unleashed a hip attack of her own. Shafir pulled Nyla out before Toni could inflict more punishment so Storm kicked Marina on the outside. Nyla guillotined Storm on the ropes but Toni low bridged her to send Rose to the floor. Toni hit a double diving DDT off the apron on "The Catastrophe" and "The Problem" and followed it with a diving crossbody to Nyla inside for just 2. Storm tried to reverse a Beast Bomb but Rose sat down as Storm rolled through for a 2 count. Toni tried for an O'Connor roll but Nyla pulled off the top turnbuckle sending it flying across the ring. Rose hit a thrust kick for 2 and draped Storm over the top rope before trying for the flying knee. Storm backed up and delivered a cutter over the top rope and German suplexed Rose for 2. Shafir was on the apron but Storm kicked off her and delivered a tornado DDT to Nyla and a pendulum DDT for the win. The most shocking thing here was that the exposed turnbuckle never came back into play. It'd be nice if wrestling swerved us not just with big angles and character turns but with little things like twisting an expect in-ring trope on it's ear more often. After the match in typical AEW fashion Shafir attacked Storm only for Thunder Rosa to chase her off. Rosa and Storm shook hands and celebrated together. This was probably my favorite match for both Rose and Storm in AEW and if The Royal Rampage wasn't such a big deal and the inaugural match of it's type Toni would have gotten the number 1 spot.
1. Brody King. When you have a Royal Rampage it's only fitting that the first winner crowned is a King. And while we in the States no longer acknowledge kings as our leaders we will acknowledge this King as the #1 contender to the AEW Interim World Championship. King was the final addition to the red ring that had Hangman Page, Powerhouse Hobbs, Ricky Starks, John Silver, a debuting Rush, Penta, Keith Lee, Dustin Rhodes and Dante Martin. Brody's first eliminated Dante Martin before later eliminating former AEW World Champion Hangman Adam Page to win the red side of things. With it down to just he and Darby King entered the blue ring and gutwrench powerbombed Allin before tossing him back into the red ring where he squashed him with a corner cannonball. He tried to climb the corner where Darby was perched but Darby did all that he could to fight King off and send him to the apron. With Darby inside and King on the edge of elimination Darby tried to bite the hands of Brody so he couldn't hold on but ultimately his efforts were for naught as King, in a beautiful visual, grabbed Darby, swung him outside the ring and dangled him off the apron over the floor with a choke only to drop him to the floor when he passed out and earn a shot at Jon Moxley. King winning was a definitely surprise but it makes sense as he's somebody who looks like a physical threat to Moxley and can have a fun brawl with him but who hasn't really seen much singles action before this and can handle a loss. This match coming immediately next week on Dynamite is a little puzzling because I thought with even a week between you could do more to make it seem like Brody is a real threat but it'll probably be fun and I could see this leading to BCC v. House of Black going forward and that could be a hoot!