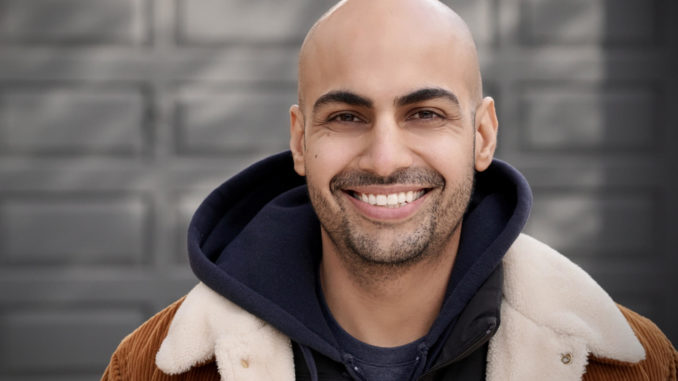 Review Fix chats with actor/writer and director Bari King about his life in film and so much more.
About Bari Kang:
Deeply rooted in his experience as a Punjabi immigrant to America, Bari Kang's two independent crime thriller films Lucky (2016) and The Scrapper (2022) have earned favorable comparisons to the works of his longtime idols Martin Scorsese and Quentin Tarantino. Yet, the multi-talented actor, writer, and director's personal story of sacrifice and struggle as a DIY filmmaker, has more in common with three world renowned creative hyphenates – Sylvester Stallone, Vin Diesel and Lena Dunham – who, weary from a constant cycle of auditions and rejections, launched their careers by writing scripts they also starred in.
As a self-taught artist, Kang's success with two films is nothing short of a miracle. His debut film Lucky, a dark, gritty tale inspired by his own personal family experiences as illegal Punjabi immigrants in Queens, NY, won the Audience Award at theUrbanworld Film Festival and earned the praise of critic Michael Rechtshaffen of the Los Angeles Times: "Kang, in his filmmaking debut proves adept at capturing background detail with a close-up hand-held authenticity. . .Palpably gritty!" Jared Mubarak of The Film Stage wrote of Lucky: "A script bolstered by a complex and relatable antihero."
Kang's The Scrapper, earned an 88% aggregate score on Rotten Tomatoes. "I wrote a million-dollar screenplay but could only raise a fraction of  that." Kang humbly credits his committed crew and talented cast for making it happen. The Scrapper, currently available for streaming was released by 1091 Pictures and continues to be distributed around the world. Tim Brennan of About Boulder wrote: "The Scrapper is a smart, solid, crime film that promises more good work from Bari Kang…he's made a film with a point of view and something to say. Kang is a smart screenwriter." Movie blogger  Federico Furzan said, "The Scrapper is a pearl of its own world of small budget films. . . an action thriller that doesn't let you rest. . . Bari Kang shines in the film." Testifying on the compelling, gritty story, Battle Royale With Cheese's Joel Fisher wrote "Kang creates a gritty world filled with gangsters, tense action and a heart at the centre." Movie Insider's review byBrian Renner highlighted him as a multi-hyphenate creator: "Kang shows prowess in all departments from writing/directing to acting."
Review Fix: When did you know this was what you wanted out of a career?
Bari Kang: After about a year on the auditioning circuit I realized how little opportunities exist for ethnic actors. So I decided to create them. I worked on my craft as a Writer/Director and now I'm on my third screenplay with two produced films which I wrote, directed and starred in.
Review Fix: How have your earlier projects influenced your newest film?
Kang: Tremendously! When I started out, I basically knew nothing about film making. I did it out of necessity and learned on the job. With each project I grow exponentially and the process is much more enjoyable. I'm able to be more vulnerable and authentic. At first, I was afraid to be myself and share my personal experiences. With The Scrapper, I put it all out there and wasn't afraid to take risks. You have to believe in yourself and vision.
Review Fix: Tell us about The Scrapper!
Kang: The Scrapper is a labor of love and a film that certainly punches above its weight. It's literally a scrapper! It exposes you to a Punjabi/Mexican criminal culture rarely ever seen in American Cinema. It breaks stereotypes and is a great genre film with heart! The Scrapper is an amalgamation of my experiences as an illegal immigrant but from a perspective we never get to see. It shows the frantic lengths one man will go to protect those he loves.
Review Fix: How has your NY upbringing influenced you?
Kang: As an illegal immigrant growing up in Queens during the 90's and early 2000's I was able to see first hand how facets of the NY underworld operated. It's amazing what happens right under your nose but no one really talks about it. One example would be the intricate way illegals move and launder their money since they don't have access to legitimate financial institutions. These are usually normal hard working people, not criminals. The deck is staked against them so they're forced to bend the rules just to get by. I remember my parents working 14 hour days, below minimum wage and we lived on the fringes. You learn to be grateful for things that most people take for granted.
Review Fix: How does it feel to be compared to Scorsese and Tarantino?
Kang: It's an incredible feeling to have your work recognized in a positive light. I'm grateful to be mentioned in the same sentence as these masters of the craft. I grew up watching their work and immediately fell in love with their characters and gritty worlds. Scorsese and Tarantino have been a great influence on my work and I continue to learn from them. 
Review Fix: What are your goals for this film?
Kang: It's a calling card to show what I can do, especially with such limited resources. The Scrapper is a LOW-Budget film but it looks like a million dollars! More importantly, I wanted to showcase Punjabi's as the main characters in an American thriller. South Asians are usually pigeonholed as comedians or doctors and I wanted to break away from that stereotype.
Review Fix: What do you enjoy more? Acting or directing?
Kang: For me they go hand in hand and I love both. However, writing is what really elevated my craft. It all begins on the page and anyone can do it. It's hard work but it's a matter of putting in the hours day after day.
Review Fix: What's next?
Kang: A new feature film! I'm working on a supernatural revenge thriller filled with racial tension. Extremely excited about this one!
Review Fix: Anything else you'd like to say?
Kang: Don't wait for permission or the ideal time to do what you want to do. Just get at it. It's all about baby steps and getting out of your own way.
Review Fix: Where can people find out more about you?
Kang: