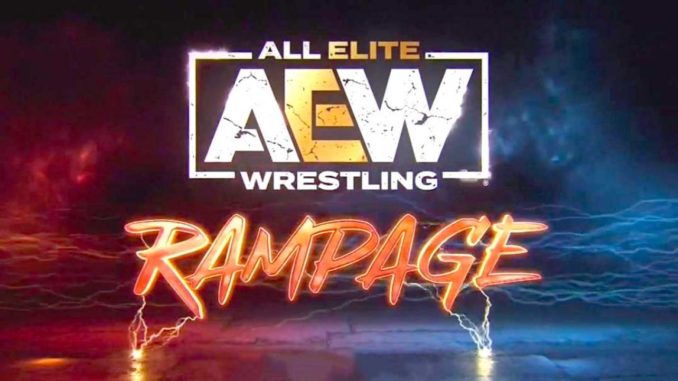 This week's Rampage wasn't one of it's better offerings but there was a lot going on so I didn't even have space to mention CM Punk being shown backstage after Dynamite complaining about his leg. He said it didn't feel like anything and it just gave out but it scared him because when he broke it it didn't feel like anything either. This scares me a little. I didn't mind the Dynamite match or ending but the absolute last thing I want is Punk v. Moxley ran back at All Out and this made me a little worried that they may go that route and use Michael Chandler in Bellator v. Brent Primus where Chandler had a nerve hit and his leg gave out without really being majorly injured and Primus got essentially a "fluke" win out of it. Chandler got his rematch and won. I think they had a lot of tension and excitement behind Mox v. Punk but that's all gone now. Maybe if they go title v. career it could be enough of a reason for Mox to accept a rematch so soon but I really don't want this. You don't have the time to properly build a title match for All Out but give me Mox v. Daniel Garcia for the belt in a match that I could sort of quickly piece together a story for in 1 promo coming off the Garcia/Jericho/Bryan stuff. Give me Moxley putting the belt up for grabs in the ladder match because he's defended it against everyone and anyone so far so why not against everyone all at once? Or just roll the dice on doing a PPV without a title match. I just don't want Punk v. Mox again and don't want Mox v. Hangman either. With that out of the way let's rank my whining about the rest of the show!
Honorable Mention: Hook, Jade Cargill and Private Party. Now why you wanna try, to classify, the type of thing Hook do? Cause he's just here for that fight life doesn't matter if his opponents are 1 or 2. He was asked about both members of the former 2.0 having their sights set on him and his title and he simply said he didn't care. Menard and Parker conveniently walked into the interview frame just as Hook left claiming they were looking for him and he was scared because he can't face the burden out on him by "The AEW galaxy" but they're willing to take that title and remove that burden. A singles champion being targeted by a team, even a glorified jobber team like Menard and Parker, is still a nice wrinkle to the old wrestling formula. Jade makes it for sending Leila Grey away when she tried to interject on Jade being asked about Athena. Jade asked what Grey has even done for her? She also sent the inteeviewer away and challenged Athena for All Out which Athena promptly accepted via brawling with Jade and having to be pulled apart. This is a rare AEW women's match that I think has actually gotten a solid build and I'm excited to see. Private Party makes it for exchanging words with Andrade and Rush in the back. Rush told them they didn't lose the trios match, Dragon Lee did and Rush reminded us he was willing to take out his own brother to send a message. Andrade said actions have consequences but Private Party, specifically Kassidy, weren't backing down. I really look forward to this match.
5. Miro. Dark Order and House of Black squared off in the semi-final of the Rampage side of the trios tournament. It looked like House of Black had the match in hand with Black ready to take out Reynolds while King and Matthews held back Silver and 10 but Miro's music hit and he came out causing Buddy Matthews and Brody King to leave the ring to brawl with him. However as they did Alex Reynolds capitalized on the leader of The House if Black's attention being diverted by rolling up Malakai Black to help Dark Order get the upset win and advance to the Rampage finals of the AEW Trios Tournament. House of Black then beat down Miro and Black hits him with a Black Mass before Darby and Sting come down and House of Black dips out of the ring. Sting's paint has the House of Black like corruption look to it which is interesting as Miro's face is now clean and Black points near his eye to indicate he sees it. I'm assuming this trios clash between House of Black and Miro, Darby and Sting is made official for the PPV this week and I'm curious where they go with Sting from here because I don't think I want Sting in The House of Black but after the last year plus Sting v. Darby happening, maybe even at Grand Slam, would be really exciting for me. Still, Miro gets the spot on the list for really being the focus here. And I like Dark Order being real fluke-y underdogs here. Them now going against fellow fan favorites Best Friends is a really strange path to take though. I feel like with the Page stuff and Callis returning with Omega the logical route would be Dark Order gets another upset win, kne of them gets hurt and Page has to replace them and we get a face Page & Dark Order v. heel Omega & "tweener" Bucks at All Out. But I'm not sure how that works with Best Friends being the ones Dark Order faces next. Will fans still cheer for Dark Order if they take out Cassidy? And if it's Best Friends winning that to me, is a much less compelling finals match and story. It feels like they booked themselves into a corner a bit but I'm willing to let it play out before I fully judge.
4. Wardlow. Ryan Nemeth came out and ran down Cleveland saying the best thing about being from there was getting to leave. He insults the Browns and out comes another Cleveland son, Wardlow. Lethal, Dutt, Singh and Chris Sabin show up on the ramp. Nemeth demands Wardlow's full attention and Wardlow gives it to him in the form or a headbutt, wind-up lariat and 4 powerbomb symphony before pinning him with a foot on his chest and grilling 2/3rds of his All Out opponents. Sabin being there without Shelly was a bit strange and kind of felt like a waste of a Sabin appearance but Wardlow getting to stay a badass monster is always cool.
3. Powerhouse Hobbs. Hobbs took on the debuting Ashton Day tonight and he may as well have been called Ashston "Bad" Day because that's what it was for him (Like how I grabbed that low hanging fruit?) Hobbs lariats and chokes Ashton Day against the ropes. He yells "Go get Ricky!" as he flattens him with a body block and does the Ricky Starks pose. He planted Day with a spinebuster for the 3. After the match The Factory interrupted on the screen and were shown choking Starks out with a weapon. Anthony Ogogo went to punch Starks but QT says he told Hobbs this one was on the house and he puts his watch around his knuckles and punches Starks himself. Hobbs walks off looking pleased. This was the one start to finish segment I actually enjoyed on the show though I would have liked to seen this stretched further out so Starks could have taken out each member of The Factory before facing Hobbs. But maybe it'll help cover for a Starks' loss at All Out and that can keep him busy until he has a rematch with Hobbs at Grand Slam or some other big episode of Dynamite or maybe even Full Gear.
2. Tay Melo & Sammy Guevara. Everyone's least favorite obnoxious newlyweds came out with "Cool Hand Ang" to face Ortiz & Ruby Soho. Ruby poison rana's Sammy but eats a crossbody from Tay. Which led into a fun serious with the women hitting some moves on the men. Eventually Ruby hits No Future on Tay but Sammy breaks it up. Anna Jay came out and threw Soho into the steps as Ortiz and Sammy brawled in the opposite corner with Ang on the apron and the ref distracted. When Ortiz turned around and saw what happened Sammy hit a springboard cutter for the win. This had it's moments but didn't feel like any sort of real blow off match, especially considering Ortiz had his head shaved and Soho had her arm broken by the J.A.S. We'll see what happens from here though. It seemed like when Kingston challenged Sammy for the PPV we'd get that match and the dirtsheet rumors that circulated this week sure felt very (what Sam Roberts has dubbed) "new kayfabe" of them but Kingston not being on TV again makes me question if that's getting pushed further back now?
1. Claudio Castagnoli. Claudio defended his Ring of Honor Championship for the second time tonight against "The Natural" Dustin Rhodes. In the backstage pre-match segment says he's going to shatter Dustin's dreams tonight which was a fun little line. Early on Claudio shoulder blocks Dustin who hits his head on the bottom ropes. Dustin rolls out to collect himself. Dustin tries a running crossbody but Claudio ducks and Dustin rolls out to the floor. Dustin sends Claudio outside with a clothesline and hits a cannonball off the apron to Claudio on the floor. Dustin hits a hirricanrana off the middle rope followed by a Code Red for 2. Claudio drops Dustin neck first against the ropes! then hits a big swing and locks in a crossface but Dustin breaks it by roing back into a pin that Claudio has to kick out of. Dustin hits a spinning powerslam and a piledriver for just 2. Arn on the outside mimes a throat slash and Dustin tries for the Curtain Call but Claudio gets out, tosses Dustin against the rops and then gets inadvertently low blowed by Dustin's head as Claudio tries to leapfrog him. Arn gets on the apron but Claudio hits a pop-up European uppercut for the win. Dustin promised us the best version of "The Natural" and this surely was not it. For a match with Claudio Castagnoli this could have been much, much better but this wasn't bad at all. For a guy in his mid-50s to hit some of the offense Dustin hits is wild but in the end this won't go down as one of the more memorable Rampage main events especially because it seemingly had nothing to do with the All Out build which is coming up in just over a week.