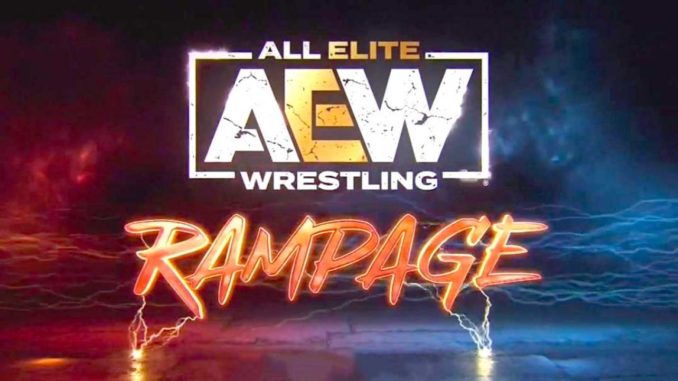 Sorry for the delay, I had a busy weekend that included watching some really talented guys perform at Outlaw Pro Wrestling Saturday night. Crowbar and Rich Swann tore the house down in the main event for a crowd that wasn't nearly as full as it should have been. All the credit in the world to those guys for having a barn burner when they could have phoned it in. I know Swann is in Impact but I'd love to see him and Crowbar on a bigger stage again in AEW or WWE soon. But I did finally watch Rampage too so here's my rankings from it!
Honorable Mention: Dustin Rhodes, Nick Comoroto, Ortiz and Ruby Soho. We started the night with Claudio Castagnoli coming out, acknowledging Ricky Steamboat and saying he'd rather wrestle then stand there in street clothes so he was issuing an open challenge for the ROH Championship next week. Dustin Rhodes accepted and said he's been eaten up for years by never having that World Championship to his name and if Claudio gives him the shot he'll bring the best version of "The Natural" Claudio has seen. Claudio says he knows that fired Dustin up because it fired him up for years but even though he has the belt he didn't lose that fire, he accepts. Comoroto makes it because as Powerhouse Hobbs interuppted The Factory playing cards and dominoes in the back furious they didn't take out Starks we saw a bottle of "Nicky Boy Protein Powder" with his face on it on the table. Between the new look and now the protein powder Comoroto quietly gets more and more interesting and hilarious each week. QT promised he was a man of his word and they'd take out Starks as Hobbs grabbed money from Aaron Solo's hand. I need Comoroto and Hobbs slappin' meat soon! Ortiz and Soho make it because they challenged Sammy & Tay. Soho said they've wanted revenge for his hair and her hand for months and challenged them. Ortiz hilariously ran down when they could fight which included next week, yesterday, 6 months ago, etc. and said ge wished they could fight right now but they weren't there. I actually wouldn't mind this as a PPV match but after Eddie called for Sammy a few weeks ago that feels unlikely.
5. Miro. We were presented with a "standby match" of Buddy Matthews with Julia Hart vs. Serpentico after Hook made such short work of his opponent tonight. Matthews made quick work of Serpentico when he stopped a diving hurricanrana attempt by catching Serpentico, buckle bombing him into the corner, hitting a lifting knee strike and Matthews'Law for the win. But after the match "The Redeemer" came out without any paint on his face, holding Malaki Black's mask and laid waste to Matthews as he shouted "Where are the pagans?!" The trios tournament stops the Miro story from being entirely clear but it sure feels like we're getting either Miro v. Black or Miro, Darby & Sting v. The House of Black at All Out and either way I'm interested.
4. Hook. "God must have spent a little more time on you" but Hook spent no time in defending his FTW Championship when he ducked a shot from JWoww of Jersey Shore fame's beau "The Reality" Zack Clayton and locked in Redrum to make Clayton pass out without breaking a sweat. Hook is always awesome but after Clayton got to come out last week and cut a promo and run down the crowd on his way to the ring this week I was thinking the match might be slightly less one-sided but I'll never complain about having fewer moves to recap! Hook proved that then, now and forver New York is better than New Jersey.
3. Athena. She faced off with a returning Penelope Ford in a surprisingly fun match. I forgot how much potential Ford had and how athletic she is. Athena opened the match by springing off the bottom rope to catch Ford running in with a knee strike. Ford hit a beautiful cazadora on Athena that ended with Athena's neck across the middle rope so Ford could deliver a dropkick to her back. Ford vaulted off the middle rope and twisted in the air to hit an elbow drop to Athena laying on the apron. Like the main event finish this could use some work but was creative enough that I was impressed by it. Penelope Ford's husband Kip Sabian was finally acknowledged as the guy with the box on his head in the crowd when Athena shotgun dropkicked Ford into the barricade right in front of him and commentary told us he's been targeting Pac and the All Atlantic Championship which is nice because that belt has entirely been limited to Dark and with all the other wrestling on TV that's one of the few weekly shows I don't get to watch most weeks. Athena won with the O Face which she actually held Ford in and pulled her over for the cover. After the match Kiera Hogan and Leila Grey of The Baddies attacked Athena and held her as Stokley Hathaway presented a sledgehammer to Jade Cargill which she licked and then used to destroy the homemade butterfly blade backpack Athena wears for her entrance. Athena started to fight back before Jade nailed her in the mid-section with the sledgehammer. This is AEW's best built women's feud inba while and I'm hoping Jade v. Athena for the TBS Championship is on All Out because I'm much more interested in that than Rosa v. Storm again.
2. Swerve In Our Glory. Our first match of the show saw the Tag Team Champions defend against Provate Party. The story here was Swerve and Lee thinking they'd have an easy time putting Kassidy & Quen away because of how Lee decimated Kassidy in his debut but comnentary stressed this wasn't the same Private Party and the duo showed that when Quen managed to kick out of a House Call from Swerve before being defeated with the JML Driver. Lee absolutely yeeted both members around the ring including tossing Quen with a reverse beal and hitting Kassidy with what Excalibur called "The Bradliest of Beals" which made me chuckle. After the match Keith Lee fist bumped Kassidy and shook Quen's hand. Consdiering Private Party were sent to take the titles by Andrade I'm hoping we get Private Party v. Andrade & Rush soon.
1. The Best Friends. Orange Cassidy got a measure of revenge on Sonny Kiss for turning on him last week by teaming with Chuck Taylor and Trent Beretta and beating The Trustbusters and taking them out of the tournament for the inaugural AEW Trios Championship. Somebody on Twitter theorized that The Trustbusters were a self-aware parody of Tony Khan himself and Tony essentially confirmed it with a Zoolander "You can read minds?" gif and I'm annoyed that I didn't put that together first. This match helped everyone involved. Slim J got to fly around and do some impressive maneuvers like a standing sliced bread to Cassidy followed by a twisting back splash off the top to the Best Friends on the floor, a diving corkscrew kick on Cassidy and a sloppy but ambitious diving reverse DDT on Orange. Boudreaux got to look like a monster by single-handedly laying out all 3 Best Friends before eating a triple dropkick from all 3 opponents in the corner, being speared into the barricade by Trent, eating an Orange Punch from Cassidy and being dumped into the crowd by The Best Friends so he couldn't get involved in the finish. Sonny Kiss even got to continue the Orange Cassidy rivalry by crotching him on the top rope. Davari was actually the person on the losing end who showed the least but considering the story is he bought this talent to help him win gold that makes a lot of sense. The end came when Slim J called for Parker Boudreaux's help but instead Danhausen appeared in the crowd cursing Slim J. J turned around to eat a double chokeslam from Chuck and Trent as Cassidy Orange punched Davari off the apron. The Best Friends got the win with a unique trios finisher of Trent and Chuck holding Slim J parallel to the mat as Cassidy climbed their shoulders and splashed on to him. It wasn't the cleanest finish but I appreciate a triple team finisher and I think it could actually look a lot better against a talle opponent. I really don't know how this trios tournament ends and that interests me.