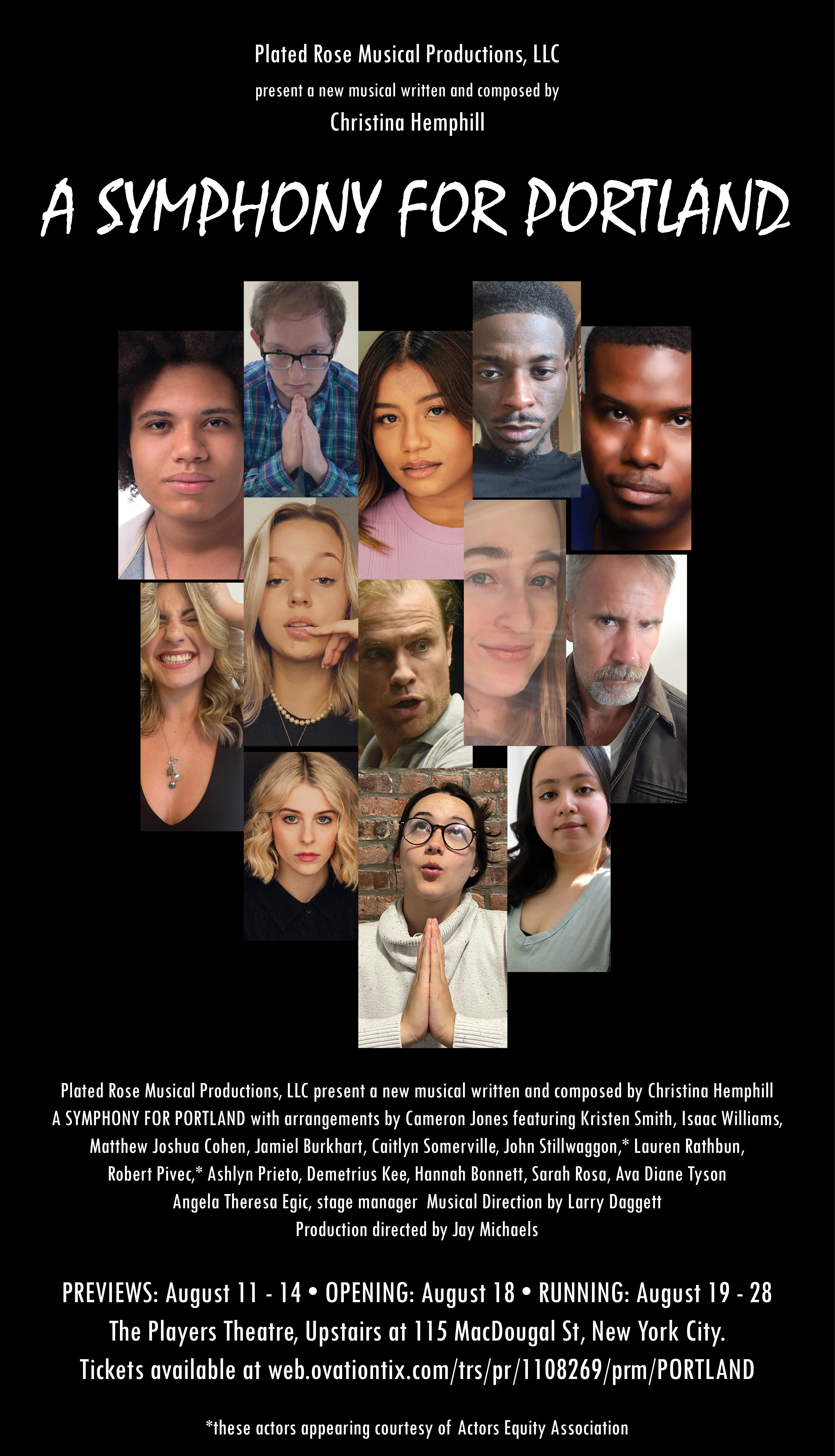 Review Fix chats with Christina Hemphill and Jay Michaels, who discuss their roles in "A Symphony For Portland."
About "A Symphony For Portland"
With a live instrumental ensemble in an intimate space, audiences will be immersed in this love letter to the people of Portland who still have hope in the face of adversity.
A harrowing story, Aarron, Jordan, Sarah and Starr search for healing and belonging while escaping the traumas related to a life without a home.
The transformation begins with one young homeless man's courageous decision to make a change in his life, finding that a little change can go a long way.
Previews run August 11th-14th
Official Opening August 18th.
Review Fix: What was the inspiration for this project?
CHRISTINA: It started with an encounter with a homeless man, one very cold January evening in Portland, Oregon. I was walking to my husband's office when this homeless man approached me and asked for money. I gave him some. And as I gave it to him, I looked up and saw the face of a young man. He could have been my son. I had been a paramedic in Texas and ran 911 calls on homeless persons often. But I didn't remember them being so young. Why was this young adult homeless? How many others were there? Why were they homeless? What could I do to make a difference? Eventually, I decided that power of musical theatre was my way to try and prevent young people from becoming homeless in the first place.
Review Fix: What's your creative process like?
CHRISTINA: My creative process is a battle between an idea of dialogue I have or a musical chord progression I like and my brain's ability to remember them moments later when I try to write them down. I could blame it on my age, but it is one of the reasons I found being a music major so many years ago, so difficult. But when I can focus and sit at the piano and work on a new song, a couple of hours might go by without even realizing it.
JAY: When directing, I look at logic – and there is just so much of that in a musical! I guide my cast to the realities of their character and the situation. Once they are set with "knowing" who they are in the show and the universe of the show, we add the "commercial" touches. I'm big on stage-pictures and manipulation of voice tone and rhythm to help guide thew audience into the universe of the play. And yes, each play 0- musical or no- has its own universe and the audience is as much a part of it as the actors.
Review Fix: What makes this different or special?
CHRISTINA: I think my musical is special because instead of being an expression of "oh my god, this is horrible" awareness of an issue or encouraging people to rise up to battle some society ill, I'm asking them to look within their own family and address some of the issues that cause homelessness among young people. Its theatre focused on prevention of an issue, not one that offers a solution. It's different because I bring in the aspect of faith, specifically as it relates to those who kick their children out for being a member of the LGBTQ+ community. I truly hope that someone with a child who has come out as "gay" can accept that it is okay to accept your child as he/she is and still keep your faith. Kicking your child out of the house or creating a home they want to run away from, exposes that child to the dangers of sex trafficking, addictions, depravation and hunger. It's well documented that the suicide rates among homeless teens is higher for those who identify as LGBTQ+ members. Other themes, such as addiction and the effects of grief are also addressed in the story.
JAY: Faith. The trend these days is toward – not so much the good guy – but the anti-hero. We've seen a return to the Elmer Rice depression-era style where there are only levels of bad as opposed to good and bad. Christina has built an engaging and sincere musical that basically says we are all good and even amid tribulation, the sun still shines. To hear this might seem hokey but sitting in the theatre – well – she renewed my faith is the "happy ending."
Review Fix: What did you learn about yourself through this process?
CHRISTINA: I continue to amaze myself as to how much I don't know about any of this. From the constant rewrites, to learning proper formatting, to pitching poorly to producers, to constantly dealing with self-doubt and anxiety that lead me wondering if I'm even good enough; I've learned this about myself: If I think something is important, I don't give up. I will continue to learn. I will master what I learn eventually and then I will excel at it. Well, that's the plan.
JAY: This play reminded me of my family in a strange way. I was brought up in a religious home and while I never adhered to the actual religious portion, my own natural spirituality was nurtured. It lay dormant for decades until I tackled A Symphony For Portland. Like I said, now I see happy endings again.
Review Fix: What are your ultimate goals for this production and for the
future?
CHRISTINA: I have to admit I've imagined winning a Tony award. But I have always felt that this musical needs to be on the road. And here's that plan. We go to a small city, get the local choirs to be the chorus since there are several "choir" songs in the show. And then, during intermission, have booths in the lobby where audience members can learn about the local resources for the issues brought up in the musical. And maybe, someone reaches out for help for the first time. Then that night, they go home and tell that one child they've had a hard time with, that they still love them and they will get through whatever it is that is tearing them apart. And that night, one less teen doesn't run away or get kicked out and most importantly, doesn't kill themselves. That's the power of theatre, the hope for this show's future, to act as a preventative against homelessness thus giving families who are suffering some hope.
JAY: This is not a Broadway show per se, this is a powerful off-Broadway play and should finds an intimate theatre and run and run and run. It could be the next Fantasticks or LINE.
Review Fix: What's next?
CHRISTINA: What's next? I have a couple more musicals I'm working on. For "A Symphony for Portland", I am hoping to get it performed back in Utah and ready for a bigger Off-Broadway run, which would just be a dream come true. But for me personally, I am very cognizant of the passing of time and how precious and short life is. I don't think anyone would blame me for just being a wife, a mom and a grandma at this age. But that tenacious spirit my mom referred to as "stubbornness" is beginning to understand that life ahead of me is looking pretty adventurous. Like the character in my musical, Starr, sings with her homeless friends, "…Can't keep me down, I can fly, I'll fly!"
JAY: I'm glad I got to work on this heartfelt piece because the fall always means – for me – returning to the "dark side." I will be hosting Phoenix FearCon's annual film festival (https://phoenixfearcon.com/) in Arizona and appearing as an on-air personality for its horror, sci-fi, and fantasy streaming channel FEARCON TERROR-VISION. I have several stage works including Rob Asaro's LOST AGAIN, which is in development as a TV series, as well as a rigorous teaching schedule to fill the last few seconds of my time.