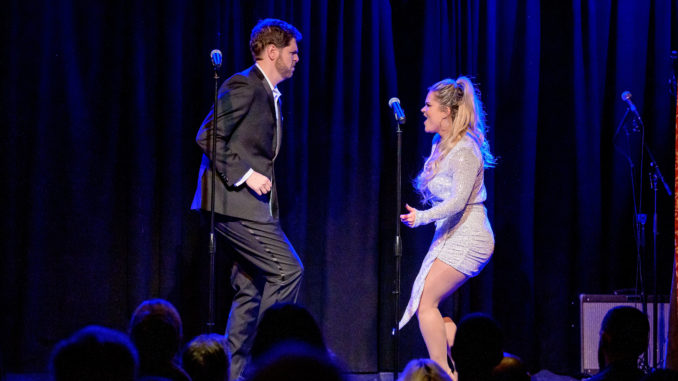 Review Fix chats with oprano Natalia Tsvi and tenor Gilad Paz, who discuss their newest collaboration, Ave Maria vs. Take Me To Church.
About the Track:
In a perfect world, soprano Natalia Tsvi and tenor Gilad Paz – the unique classical crossover vocal duo collectively known as VOCE NOVA – would have taken the "America's Got Talent" stage and performed their fascinating hybrid twist on Verdi's "Libiamo" before all four judges and a live audience of 3000. But their audition date, March 14, 2020, was the day Hollywood began shutting down because of the pandemic, and Tsvi and Paz had to wait it out seven hours as the show's production was scaled down around them. Brief but thrilling and magnetic, the duo gave it their all, shifting quickly from a traditional operatic duet into a high energy number complete with a Moroccan dance beat and a party atmosphere.
Testament to their unique stylistically eclectic approach as what they call a "gateway drug to classical music," VOCE NOVA may not have won the hearts of the AGT judging panel, but it's likely that had there been a full crowd behind them, they all would have been on their feet dancing, their hearts pounding and mouths agape at the duo's infectious energy, risk-taking arrangements and overall sense of joyful fun.
Before they auditioned, Natalia and Gilad honed their act performing before diverse audiences everywhere they could, even holding court at open mics and karaoke clubs in the NYC area during the duo's early stages. When they sang this same version of "Libiamo" at a dive bar in Brooklyn, the crowd – full of rappers and spoken word artists – lost their minds. As it turned out, the feedback was prophetic of what they would continue to hear after officially debuting VOCE NOVA in 2019. Folks who had never heard opera before were suddenly excited about it, surprised how much they loved it, in awe of the duo's chemistry and stage presence. AsNatalia says, "They can't always explain why, but their body just moves. They find themselves shaking their butts and clapping to opera!"
Since making their debut at a high profile fundraising event for a new artist group collective in NYC, VOCE NOVA has honed its craft, perfected its style and expanded its repertoire entertaining at boat shows, wedding expos, event planning conventions – and performances at weddings, including one high profile affair where they led an opera flash mob. Their reputation is earning them renown beyond New York, and they were recently contracted to do corporate events in the greater Washington, DC area.
VOCE NOVA brings their bold array of musical dynamics to their latest single, a dramatic and daring yet wildly irresistible mashup of Schubert's timeless "Ave Maria" and Hozier's 2013 hit debut single "Take Me To Church," its title stylized (like many of their other recordings) "Ave Maria vs. Take Me To Church." The track begins with Natalia in fine operatic form, singing Latin over a prominent church organ. Just when they've got us in Mass mode, Gilad in his pop voice sings "Amen" and dives into Hozier's impactful, instantly recognizable hook. Then she returns with more "Ave Maria" over a rock guitar groove, leading to the song's climactic segment where the two sing their individual songs at the same time creating a fascinating point/counterpoint. The piece closes with her singing a towering "Amen" and the two joining forces singing soaring high notes in harmony for the triumphant final chorus. 
Review Fix: How did this project come together?

Gilad Paz: As we were working on adding new songs to our catalog, we kept looking for new and unique mashups that would showcase our musical identity. Natalia came up with this idea and the whole production team loved it!   

Review Fix: How did it change through production?

Natalia Tsvi: Like with every mashup we create, there's a process involved since the tracks are custom made for our duo. We first come up with a "Frankenstein's Monster" version of the structure for the mashup using the original recordings. Then we speak with our music producer, Assaf, to decide on the musical keys, key changes, transitions, and general feel for the sound of the track. After that he sends us a piano guide on which we record the vocal guides, which are then used with the musicians in the studio. Assaf then sends us the track for revisions, and we go back-and-forth until we're happy with the results.

Review Fix: What do you think makes it so special?  

Paz: In the classical crossover realm, many of the songs are geared towards the easy listening crowd. This means a lot of ballads, as well as slow, classical-style covers of popular songs – and that's definitely not us!

Tsvi: What makes VOCE NOVA mashups special is that we actually combine genres that on paper seem very different, and create something completely unique that doesn't sound like anything else. For us, this is our interpretation of the term classical crossover.

Review Fix: Why this song?

Tsvi: There's something special about bringing together the sacred and the profane, classical and rock music, and blurring the lines between them to the point of coexistence. The "Ave Maria" is synonymous with church music, and is one of the most recognized and beloved pieces in the classical repertoire, while Hozier's "Take Me To Church" was a huge hit when it came out in 2013, and still speaks to so many people around the world with its norm-challenging message. 

Review Fix: How did you feel the first time you heard it?
Paz:
It was truly exhilarating! There's something special about hearing months of work come to fruition in a way that is exciting and totally represents your vision!

Review Fix: How would you like this track to affect the world?

Tsvi: Many people, especially in the era of COVID, are in a place of redefining their beliefs and their relationship with religion and God. We feel that this mashup represents how different ideas can not only coexist, but can be united to create something different and new.

In addition, we consider ourselves to be a kind of "gateway drug" to classical music, so we're reinventing the idea of classical crossover in hopes that it invites more people to explore the classical music realm in the 21st century.

Review Fix: Who do you think will enjoy it most?  

Paz: So far the reactions from listeners, both on social media and live, have been enthusiastic across the board. People who aren't necessarily consumers of classical music, from college students to folks in their 70s, have been thrilled by the combination of this Schubert classic with Hozier's chart-topping hit!

Review Fix: What have you learned about yourself through this?  

Tsvi: We learned that we're not afraid of taking risks, and that we feel confident bringing our musical identity to the forefront.

Review Fix: What's next?

Paz: This is the last of 6 new songs that we released since December 2021. We're now back to concentrating on live performances, where we get to interact with audiences in a meaningful way, which we absolutely love!

Most of our performances are at corporate events, galas, fundraisers, high end private events, and other functions that need a high energy act and a WOW factor!

Review Fix:  Anything else you'd like to add?

Tsvi: Keep your eyes open for some new podcast interviews, a music video, and more press features coming soon. 

Review Fix: Where can people find out more?

Paz: Please check out our website, www.vocenova.com FB, IG, YouTube, and TikTok: @VoceNovaMusic LinkedIn, and all streaming platforms: @Voce Nova