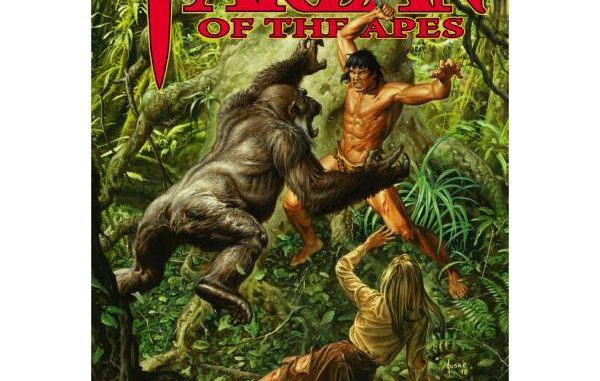 Edgar Rice Burroughs is considered to be one of the godfathers of modern day fantasy and science fiction. One of his most famous creations is "Tarzan" which has spawned dozens of movies, radio dramas, comic books and untold numbers of merchandise. The website dedicated to him, EdgarRiceBurroughs.com, had a comic adaptation of the first "Tarzan" Book "Tarzan of the Apes" by Roy Thomas, Pablo Marcos and Oscar Gonzalez which was made in Sunday newspaper landscape format. It was originally only for subscribers to the site, but Dark Horse is now publishing it for the public.
This story of the first book shows Tarzan's origins of how his parents came to jungle, was found and raised by the ape Kala, how he found out about humans among other adventures. It established many familiar features of Tarzan such as the ape language, his loin cloth, his hunting knife and first encounters with humans.
The stories follow a simple pattern: Tarzan finds something and gets into a ton of fights. That's what happens most of the time in these stories: Tarzans fights. It's not a terrible thing since Burroughs was writing for young boys who loved nonstop action and this comic keeps up that tradition while at the same time also keeping in the little character developments scenes Tarzan goes through like learning how to read.
The best thing about the artwork is that it looks like what a "Tarzan" comic would look like in the early 20thCentury. Tarzan looks like a big, burly man, the apes look a lot scarier than how real apes look, lots of blood and the natives look about as tough and mean as you'd expect. There's a lot of different colors used in the comic which make this world a lot more magical than what it seems.
If you're a 'Tarzan" fan this comic adaptation of the first book will be a pleasure. Since the artists are "Tarzan" fans themselves you can see they put in the effort through the writing and art to make something that'll please any "Tarzan" fan.