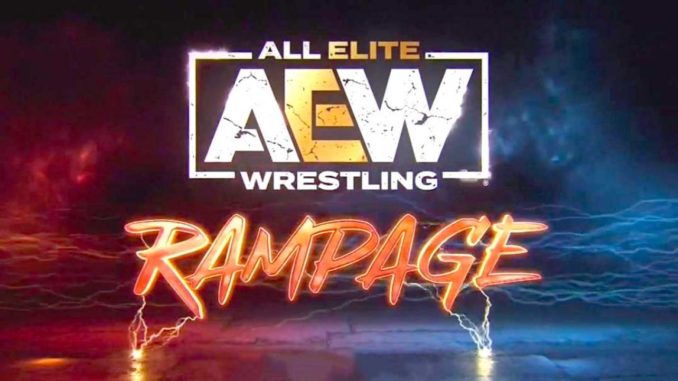 Sorry I'm late, life and football got in the way of me being timely with these rankings this weekend so let's just jump right in!
Honorable Mention: Jade Cargill and Powerhouse Hobbs. Jade and the Baddies, without Stokely Hathaway, said she may as well just be considered 50-0 and anybody can get it! I legitimately don't think there is a healthy woman ob the roster I'd have beat Jade anytime soon so I agree with her. I'm not even sure who feels credible right now except maybe a unification match with Toni Storm or Jade just vacating the TBS belt to go after the AEW Women's Championship. Powerhouse Hobbs said he put Starks 6 feet deep and he's ready to open the next chapter in The Book of Hobbs and show everyone why he's the Monstar! With how cleanly he beat Starks it doesn't really make sense to do a rematch soon but I wouldn't mind seeing what that match looks like with some more time at Grand Slam. But if I have to pick now I think Hobbs v. Wardlow for the TNT title is how I'd go for that card.
5. Miro. Miro has quietly been one of AEW's better promos and it's a shame so much of his stuff is relegated to backstage and pre-taoed stuff and not in front of an audience. He said God took out The Devil before Miro could snuff him out. And there's another tournament and once again Miro isn't in it but he's the right choice because he is flawless. God needs to admit he failed and "belt The Redeemer now!" Grand Slam needs matches and while there's no real story behind any of these I'd love to see Miro facing Wardlow, Garcia or Joe for their titles there. Claudio could be an option too but he had another match quickly teased later in the night.
4. "Smart" Mark Sterling. Sterling is comedy gold. Tonight Samoa Joe came out to tell the crowd he and the ROH TV Championship are open for business. Sterling came out with Tony Nese and Josh Woods and said Nese has more abs than Joe has matches in AEW which may be factually correct. He said Woods is a National Champion wrestler and former ROH Pure Champion and on Dynamite he "saved (his) life" so he deserves a shot at that title! Joe said he actually agrees and Woods could get it tonight! Sterling then backpedaled and said the paperwork isn't done and they're going to do it in a better city in NY than Buffalo. They'll meet in Albany next week. I wonder if that means Nese is the Grand Slam match for Joe and I know Tony is from NY and I know part of it is me being bitter that Nese seems to have an issue with Cassanova Valentine but that feels really flat even though I know it'd technically be good. I just don't think Nese has the charisma to get any real reaction from the crowd so I'm hoping they find somebody else and get Joe on that card because if they want any shot at Grand Slam living up to what it was last year they need all hands on deck.
3. Serena Deeb. Deeb made quick work of fellow veteran Madison Rayne when she locked in The Serenity Lock, smashed Rayne's knee on the mat and then locked it in again for the submission win. I lobe that Deeb was made to look dominant and I hope she's Toni Storm's opponent for Grand Slam. And if I had my say; she'd win.
2. Sammy Guevara. Sammy v. Darby Allin 4 opened the night in the Wild Card round of the AEW Tournament of Champions. This wasn't their best clash but was a very fun opener. Darby uncharicteristically showed off his strength with a Gory Special early on. Darby tried for 3 coffin solashes to the corner but Sammy ducked the 3rd and tried for a 3 amigos suplex series but Darby kneed him during the 2nd one and they tumbled over the top to the floor where Darby nailed Sammy. Darby went for a lowpe suicida but paused for a second with Tay Conti in the way. Darby decided to go anyway and Sammy shoved Tay and caught Darby flying in with a cutter! Inside the ring Sammy did Jericho's 1 foot flex pin as he pointed to Y2J on commentary but of course it wasn't enough. Darby dodged a shooting star press attempt and hit a Code Red but it only got 2. Tay distracted Darby outside allowing Sammy to come off the stairs with a big kick to Darby. As Sammy gloated and kissed Tay outside Darby flew out of the ring and successfully flattened him with a 2nd lowpe suicida. Darby ripped the wedding ring from Sammy's fingers and teased throwing it in the crowd when Tay got on the apron to distract him so Sammy could nail him with a jumping knee and take the ring back. Sammy hit his triangle jump cutter for 2. Sammy tried a Coffin Drop on Darby to add both insult and injury but Darby avoided it. Anna Jay distracted the ref and Tay slid a skateboard into the ring and held Darby's leg on the ropes so Sammy could low blow him. Sammy powerbombed Darby on to the upside down skateboard and hit the GTH to steal a win and advance to the semi-finals of the Tournament of Champions against Jon Moxley on Wednesday's Dynamite. I would have liked to see Darby win just to make the finals seem a little less predictable. I could picture Darby against either Bryan or Jericho for the World Title in Queens but it's hard to imagine Sammy against either of them. Either way Mox has to be the favorite but I guess you never know.
1. Claudio Castagnoli. In the main event Claudio defended his Ring of Honor Championship against Dax Harwood. I loved what they did in the pre-match segment with Mark Henry where Regal talked about plucking Dax up out of obscurity years ago because he knew how good he was. Dax said he knows he's an underdog tonight and nobody expects him to win and yeah Regal did take him out of obscurity but he and his family aren't going back. Dak bringing up his family and how much he loves wrestling has become such a meme that Trevor Dame on Twitter joked about the post-All Out stuff going to court and Dak being on the stand "…and he spends 35 minutes talking about how important wrestling is to him and everyone falls asleep." so that did make me laugh but I like when underdogs openly talk about being underdogs. Because we as an audience aren't stupid, we know when the results are that obvious but just acknowledging how obvious it is can plant that tiny little seed of doubt that maybe there will be an upset. Unsurprisingly though, there was no upset to be found but they did have a solid main event. Dax pulled out a diving headbutt from the top, a brainbuster, a sling shot Liger Bomb and an attempted top rope side suplex that Claudio turned into a crossbody and Dax rolled through for 2 but none of that was enough. He even had Castagnoli locked in a deep Sherpshooter but unlike his idol Bret Hart he couldn't put him away with it. On Caludio's end this might have been the most "Blackpool Combat Club" style match he's had yet which was fitting because Regal was ringside instead of on commentary and Caprice Coleman sold as Regal knowing what a threat Dax was while Jericho said Regal was afraid of him. Claudio threw Dax leg first into the bottom post which caused Dax to fall from the ring and hit his head on the floor. After Dax got back in Claudio tried to cover but Dax was under the rope so he just stomped Harwood instead. Near the end of the match Claudio hammered his opponent with elbows to the head and face before getting the submission win with a Sharpshooter of his own. After the match Regal held up Dax' hand and Claudio shook it in a show of respect as Jericho mentioned never having the ROH Championship. With Grand Slam needing big matches Jericho v. Claudio and Mox v. Bryan 2 could help bolster a card that is going to hurt for star power without The Elite and Punk. Even if it does the risk of feeling a bit too reliant on former WWE names.