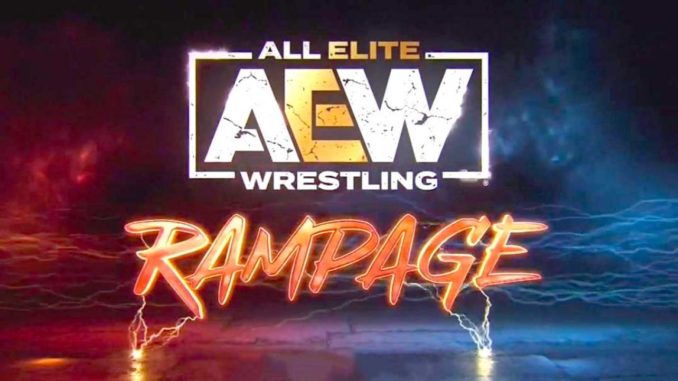 With a loaded wrestling weekend on the docket from WWE, AEW and various indy promotions AEW looked to start the weekend hot with a jam packed edition of Rampage. This week's was MUCH better than last week's and tried to really do a lot in a little bit of time so let's not waste any more and jump right in to this week's rankings!
Honorable Mention: Hook, Don Callis, Athena and Rey Fenix. Hook was interviewed in the back and before he could even answer he was interrupted by Angelo Parker and Matt Menard who said they're going to get a taste of that title Sunday. Hook took his shirt off and Matt said this isn't the streets of New York as they backed off. In the back Dark Order was going to be interviewed when for the second time tonight an interview was cut off, this time by Don Callis who said he didn't think turning his back on his friends like he did to the Bucks was Page's style but he admired it. Page snarled at him as Don walked off. Jade and Athena sat down with Mark Henry. Jade said this should have been done weeks ago but has been drawn out too long. Athena said it's only been dragged out because Jade knows she's going to beat her. Kiera Hogan said they're going to call Athena #37. Athena said she's going to beat her for every woman in the back who had to deal with "Ms. That Bitch" Rey Fenix. Fenix faced GCW star and short time NXT alumni Blake Christian. After Fenix started out hot Christian did a handspring kick to send Rey off the apron and he followed it up with a Fosbury Flop to the floor that Christian managed to land on his feet from. Fenix dodged a top rope attack from Christian, hit a thrust kick, series of strikes to the face and chest and a knee to the head before finishing Christian in short fashion with a sit-out piledriver. Knowing what Christian can do I would have loved to see this get more time but it was fine for what it was. I'll never complain about a Rey Fenix match on my TV no matter the length.
5. Ortiz and Ruby Soho. Ortiz had Sammy in a wheelbarrow hold against the ropes as Soho on the apron punched him in the face and kicked Tay on the floor. During picture-in-picture Tay pinned Soho's arm between the stairs and post and crushed it with a kick. Back inside Soho headbutted Conti and her and Ortiz hit a cazadora/senton sequence on Sammy for 2. Sammy held Soho so Conti could hit a DDT but that was only good for 2. Sammy and Tay tried to hold each other to avoid stereo attacks from Ortiz and Soho but Ortiz broke the grip and hit a release German on Sammy as Soho backrolled Tay for the pin. After the match Soho gestured towards the AAA Mixed Tag Team Titles. I don't generally like repeat matches this close together but a third match between these dups would be nice because this match keeps feeling like it could be good but keeps being finished before it ever hits that next gear.
4. Swerve in Our Glory and The Acclaimed with Billy Gunn were in the back with Tony Schiavone. Caster says they have the most wins in AEW history and the #1 shirt in the company. It's their house, not Swerve's. Bowens says they're going to beat their "Timon and Pumba lookin' asses all around Chicago" because everyone loves The Acclaimed. Lee says in 48 hoirs The Acclaimed has to prove to themselves that they're more than just a steroytype (not sure if that was an intentional pun with the old radio gimmick or not but I hope it was). Swerve says for 3 years Caster's been cutting jokes and Bowens has been letting his partner down by his body giving out on him. Swerve in Our Glory consist of rock, gravel and stone and rock beats scissors. A great closing line there from Swerve. I'm still hoping The Acclaimed get their crowning moment at Grand Slam but I won't be upset if they take the titles at All Out.
3. FTR and Wardlow. They came ome out to cut a promo. Dax says he felt worthless but then 2022 happened and these people helped him. Dax said people are questioning why this match Sunday is happening but it means a lot to him and he's got a lot less road in front of him than behind him. Every match goes to their legacy. And there's 3 things you don't mess with. With that he's cut off by the Motor City Machine Guns, Lethal, Dutt and Singh. Sabin says the represent the greatest city in the world; Detroit, Michigan which gets big boos from the Chicago crowd. Alex Shelly says FTR might be the best tag team on the planet because they have all the gold, they have all the money but the Machine Guns have something they don't; the respect and influence on the AEW locker room. When the guns walk in guys stand up. Shelly says the 4 of them have been together almost 20 years and they're a family as he mockingly holds up a 4 Horsemen like hand. Dutt says nobody should mess with your friends, money or family but this Sunday they're going to mess with all 3 of Dax' because what is he going to do "Fight like (his) 8 year old brat" which sends Dax running at him as Cash and Wardlow try to hold him back. This added a lot of needed heat to a match that really didn't have much behind it. And while it's still all a little forced and I'd have rather seen this as a tag match without Lethal and Wardlow I'm excited to see the Guns and FTR share a ring.
2. Ricky Starks. Before the main event during the weekly Mark Henry pre-match segment QT said he didn't have The Factory with him because he gave Powerhouse Hobbs his word that he'd take out Starks. Starks revealed he gave QT Marshall no choice but to do it alone as he took the camera person over to reveal The Factory's locker room door locked and them pounding on it from the inside. We were about to cut to commercial when commentary said there was something backstage and we saw QT trying to open the door only to get attacked by Starks. They fought out to the arena and brawled around the crowd. They eventually hit the ring and Starks laid in to Marshall. Eventually The Factory got free and as Aaron Solo distracted the ref the best member of The Factory Nick Comoroto handed QT the watch he used to crack Starks with a week or 2 ago. As QT went to clock (Get it?! CLOCK!) Starks he avoided him and QT stopped just in time (TWO FOR TWO!) before hitting Solo. QT avoided a running Starks who knocked Solo off the apron but it allowed QT to roll him up for just 2 before the ref caught his feet being on the ropes. Starks flattened Cole Karter with a lariat on the floor and sent a charging Comoroto into the stairs before being crotched by QT kicking the middle rope as he tried to get back in. Starks turned a Diamond Cutter attempt into a backslide for 2 but then ran off the ropes into a Diamond Cutter from QT for 2. Starks was able to land a spear and a Roshambo for the 3. Commentary sold Starks neck being a concern as Hobbs came down and they started exchanging shots while the whole referee room tried to pull them apart. With the refs distracted Bryan Danielson came out and he abd Jericho exchanged words near the commentary desk. Jericho and Bryan was a little much but I loved how good this match made Starks look and how he was able to outsmart the numbers game.
1. "Hangman" Adam Page & The Dark Order. The trio clashed with The Best Friends and Orange Cassidy in what started out a great comedy match and ended up just an actually great match to start All Out weekend on a high note! The match started with Damhausen cursing Hangman Page but getting ejected by Bryce Remsburg for his efforts. Orange Cassidy tried a tornado DDT, Hangman stopped it and turned it into a suplex attempt but Cassidy dropped down and found himself riding Page's back doing a lasso motion and thumbs up. Chuck Taylor and Trent Beretta were able to duck corner attacks from Silver and Reynolds and meet in the middle with a hug. Silver and Reynolds tried to do their own huge but Trent and Chuck sent them colliding into each other. Page broke up a tower of doom attempt and carried Silver like a baby into the middle of the ring as Orange Cassidy seized on the opportunity to brutally lay into Page with his lazy kicks! Silver though, being a better friend than the best friend; the bestest friend if you will, pushed Page away and tried to taks the bullet of the last lazy kick from Cassidy but wound up eating an actual superkick for his troubles. After some exchanes between all 6 men The Best Friends sent Page through a table oitsode with a double chokeslam. Cassidy and The Best Friends hit the triple team splash they used to beat The Trust Busters but Hangman was able to break up the pin. Hangman hit the Deadeye on Cassidy but it was broken up. Outside The Best Friends hit a Crunchy/stomp combo on Reynolds on the floor followed by Taylor hitting Silver with an Awful Waffle inside but Page broke up the pin. Page tried to hit a Buckshot Lariat on Taylor but he ducked and Cassidy hit Page with an Orange Punch. Taylor clotheslined Page over the top and Silver rolled up Taylor for the win to send Dark Order & Page into the Trios Championship Finals at All Out against The Elite. That match has a chance to steal the whole weekend and I'd love to see it close the PPV even though I doubt it does.