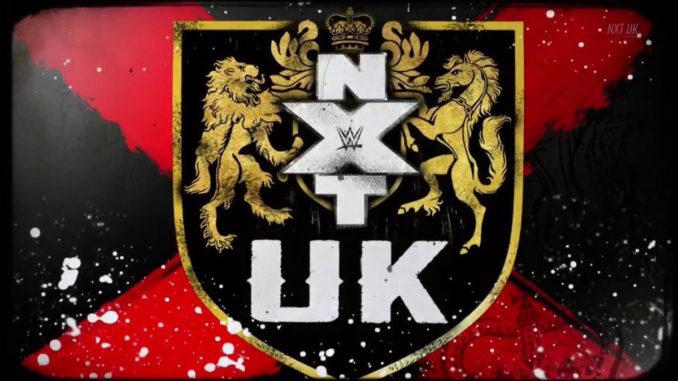 Go to your CD rack. Grab the jewel case with Vitamin C's name on it. Pop that disc out and hit track 12, "Graduation" because tonight we remember how our lives changed forever through the existence of NXT UK. When I started doing these rankings a year ago I didn't know how long I'd be doing it but I never thought I'd make it to the end of the line with ths brand but here we are! So before we go our separate ways, before we say goodbye to this beautiful British brand of ours I'm going to put all of my bitterness at WWE spoiling their own product aside and give you the very last NXT UK Power Rankings.
Honorable Mention: Sha Samuels. Sha wasn't on the program tonight. Nor were most of the talented wrestlers I've grown to love over the last year of covering this brand. But he might have left as lasting an impression as anyone on NXT UK for playing his role so perfectly. He never had to be a main eventer. He was rarely even a threat. But the man was a comedy gold mine. Sha might have the best comedic chops in wrestling of anyone but R-Truth and that is extremely high prasie for me. I hope he lands on his feet somewhere.
5. NXT UK Tag Teams. As I'm typing this Gallus and Pretty Deadly are fighting for the unified NXT/NXT UK Tag Team Championships but the last year showed me just how underrated that brand's tag scene was. The 2 teams mentioned, Ashton Smith & Oliver Carter, Dave Mastiff & Jack Starz, Symbiosis, Die Famile and so many pairings had shown that no matter how bleek things got on Raw or SmackDown there was always a place for me to find tag team wrestling under the WWE umbrella in NXT UK.
4. Ilja Dragunov. He wasn't on the show but for the last year, aside from Roman Reigns, no champion's matches in wrestling have felt as big as Dragunov. That man knew how to make every fight feel like life or death and every opponent feel like the biggest threat yet. It's a shame he never got to have a proper end to his reign but in a way him having to relinquish was the most fitting way it could have gone. I'm hoping WWE uses him plenty on American TV whenever he's cleared and that I don't have to wait for the NXT Europe launch to see him and Bate for the Championship.
3. Saxon Huxley. The hilarious Huxley faced off with "The Scum of the Earth" Kenny Williams in a match that felt put together solely out of appreciation for my coverage of this brand for the last year. Huxley whipped Williams from pillar to post and cross bodied him against the ropes for 2. Williams dodged a big boot from Huxley and was able to target Saxon's leg with him hung up on the ropes. Chase U came out to support Huxley and this drove Williams mad. Kenny jawed with Chase U on the apron before Huxley knocked him into Chase and Hayward. They held him up for a second before deciding to heed the referee's directions and literally drop him. Huxley grabbed Williams by the hair and lifted him over the ropes to plant him with a Sky High for the win. After the match Chase U let Huxley wave the flag. This was a cute way to wrap up Chase U in the UK and the story of Huxley's character. I hope he comes back to NXT Europe as either a refined, dignified, college educated gentleman or just absolute college party animal. Either way.
2. Blair Davenport. The "Heir" opened the show by taking down Isla Dawn, Amale and Eliza Alexander to be crowned the #1 contender to the NXT UK Women's Championship. Dawn was taken out first after being hit with a pump knee by Alexander, a roundhouse kick by Davenport and a Hope Breaker by Amale and being covered by all 3 women. This made Dawn look really strong and was a nice start to the eliminations. Amale tried her best to figjt off the remaining heels but to my shock wound up the next eliminated when Alexander pulled her in the way of a top rope dropkick from Davenport, sent Davenport into the post and then smashed a running knee into Amale for the 3. I would have bet my house on Amale and Davenport being the final 2 so this was a slightly odd but surprising final pairing which I didn't mind. With only Alexander left the crowd shifted in favor of Davenport and she showed more of an exciting offense. Blair hit a 2nd rope diving stomp to a bent over Alexander for 2. She then held on to Alexander for 3 lariats but as she tried for 4 Eliza ducked and hit a German Suplex. Blair dodged a running knee and flattened Alexander with a German Suplex of her own off the middle rope. The crowd chanted "This is awesome!" and it was. Davenport finally ended things with a pump knee and Falcon Arrow to get the win and a 3rd crack at Meiko Satomura and the NXT Women's Championship. I'm really glad this is being paid off at World's Collide but I'd like to see Davenport as the one to unify the belts but strongly doubt she does.
1. Tyler Bate. Despite all my complaining about how WWE ruined this tournament and story by spoiling it Bate and Trent Seven came out and delivered with a great match to crown a new NXT UK Champion. Before the match we got a video package with the 2 former partners talking about the paths of their careers and relationship as we saw pictures and clips from the various stages of their friendship including the incidents over the last year prior to tonight's meeting. Sid Scala and Johnny Saint were in the ring with the belt on a podium to help this match feel even bigger. Early on Seven worked over Bate's leg like he did to Oliver Carter including hitting the same scoop slam to send Bate knee first into the bottom rope. Bate spent most of the rest of the match selling the beaten leg. Bad leg aside Bate was able to hit a deadlift suplex and an airplane spin but Seven was able to follow that with a 7 Star Lariat for 2. Seven locked in a Figure 7 but Bate reversed the pressure. Bate walked through chops and uppercut Seven and they both collapsed. Trent chopped Tyler who hit the ropes and came off with his rolling front kick which sent Trent into the ropes allowing him to pump kick Bate which then sent Bate back into the ropes allowing him to hit his rope catch clothesline and a Tyler Driver 97 but all of that was only good for a 2 count! Bate got sent off the 2nd rope and hobbled his way into delivering a running uppercut Trent on the ropes but Seven hit an Emerald Flosion off the ropes and still only got a 2! Seven then hit his own Tyler Driver 97 but only got 2 again! In a nice call back to the British Strong Style trio Seven used Pete Dunne's finger snap on Tyler and tried for a Bitter End but Bate reversed it into a DDT and a 7 Star Lariat of his own on to Trent for 2! Tyler followed up quickly with a corkscrew senton, his signature punch and a Tyler Driver 97 to send NXT UK off the same way the original UK Championship Tournament started back in 2017 with Tyler Bate as the champion. My only nit to pick is I wish they'd have brought the towel into the match and the low blow just to really complete the call back cycle but this was still an excellent match regardless and great way to send this brand off! Nothing against Bron Breakker but this title deserves better than him so I'm hoping against hope that Bate unifies the NXT UK and NXT Championship at Worlds Collide. It sucks that NXT UK is going away but this was the way to send it out if you weren't going to do a proper TakeOver event. After the match we got a nearly 3 minute long tribute to NXT UK's history and the only thing missing was black and white still shots telling us what happened to everyone like the end of a sports movie. "Wild Boar was adopted into a loving home", "Sha Samuels went back to school and used his bookie skills to become a math teacher", "Isla Dawn won a Tony Award for her role in Wicked" etc.