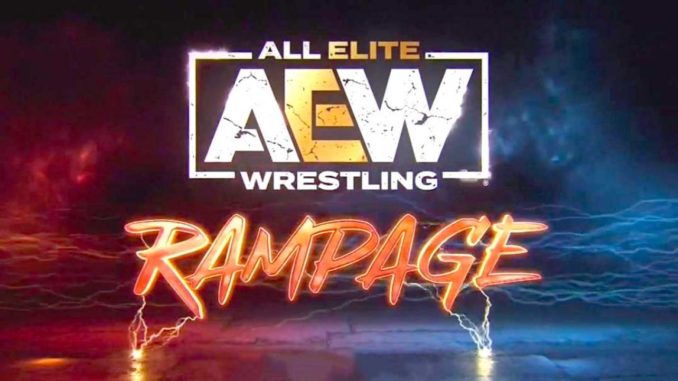 This week yours truly was in Arthur Ashe to witness the literal biggest Rampage of the year first hand and this show was a blast to attend bookended by two very fun weapons filled matches. So with 2 hours to cover and me doing my best job to take notes live as it happened let's get right into it!

Honorable Mention: Hook, Action Bronson, Jade Cargill, Wardlow and Samoa Joe. "Hey girl. Is he everything you wanted in a man?" Maybe but Action Bronson is not what I want from a wrestler. He wasn't terrible tonight he just did basically nothing. It was clear he was no Logan Paul, Bad Bunny or even Shaq. He hit some shoulder blocks on the 2.0 guys who did all they could to make him look good and hit a decent bodyslam on Menard before he and Hook locked in stereo Redrums to win via double submission. Hook was as good as ever and Action Bronson was good in performing Hook to the ring but I won't be asking for Action Bronson v. Adam Cole, Cody Rhodes or The Miz anytime soon. But speaking of celebrities, the woman who made her debut in a celebrity match Jade Cargill had another successful title defense making short work of Diamante. Diamante came out with the "Baddest B*tch from the 305" but Justin Roberts didn't announce who it was and the crowd had no clue. After a few minutes I realized it had to be Trina but it's ben so long since she's been relevant and she's had so little affiliation with wrestling nobody should have been shocked when she was met with crickets. She stayed on the top of the ramp too long until Jade was starting to come out which initially seemed like her being oblivious to what she was supposed to be doing but may have been intentional as after the match she slapped Diamante and left with The Baddies to again, no reaction. The match itself was fine though. There was a cool moment when Jade caught Diamante coming over the top to the floor trying a crossbody. Cargill stumbled during the catch but powered through and hit an F5 on to the apron. She followed it up with Jaded to retain her title in the last shocking moment of the night. Joe and Wardlow make it for making quick work of Tony Nese and Josh Woods. After they won via Joe hitting a Muscle Buster on Nese the heels jumped on Joe. Wardlow flattened them with a double clothesline and set Nese up for a Powerbomb but "Smart" Mark Sterling clocked Wardlow from behind with the TNT Championship belt. Wardlow no sold it and as Nese and Woods bailed Joe stopped Sterling and tossed him in to Wardlow for not 1, not 2 but 3 Powerbombs.
5. Eddie Kingston. After Sammy came out with a hilarious new Dragon Ball Z inspired anime entrance video that showed him as a superhero beating numerous villains of the AEW roster including Eddie Kingston we finally saw these two go at it tonight. And it was great, until the ending. Sammy grabbed the mic at the start and said "Sorry" "Sorry I didn't say it to your face earlier; you're a fat piece of shit!" Eddie was fired up at that and went right at him. In a spot that reminded me of Mick Foley and was uncharacteristically high risk for Kingston he got backdropped off apron. There were big "F*ck you Sammy" chants. Eddie avoided a Shooting Star Press attempt. Eddie tried to run off the ropes but Tay grabbed his feet near and Sammy pump kneed him. Guevara nailed a double jump cutter but only got a 2 count from it. Sammy tried it again but Eddie stopped it and side suplexed him. Kingston hit 2 backfists and locked in a stretch plum and Sammy passesd out to the same move Jericho tapped to at Revolution. After the bell Eddie kept it in as the bell continued to ring. Jerry Lynn came out to try to break it and so did extra security. This led to the ref overturning the decision and Eddie knocked out security as crowd chants bullshit. Eddie mouthed "I don't give a sh*t" to the crowd. This was a very strange spot. I didn't mind the pass out to try to keep Sammy strong and Eddie even keeping it in until he had to be separated because of his hate made sense but then overturning the win just seemed stupid and deflating. I get that it's probably so they can do yet another match with some sort of stipulation but I feel like we should be done with these 2 for now. It's getting to feel WWE-ish. Maybe it's just so Sammy can brag that he won while Eddie doesn't care but it felt like one of the worst decisions in a night full of great matches marred by shady and questionable endings.
4. "Hangman" Adam Page. AEW's resident Cowboy won a shot at Jon Moxley and the AEW Championship on October 18th in Ohio but he fought long odds to do so. Page was the first person announced and he got jumped by the heels on the ramp only for Dark Order to evens the odds. Brian Cage came out which was shocking but even more shocking was Dalton Castle and the Boys! They got a big ovation. Lee Moriarty & W. Morrisey of The Firm were out last. The Boys saved Castle from being eliminated by Brian Cage by catching him and parading him around the ring but their elation was short lived as he got tossed out right after he got back in. Lee Moriarty tossed Daniel Garcia out which got big boos but Matt Hardy tossed Moriarty out. Adam Page was on the apron next to 10 from The Dark Order but he ducked a dropkick that hit 10 and got him eliminated. I thought that would add friction to Page and Dark Order but it was his only miscue with them all match which reminded me that 10 has been recruited by Andrade so this should lead to that turn. Matt Hardy tossed Blade out and hugged Private Party to a big pop but Rush and The Butcher eliminated all 3. Penta eliminated Archer. Lethal got thrown over by Penta but caught by Satnam Singh. Lethal hit Penta with Lethal injection. I know I missed some elimination details but Hangman and Rush wound up the final 2. There was an awesome near elimination with Page and Rush teetering on the ropes. Page landed a Dead Eye to Rush on apron to win. While I wish this had been Miro's spot and I don't buy into Page being a real threat to the title Page v. Moxley (or MJF if he cashes in his chip before though we know the odds are he won't) seems fun and is a match I'm surprised we haven't seen yet as a singles meeting.

3. Jungle Boy. Jungle Jack took on Rey Fenix in a match that was so high paced and fast moving I could barely stop to take notes. This had chops galore and Jungle Boy's chest was ruined by the end of it. This was loaded with all the flips you'd expect from a Rey Fenix and Jungle Boy match but plenty of hard hitting kicks too. Fans got into it and despite the crowd thinning out a bit by the time this happened there were pockets of fight forever chants. The story here was Fenix constantly catching Jungle Boy in his 619-ish rope rebound kick but on the final attempt Jack caught him with a kick of his own as his body was between the ropes. Jungle Boy caught him in a roll up for the win. I wish I had taken more notes but this was for my taste, the best pure, weapon-less match of the night. After the match Christian showed up on the ramp in sling and Luchasaurus attacked him and hits him with a burning hammer type move from behind. Christian then came down and called all the people bitches which got minor, very non-PG "F*ck you Christian" chants. Christian said "You take away my right arm I introduce you to my right hand of destruction; Luchasaurus" before telling him to "End his ass for good" and Luchasaurus chokeslammed Jungle Boy and left him laying.

2. Sting & Darby Allin. House of Black tried to finally put an end to their noir nemeses to no avail. The match started with Sting and Darby showing up behind The Hoise of Black during their entrance and all 4 men brawling around the stage. Julia Hart jumped on Sting's back and he carried her around the ramp as he slugged it out with Matthews which was a funny visual. In the ring King perched Darby on the top rope between the posts and chopped him off of it to the floor. Darby came back with a Code Red King off the middle rope. Sting, still thinking he's Attitude Era Jeff Hardy was on the top turnbuckle before being shoved off through a table on the floor by King. There were 2 tables set up but it looked like Sting took just about all of the impact in the first one. Julia Hart and King then handcuffed Sting. King hit a corner cannonball to Darby but Darby eventually recovered and hit a standing Coffin Drop on Matthews off the outside of the entrance tunnel. Darby tried another one on King off inside but Brody caught him in choke and after swinging Darby over the edge of the stage like he did during their battle royal clash they both plummeted off stage the stage through tables on the floor. Back in the ring Matthews does the Malakai Black pose as Sting laughs. Sting was sat in the chair still cuffed but continued manically laughing. Matthews raised a bat to nail Sting but the lights went out. Great Muta showed up at the top of the ramp! Muta Dragon Screw legwhipped and misted Matthews and somehow Sting got out of the cuffs and delievered a Scorpion Death Drop to Buddy. After the match Sting and Muta shook hands, hugged and walked to the back together. This got a HUGE pop. I think I could have guessed a thousand names that would show up tonight and Muta wouldn't have made it but in hindsight it made a lot of sense with Black stealing the mist. I just wish it would have happened while Malakai was with the company though my gut says that was planned to be the case and they just did it anyway. This was a fun swerve as I expected another name to get involved but thought it would be to help the heels win. It does suck that House of Black took another L but the moment was more of the story so I doubt it hinders them long term.
1. Ricky Starks. What was billed as a one on one meeting between he and Powerhouse Hobbs became a Lights Out match and it was so much better than what we saw from them at All Out. Unfortunately for these guys the match didn't start until around 12:20 and Arthur Ashe was half empty for the start but they still managed to keep the remaining fans on the edge of their seat and not just because they were ready to bolt when the match ended. During the pre-match Starks said Hobbs may have beaten him quick he can admit that but he can admit that and he knows he's better than a 4 minute match. After the bell rang Hobbs slammed a table across Starks' back. Hobbs wrapped his fist in a chain and punched Starks' ribs. In a funny spot Hobbs took Justin Roberts' belt and whipped Starks twice but Ricky grabbed the belt abd went to town on Hobbs. Powerhouse corner powerslammed Starks into 1 chair but as he was going for another Ricky dropped and sent him into the other and delivered a tornado DDT for 2. Hobbs low blowed Starks while he was holding a chair. Ricky kicked Hobbs low and turned 2 chairs back to back seemingly to try a Roshambo but got backdropped into it himself. Hobbs running powerslammed Starks on to 2 chairs for another 2. They brawled up the ramp and Starks was sent into the tunnel. In a monster movie like movie Hobbs pulled a light off tunnel wall and sparks flew out. Back in the ring Starks ducks Hobbs swinging the light and spears him through table. In another movie like shot Hobbs, under the table reached a hand out to grab for the light but Ricky stepped on it and cracked him with the light followed by a Roshambo for the win. This was a match that felt like the end of the feud for these 2. Hobbs is still technically undefeated because Lights Out matches don't go on the records but Starks gets the visual win of the war. They could always revist this in the future and I wouldn't mind but hopefully this is it for now. If this had gone on earlier in the night I think there's a chance it could have gotten the biggest reaction of anything except The Acclaim's win.