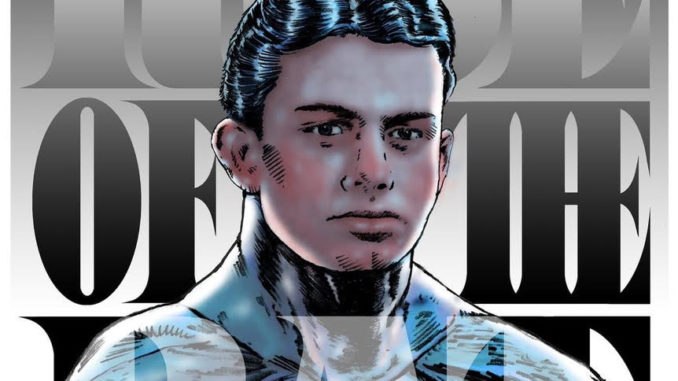 Review Fix chats with the Bill Finger: Rise of the Bat team to find out what inspired the production and so much more.
About the Production:
Bill Finger: Rise of the Bat takes a deep dive into the life of Bill Finger, the co-creator of Batman (with Bob Kane) who never received due credit until 2015. Journey with Bill from the inception of Batman to his passing away nearly penniless in 1974, to finally receiving his posthumous co-creator credit in 2015.
Review Fix: What inspired this play?
Lenny Schwartz: I worked at a comic book store when I was 13 and it was the summer of the first Batman film.
Man, I loved that movie. My father took me to a 10pm show opening night. And it was something else. I immediately got hooked on the Batman comic, first with Year One and the Dark Knight Returns.
While working at the comic store, the owner Curtis told me about Bill Finger. He explained to me who Bill Finger was. That was the first time I had heard someone say "f$&k Bob Kane."
Over the years it colored my perception of reading Batman comics and seeing Bob Kane's name in the credits.
It's a sad story what had happened to Bill.
I became a playwright and a screenwriter as I "grew up." I started writing biographical plays, starting With Buster Keaton, the Marx Brothers, Lucille Ball, Steve Ditko, and Charles Schulz.
I wanted to write a Bill Finger story…something that really dug into who he was. I bumped into Athena Finger by accident in 2014(literally.) I asked her if it was okay to write a play. She said to go for it. And then 8 years and 2342 drafts later, here we are.
Review Fix: Why Batman?
Lenny: Batman is one of my three favorite superheroes. Spider-Man and the Rocketeer are my other two favorites.
I mean, Batman is a self made man. With enough training, anyone can become Batman.
The best characters in comics are the ones that work for everyone. Anyone can have a Batman for their experience and temperament. There are so many versions. Frank Miller's version, Scott Snyder and Greg Capulllo's version, Steve Englehart and Marshall Rogers and their version, the great Denny O'Neill and Neal Adams, Grant Morrison…and outside of comics there are so many as well. Cartoons, the Tim Burton version, the Christopher Nolan version, the Matt Reeves version, Adam West…I can go on but each version is legitimate. I love that. I love all of the the versions and the ones yet to come.
So, yeah. I love Batman. Who doesn't?
Review Fix: What did you learn from your research?
Lenny: There was so much I learned from the research. Honestly, there is so much out there made public now by Marc Tyler Nobelman and his research, as well as Athena Finger and Alethia Bess Mariotta who know so many great details.
The thing I learned most from that research is that everyone has a story. Every single person on this earth. And each of those stories are worth telling.
What I learned about Bill Finger? See the play.
Review Fix: How did the take the script and turn it into something unique?
Lenny: It was a long challenge turning this show into something I was proud of. It honestly took 8 years. I struggled with previous versions of it, mostly to please business partners. I don't blame them, but it only ended up shorting the script and the production I did previously because of it. (In 2015 I had a version called Co-creator) But there were still great elements I wanted to keep that I liked.
This is the best version I could do and I'm finally proud of it.
Review Fix: You need a special cast to pull this off! Tell us about them!
Lenny: We have an incredible cast. I am going to let some of the cast members speak for themselves for this question.
Geoffrey Monti: I am playing Bill Finger in this play, which I'm very excited I've been a Batman fan since I was a child. Learning the true history of the character and the trials and tribulations this man went through really adds depth to Batman I grew up with. I'm so excited to perform in this show, in RI, NYC, and PA.
Derek Laurendeau: I will be performing as Bob Kane in the show.
I'm from New Bedford, Massachusetts and this is the fourth Daydream Production I have performed in. I'm very honored to be able to be a part of this production. Stories matter and the story of Bill Finger is one that deserves to be told because he was denied so much credit he deserved. He laid the groundwork not only for Batman but also the multitude of media and art that Batman inspired.
Although I'm playing the antagonist of the show I am proud to be a part of sharing Bill's legacy. I'm very excited to be back in the city and even more so to be able to share and perform this show for the Comic Con crowds.
Liz Parent: I'm Liz Parent; I'm playing the Lady in the shoe store, Tessie, and Lyn Symmons. I live in Lincoln, RI. This show is incredible, I'm thrilled to be a part of such a magical and creative project; perfect for New York! I'm also going to admit that I grew up in New Jersey, so I have always had a goal to be part of a theatrical project in NYC!
Geoff White: Hi, I'm Geoff White, I'm playing Jerry Bails and Herman Kahn. As a kid, I had a fairly normal comic book habit, so like most everyone, I am a fan. When Lenny wrote "Co-Creator", I became intrigued by the story/history. Fast forward to 2018 when he also wrote the similar story of "Ditko" and I was fortunate to be his 'Stan Lee', which I will always consider a highlight and an honor. Now I make my DC crossover…. Excelsior!😎
Timothy DeLisle: I am from Woonsocket, RI
and I'll be playing Fred Finger, the older version. I'm proud to be giving voice back to someone who actually existed and his part in his father's story.
Rain Blair Jolioceur: Hello! I am playing Portia for the show. It is an honor to play Portia. I am more of a Moon Knight fan? But I'm still excited to be a part of the show.
Dave Almeida: Hi, my name is Dave Almeida, and I am playing Vin Sullivan & John Broome, both editors at DC and also Gardner Fox, creator of Green Lantern and many other DC characters. I'm from North Providence, Rhode Island. I'm very excited to be in this show for many reasons, first of all being in Lenny's "Comics History" plays. Bill Finger's work was a big influence on me as a kid growing up as my Dad used to bring me comics from his paper recycling plant. Lenny let me direct an earlier incarnation of this play and it was a dream fulfilled. I'm very excited to bring this show to New York City because it's like bringing Bill home to the city. I visited Poe Park in the Bronx a few years ago and it was very moving to me, and I am happy that Bill's story is being brought back to HIS city for his people to see.
Emily Lamarre: Steve Ditko Fan- My name is Emily Lamarre and I'm playing Steve Ditko Fan. I'm from Attleboro, Massachusetts and I love that I get to share the stage with this talented cast. Back when Lenny wrote and directed Ditko, I would have never know that he was the one to create Spiderman. Being able to tell a piece of history through acting is something I find enjoyable and important. Performing in New York City is just as exciting!
Lauren Arneson:( NYC Partner, Stage Manager, Real Life Batgirl): In 2019, or maybe before, Lenny told me he was working on a play about the creator of Batman. I grew up on the movies, so right away I knew I was in. This process has been wonderful, despite the delays.
Akira Bennett(Stage Manager): My name is Akira, I will be accompanying the cast as their stage manager for our debut performance in nyc! This is my first time traveling for a show and I am thrilled to be showing my management skills. As a former Brooklyn resident I am also excited to be back in the city. I will be counting the days till i see my rat friends of the MTA.
Lenny: We have other cast members Aaron Andrade(also a producer), Bailey Duarte, Emily Lamarre and Amber Serra who could not be reached for comment for this question as they are all presently fighting crime. But they are all equally wonderful.
Review Fix: Is this for a non comic fan too? Or will the hardcore love it the most?
Lenny: I tend to write shows people can enjoy equally or hate equally. This is definitely something that can be enjoyed by the non comic fan. It's a good story we are telling, whether you like comic books or not.
The hardcore comic fans would eat me alive if I did it wrong too, however, and I get it. So, there's Plenty for the comic fan to enjoy equally.
There's been a lot of good faith too within the comic book community so I have to make sure this play earns that.
Review Fix: What's next?
Lenny: After this, I am going to resume filming of the film I wrote and will be directing called The Haunted and the Hunted. We truly have an amazing team gathered for that one. That's also had a long gestation so I am excited to be working on that.
Next year I will be directing two plays that I've written: Dramatis Persona which is a true crime drama. That's in spring. After that, I'll be directing Pussy Hanukkah Comes to Harlem, a play of no moral value. I can't wait!
Review Fix: How would you like this production to be remembered?
Lenny: I would like this show to be remembered as it being the best work that I could possibly do. I didn't feel like the previous versions lived up to that. This one does. This version lives up to the beautiful poster Arlen Schumer designed and illustrated (www.arlenschumer.com). I'm in it to make Bill Finger proud, to make myself proud.
Athena Finger, Marc Tyler Nobleman, Alethia Bess Mariotta and more are constantly boosting Bill and it's awesome. He should be boosted as much as possible. Denny O'Neil once said(and I'm paraphrasing) that Bill Finger didn't just create Batman. He created the way comic book stories are told.
Every comic book creator, every reader, every filmmaker making comic book film owes Bill Finger a debt of gratitude and a nod. I'm just a guy shining a Bat Signal in his direction.
Review Fix: Where can people find out more?
Lenny: Here is all the information from all the various productions: We are playing in three cities!! Johnstown PA on September 17 and 18th!! https://statetheaterjohnstown.ticketleap.com/
Then we open in Woonsocket RI on September 22, 23, 24, 29, 30, and October 1 2022
Then we end at the Chain Theater in NYC on October 3, 4 and 5!! https://www.eventbrite.com/e/377444174687