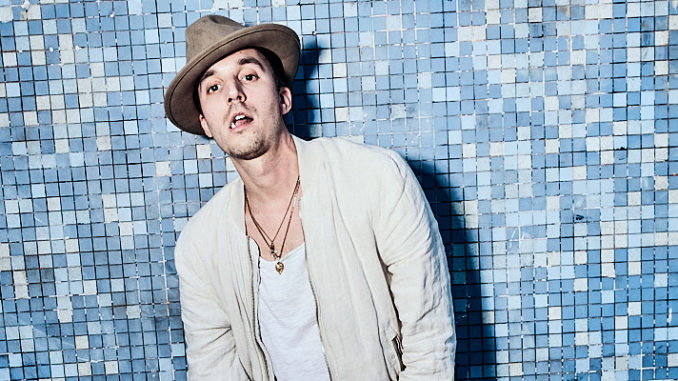 Review Fix chats with singer/songwriter MJ Ultra, who discusses their new single and so much more.
About MJ Ultra:
Los Angeles-based artist and songwriter, MJ Ultra, crafts a cohesive mix of old school sounds and modern-day beats on his sexy new track, "Goddess," out on September 29th, 2022. No stranger to creating music to inspire, MJ Ultra has seen placements in film and television projects like America's Got Talent and Dancing With The Stars. His 2017 collaboration "Black & White" with Barcelona-based DJ Duo, Boxinlion, amassed over 50 million streams worldwide and put him on the map as an artist to watch. He's performed across the country on multiple tours including a stop for SoFar Sounds Paris as well as locally at The Hotel Cafe and other Los Angeles institutions. "Goddess" marks the first single off his upcoming body of work.
Review Fix: What inspired Goddess?
MJ Ultra: I had been listening to a lot of early 60's soul. Artists like Sam Cooke, Otis Redding, and crooners of the time. I really enjoyed how straightforward and on-the-nose the lyrics were. At the time I had been writing songs that were rife with deep symbolism and metaphor. And I wanted to do something different, and uplifting. I love how those early 60s soul records were pretty much "I love you; this is why, now love me back." Goddess was my attempt at that.
Review Fix: What is a Goddess to you? Do they really exist?
MJ Ultra: To me, a goddess represents the exemplary lover. The person that not only inspires you but pushes you to be a better person. I found throughout the course of my life the individuals who are goddess-like tend to be very critical and challenge you when they see you're headed down the wrong path. Just like the gods and goddesses of old, they can also be hot-headed and not so easy to impress. It's those kinds of people that had the greatest impact on me, even after the relationship had ended. So from that perspective, yes, they do exist. However, I'm not sure that a bearded, trident-wielding Greek is smiting sailors on the Aegean Sea. But who knows.
Review Fix: What does this song do that others can't?
MJ Ultra: That's a difficult question. I would have to say that this song is unique in that it is truly an illustration of nearly all of my musical influences. It features bits of soul, R&B, funk, blues, and hip-hop all in one track. I'd also say that music nowadays tends to be moody, minor chord-driven stuff. This is not that, and in fact it's quite the opposite. The producer and I dug deep to bring out positive emotions in the lyric and the music. If a trumpet can't make you feel some type of way, then I don't know what can!
Review Fix: You've been working with some amazing talent over the years and got some great opportunities- what have been the biggest lessons learned?
MJ Ultra: Years ago, I was at a premier for Sean Lennon's film, that I can't remember the name of. At the after party, I got a chance to meet Cary Elwes (of Princess Bride fame) who gave me a great one-word piece of advice that I never forgot, and that was: "persevere." I've received that same piece of advice by countless other actors and musicians that I admire. They say the same thing and that's simply: "Keep doing what you're doing with love and passion and one of these days you'll be recognized for it. But never give up."
Review Fix: How do those lessons influence this track?
MJ Ultra: It's funny you should ask this because the subject of the song is relentless in his pursuit of his "Goddess." He goes so far as to even paint a picture of what life together forever might look like. It's pretty bold but he's a confident guy and he certainly understands the value of perseverance. Whether she takes him up on his offer… Well, I'll leave that for part two, hehe. Also, this song was originally set to an instrumental produced by a longtime collaborator friend of mine. However, that piece of music was ultimately given to another artist. I had nearly given up on the song but before I did, I figured I'd give it another shot by producing it myself. That version turned into another one and another one until the version that you hear today was finally revealed. The B-side to this single is what I'm calling the "church mix" and that was yet another version of the song that I put together with my friend Fudge in the UK. So, the creation of the physical track itself is an example of perseverance on its own.
Review Fix: Who do you think will enjoy this track the most?
MJ Ultra: I think anyone who enjoys uplifting, positive soul music will really enjoy this. But again, there's something in it for everyone, even the hip-hop heads can appreciate the bridge in this song I hope. So far my fans have been super supportive after hearing the snippets I posted online. This is definitely the most excited I've been about a single release in a very long time. I really think everyone's gonna love it.
Review Fix: Next year at this time- what do you want to have accomplished with this track?
MJ Ultra: I would certainly love to see some sync and licensing opportunities with this track. I feel like it has a ton of potential if it were synced with an advertisement or something similar. Perhaps even a placement in a film or TV show could happen. I tend to focus most of the year on getting my tracks placed in films and on TV, and I would have to say that this track has more potential than a lot of my other recordings do.
Review Fix: What's next?
MJ Ultra: I'm almost at the finish line in planning my return to Seoul, South Korea in mid-November. I was there for about 10 days in 2019 where I played several shows and made tons of new friends and fans. It was one of the most rewarding tours I had ever done and I couldn't be more excited to get back over there. Seoul is such a fascinating and beautiful place, especially when it comes to history and culture. I fell in love with it in the first 24 hours I was over there. After Seoul I have plans to release a couple more singles before starting work on my next album. I already have a few songs in the can and now I just need to write the glue that would bring the album together.
Review Fix: Anything else you'd like to add?
MJ Ultra: I've had a difficult couple of years since Covid struck. There were a handful of times where I thought that I might hang up the guitar for a while and do something else. The effect that the pandemic had on my industry and my personal life was very profound. It took me two trips to the UK and playing a handful of shows to realize just how powerful this gift that I have truly is. I'm happy that I came out on top and this single serves as a bit of a celebration for that feat. If you find yourself struggling, I encourage you to seek help and not give up hope. You are loved.
Review Fix: Where can people find out more about you?
MJ Ultra: The best place to find out more about me, my music, my touring schedule, and my acting work is on Instagram! Shoot me a follow @mjultra and thank you so much!